'He Was Just Sleeping': Mom Recalls 'Unexplained' Death Of 18-Month-Old Toddler

She hopes her pain can help others cherish every moment they have with their child.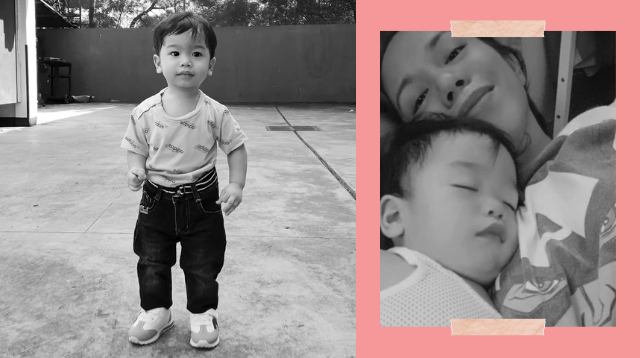 Losing a child is perhaps the most heartbreaking thing that a parent has to go through, more so if it happens in a snap, and you were right there when it happened.

For mom Angelica de Leon-Panganiban, January 14, 2021 started as any other day. She woke up at around six a.m. and her 18-month-old son, Alonzo, soon followed. "I gave him a bottle of his milk and let him watch Blippi," the mom writes in a public Facebook post.

There was nothing unusual and no hint at what would soon happen. Angelica breastfed her son around 11 a.m. and he fell asleep. Since the boy was sleeping soundly, the mom went out to the kitchen for a bit to cook their lunch and do some chores.

An hour later, Angelica came back to lie down with her son. That's when she noticed his pillow soaked with sweat.

"I checked on him and that's the time that I saw his lips [are] already purple-ish. I tapped his cheeks and shouting for him to wake up, but when I held his hand, it's already cold. I did a mouth-to-mouth resuscitation, but I can no longer hear his heartbeat," the mom writes.

Angelica rushed her son to the nearest hospital. At that time, it was just her and Alonzo at home, since her husband was at work and based in Pampanga.

"When they [doctors] saw Alonzo, he already [flatlined] and they said it's already difficult to revive him but we still maximized the Epinephrine (the one that they gave for his heart). At 2 p.m., they declared Alonzo is already dead," read Angelica's post.

ADVERTISEMENT - CONTINUE READING BELOW

When she asked the cause of death, doctors explained it as aspiration. Aspiration is when you're breathing foreign objects —typically food, saliva, or stomach contents when you swallow, vomit, or experience heartburn — into your airways, according to Healthline.

In Alonzo's case, saliva could have collected in his mouth while sleeping "and then flows into the lungs, leading to aspiration and choking," Angelica wrote.

They also told her it was "somehow SIDS" or Sudden Infant Death Syndrome. "Kasi very sudden and unexplainable," she wrote.

"Alonzo is an active and healthy 1 ½ year old baby. We didn't see or notice any unusual markings or warning signs and symptoms from him," Angelica explained.

"This is very sudden. He was just sleeping and the next thing I know, he's gone."

Can SIDS happen to a toddler?

SIDS is the unexplained death of an otherwise healthy baby during sleep. Also called "crib death," it mostly occurs in infants younger than 1 year old.

Medical experts still don't know how it happens exactly. According to Dr. Philip S. Chua on the Cebu Doctor's University website, "Nobody knows for sure, but it appears that the baby is suddenly unable to breathe or stops breathing, resulting in respiratory arrest and ultimately cardiac arrest."

CONTINUE READING BELOW

Recommended Videos

He adds, "One can suspect that the upper airway somehow suddenly becomes blocked."

For children one to 4 years old, a sudden and unexplainable death could also be attributed to a rare disease called Sudden Unexplained Death in Childhood (SUDC).

"SIDS is a risk up to 1 year old but beyond that, 1 to 4 years old, it is considered SUDC. If after a thorough investigation, no cause was established. They would have to subject to autopsy to find out the definite cause," explains Dr. Faith Alcazaren-Buenaventura, a pediatric specialist at Stratum Health Partners, to SmartParenting.com.ph.

Signs and symptoms of SUDC

According to RareDiseases.org, SUDC "cannot be predicted or prevented at this time." However, nearly all children with SUDC were "thought to be sleeping before becoming unresponsive."

Most were also in good health prior to the death, while some had mild symptoms of illness like cold symptoms or fever. Some children with SUDC had a history of febrile seizures or a family history of the illness.

The importance of safe sleep

Speaking with Smart Parenting via Facebook Messenger, Angelica says that she chose to share their experience to the public to spread awareness about "this silent monster who takes lives of little children."

"Honestly, it cannot be prevented as we do not know the causes, but we can vastly reduce the risk," she says. These include safe sleep practices.

The American Academy of Pediatrics recommends having a separate sleeping space for baby for the first six months to reduce the risk of SIDS. It is also to prevent suffocation, strangulation, and entrapment.

ADVERTISEMENT - CONTINUE READING BELOW

It is important that all infants be placed to sleep on their backs. Lay your baby down with his back against the mattress and his face toward the ceiling.

Angelica shares that this is also something that she learned from friends in the medical field who attended her son's wake. "Contrary to our beliefs, na huwag raw ititihaya to prevent SIDS, actually lying on their back is the safest position," says Angelica.

Make sure that mattress is firm, the bedsheet tight-fitting, and that the sleeping space is clear of pillows, crib bumpers, blankets, stuffed toys, and other soft items. Remove all these to prevent accidental suffocation and strangulation. 

Breastfeeding your baby for as long as possible may also help. "Any breastfeeding has been shown to be more protective against SIDS than no breastfeeding," says guidelines. (Read more safe sleep practices here.)

Angelica is still mourning the loss of her son, but she is somehow comforted that she can help others with her story.

"Honestly, I am torn and shattered, but I am breathing. I have to live the life my son left me. Writing and posting about him and sharing my grief somehow gets me through the day because I feel the love… somehow I know that I am not alone in this dark time," she says.

She hopes that this serves as an eye-opener for parents to cherish every moment with their kids. "Always keep an eye on your children. Always put them first. Appreciate and be thankful for each day [you get] to be with your children.

ADVERTISEMENT - CONTINUE READING BELOW

"Motherhood is tiring, yes, but please do not get tired of being a mother. Because no one knows in just a snap, they will be gone. Hug your children a little tighter today. Love them as if there's no tomorrow," Angelica says.

How to keep baby safe when sleeping? Read our tips here.

Trending in Summit Network