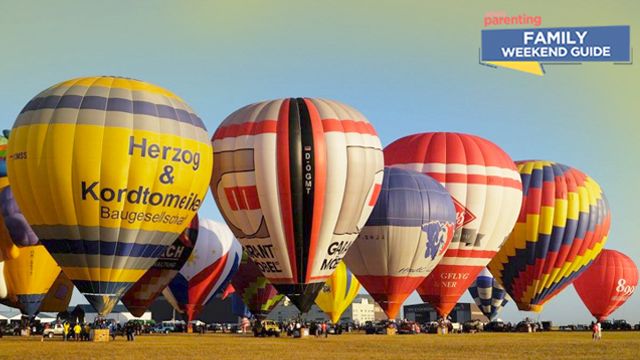 You and your family have two months to decide and prepare if you want to see the annual Philippine International Hot Air Balloon Festival this year. The good news is you don't have to trek all the way to Pampanga's Clark Freeport Zone. The much-anticipated event is will be held much closer to Metro Manila — in Cavite!
The event, officially titled Flying Carnival 2020: A Weekend of Almost Everything That Flies, will be held at San Lazaro Leisure Park, Carmona, Cavite from March 6 to 8, 2020, Friday to Sunday. Gates open at 4:30 a.m. and events start at 5:30 a.m. Night Glow starts at 6:30 p.m., and the Fiesta grounds close at 9:30 p.m.
Tickets for the Philippine International Hot Air Balloon 2020 come in three types: Economy Class (P500/head/day), Business Class (P3,500/head/day), and First Class (P6,500/head/day). The Economy Class tickets include access to the Fiesta Ground, while the Business Class and First Class tickets each include access to additional treats such as meals and snacks, private viewing decks, and air-conditioned lounges. These tickets are exclusive of the rides and activities. (Scroll below where to buy tickets.)
Known to be the longest-running aviation event in Asia, the Fiesta is now on its 23rd year and promises three days of exciting flying entertainment. Aside from watching hot air balloons of all shapes, sizes, and designs fly through the skies, guests may also participate in a variety of fun activities like tandem paragliding and riding in a helicopter.
Other shows you can catch the event include a performance from paragliding champions The Twinz, stunts by the Jump D4GS Skydivers, helicopter maneuvers, radio-controlled aircraft, fireworks, and Night Glow.
Guests who are interested in pursuing careers in the aviation business are welcome to join an aviation career seminar. Finally, you may also drop by the Fly Market and the Indoor Bazaar for different kinds of foods and keepsakes.
You may purchase your tickets at the Fiesta Info Booth Gates and ticketing booths, which open at 4 a.m. on the Fiesta days. According to the official event Facebook page, tickets will soon be available at Ticketnet outlets, the Ticketnet website, and the event website.
Guests who intend to join in on the festivities are encouraged to dress in light clothing and sturdy but comfortable shoes. Remember to bring pocket money, sunglasses, hats, and mosquito repellent. There are ATMs inside the Fiesta area.
While you may bring picnic mats and foldable chairs, the following are not allowed: monobloc chairs, camera drones, hoverboards, bikes, alcoholic drinks, breakable containers, and crockery.
Visit the Philippine International Hot Air Balloon Festival website to learn more.