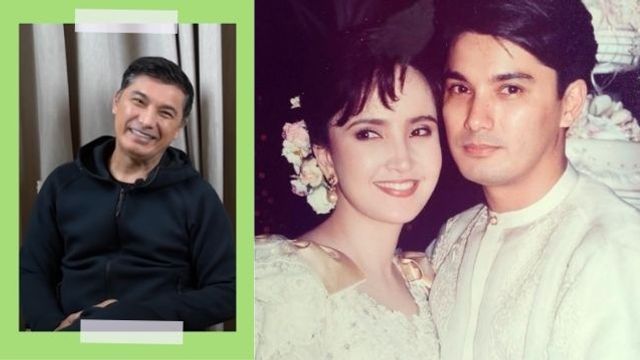 Nearly seven years since Albert Martinez lost his wife Liezl Martinez to breast cancer, on March 14, 2015, the actor admits he has remained single.
"Parang I'm not ready," Albert tells Dr. Vicki Belo in the celebrity dermatologist and cosmetic surgeon's vlog. "Liezel's shoes are very hard to fill. She's the kindest, smartest person I've met."
"We're good friends," he adds, visibly missing the former child actress he married in 1985. "She really took care of me. I think it's the deep love involved. I believe she's my soulmate."
Dealing with Liezl's battle with cancer
Albert admits he was "in denial" the whole time Liezl was battling cancer. He can't forget the time Liezl and Liezl's good friend, singer-actress Pops Fernandez, underwent, sometime in 2008, what the two thought was just a routine medical test for women in their 40s.
"After a week, the results came out," he recalls, relating that his wife was upstairs and screaming. When he asked her why, Liezl said the doctor found "something," alluding to the cancerous lump.
Albert confesses feeling "terrible," like his "entire whole collapsed." He adds that while doing a project for ABS-CBN, he lost weight in a span of 2 weeks.. "Because I couldn't sleep, I couldn't eat."
"We didn't know what to do," says Albert, on behalf of his and Liezl's grown-up children Alyanna, Alfonso, and Alissa. "We didn't know what to do."
Albert and the whole family decided to do whatever it takes to give Liezl, who was diagnosed to be Stage 3C, the best medical care possible. It included chemotherapy and stem cell procedure.
"It's not a cheap process," he points out, so he continued to work hard to pay for the bills. "There's no real cure. Prolong lang talaga. Nahirapan na rin ako financially."
He goes on, admitting, "I was in denial. Tingin ko, 'Sige, I'll do everything. It will work, and we will survive this.' 'Yung remission n'yo, okay na. The first remission was one year, the second remission was two years, and the third, another 2 years. We travelled.
"Then it metastasized in other parts of the body. 'Yung vitals n'ya, hindi na gano'n kaganda. Her heart got affected, her kidneys got affected. Sabi niya, 'I don't want to do chemo anymore. Let's just accept the way it is.'
"It was bad, but she was the one who made the decision. Sabi niya, 'Papa, I know we got hit financially. I don't want to pull you much anymore.' Sabi ko, 'No, no, no! Whatever we can do, let's go for it.'"
Albert explains they found what was supposedly good but prohibitively expensive medicine in Spain. So to raise the funds needed, he says he swallowed his pride and talked to Liezl's father, actor Romeo Vasquez (now deceased), as well as to his other friends.
"Talaga you'll do anything for your wife," he says in reflection. "I was still in denial. Until the last minute." He recalls filming in Pila town in Laguna when Liezl had a seizure at their home in Quezon City.  So he drove, as if the car was flying, from Pila, Laguna to Medical City hospital.
He can't forget his wife being in a bad shape, and four days later, Liezl had another seizure. That's when he asked their youngest child Alissa (whose siblings were abroad) if they'd allow resuscitation for Liezl. But Alissa said, "Let Mama rest."
Life after Liezl
Albert admits to be struggling since Liezl passed on. There's what he calls the "financial disaster," but more so the void. He says, "I'm not used to being alone. I'm the working one. Liezl was one taking care everything in the house. Now, I'm all alone. I don't know what to do."
He's just thankful that he got one project after another from ABS-CBN. "'Yung grief nawawala because I was busy working." Then there are his three kids, who have their own families and have given him one apo each.
At 60, Albert is happy to be enjoying his time with his kids and apos. He says, "I worked so hard and missed so much. Now ako bumabawi sa kanila. I cook for them every weekend."
If you're faced with a similar situation and your kids are still young, read here how you can help them cope.