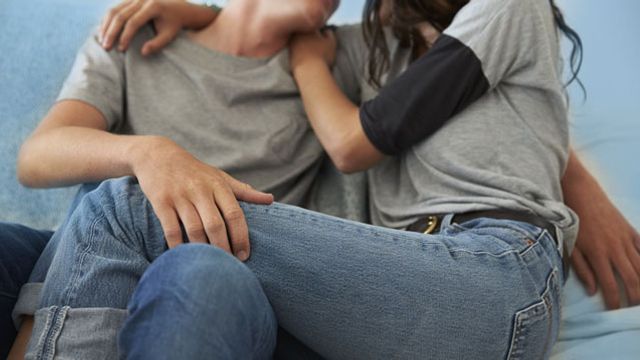 Question: My husband and I have two young kids, and we live in a studio unit, so you can just imagine how hard it is for us to have sex because the kids are always around. We don't have anyone to look after the kids. Any suggestions about how we can sneak in some alone time?
Is it even still possible to have sex in bed?
Answer: I am happy to know you guys are so in love, have the hots for each other, and you want to sneak in more sexy time in your life. Good for you! Living with kids, however, is a challenge — it already makes for cramped living quarters, and we don't mean the size of your house. Kids can dominate every space, which means sex in bed is a valid issue.
Couples who want — and need — some alone time will have to exercise resourcefulness to enjoy each other more.
Make sexy time a quickie
While getting a full night's sleep without clothes on may not be an option at this point (who gets a full night's sleep when they have kids anyway?), think quickies instead. This is a great team (that's you and your partner) project to explore as a couple because it is fun and exciting. Teamwork is necessary to make this happen, and all that work strengthens your relationship with your husband even further. What a bonus, right?
Time to get a large blanket
At night, you can tuck your tired and sleepy kids in bed earlier, and then you can squeeze having sex in bed while they are happily off in dreamland. Investing in a large and fluffy blanket will help you get it on more comfortably and securely. If one or both of them suddenly wake up, the blanket will be there to cover you! Also, this blanket will help muffle your sexy moaning and squeals of delight that might disturb or surprise your little ones. It is worth mentioning, however, that suppressing moans and gasps during lovemaking is very sexy and arousing in itself. You have been warned!
Invest in a great shower head
If the kids have an unfortunate case of not sleeping early (some kids never do seem to run out of batteries), the shower may be the next great option when all else fails. You can turn the TV on for the kids or give them their favorite toy for the next few minutes while you guys hit it off in the shower. Turn the water on full blast and take the wet and wild route. This quickie venue not only gives you and your husband a chance to enjoy each other but will also help you explore more sexual positions for your greatest pleasure — and in the process, toned calves and butts, perhaps?
Do date night during lunchtime
If your kids go to school during the day, I also suggest setting a kinky date in the house while the kids are away. Agree to meet during lunch break (if the commute permits) and carry on with your afternoon delight without needing to hide underneath blankets or inside confined spaces. This will also permit you to make all the sexy love noises that your heart lets out and turns your husband on even more. Plus, you can have sex in bed, and anywhere you want in the house — on the kitchen counter, the dining table, the couch, the lovely rug on the floor. Imagine just how sexy this can get even with your clothes on! And if you cannot go home during your lunch hour, sneak a quick check-in maybe even after office hours?
Let the kids know about "Daddy and Mommy Only Time"
There are still many more ways that a couple can explore and enhance their sex life even after having children. There might be a chance, though, that the moment you and your husband disappear into the bathroom for just a few minutes, one of them might come knocking at the door. This is an opportunity to teach your children about understanding privacy and the concept of alone time for mommy and daddy.
Introducing the concept of "Daddy and Mommy Only Time" teaches your kids that your relationship as husband and wife is also essential, aside from your roles as mommy and daddy. This also provides good role modeling for their future relationships when they grow up.
Children are only kids for a short period, but it is also crucial that a husband and wife's needs for intimacy be accommodated consistently. With these tips, I hope you'll find more chances to say, "Ooh la la!"
Rica Cruz is a licensed psychologist, sex and relationships therapist, and a sex educator at the Ateneo Bulatao Center. She is a faculty member at the Psychology department at the Ateneo de Manila University, where she teaches a course on sexual health and well-being. She opines that owning your sexual power is sexier than sex. You can catch more of her every Thursday at Boys Night Out, Magic 89.9, and follow her at facebook.com/TheSexyMind and @_ricacruz on Twitter and Instagram.