Your Hubby Ignoring You Doesn't Always Mean An Affair: 5 Possible Reasons And How To Deal

Sometimes, he just can't hear you.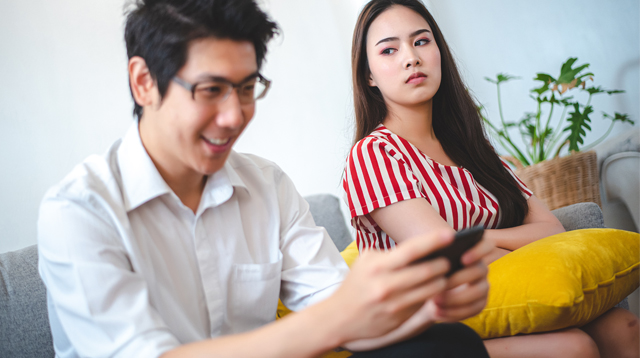 If husbands wonder why their wives are always angry, the women in turn can't help but ask why their partners seem to be ignoring them most of the time. Gone are the days when dad couldn't get enough of mom and hung on to her every word — now he will just end up dismissing her.

On our parenting community, Smart Parenting Village, moms cannot help but vent and share their misgivings about their partner — hubby is always busy playing mobile games, chatting with friends, or buried in work! The longer he fails to pay attention, the more worried the mother becomes — could he be having an affair?

Why your husband is ignoring you

Just like there are valid reasons for your anger, there is also a reason for your partner's behavior. And it doesn't always mean your husband is cheating.

Here are five reasons why husbands ignore their wives.

1. He needs time for himself.

Dads need to de-stress just like moms. If you're overwhelmed with work and childcare, he may be feeling the same. Your husband may also be feeling some pressure if he's the sole provider for the family.

Men communicate differently from women. If he chooses to play games, watch TV, or chat with friends, it could be his way of releasing stress and carving out some time for himself.

A little understanding goes a long way. Don't immediately accuse him of ignoring you.

Wait until he's had some personal time before starting a conversation. Arguments can escalate if you're both feeling tired and frustrated, so pick a good time to talk.

ADVERTISEMENT - CONTINUE READING BELOW

2. He's giving you the silent treatment.

Maybe you had a fight, and your husband is not yet ready to talk about his feelings. According to a previous SmartParenting.com.ph article, people use silence to be in control. Most of the time, they don't know what to say or do when they're feeling hurt, so they withdraw from the situation and refuse to engage.

Giving someone the cold shoulder can put a strain on any relationship. According to a study, it can make people feel less relationship satisfaction, less intimacy, and give them a lesser ability to properly communicate with their partners.

If you and hubby get into an argument, remember to keep an open mind and listen to what he has to say. Avoid being antagonistic or accusatory — according to another study, when one partner constantly nags, asks questions, gives criticism, or makes demands, the other partner responds by withdrawing, avoiding or giving the silent treatment.

If you want to express your thoughts, Sean Horan, an assistant professor of communication at Texas University suggests following this template: "When I see X in situation Y, I feel Z."

For example: "When I ask for your attention after dinner, and you pull away, it makes me feel unloved," Horan told The Wall Street Journal.

3. He simply can't hear you.

It sounds unbelievable, but according to a study, men "don't hear" requests from their partners up to 400 times a year. Out of the 2,000 individuals polled, 75% felt that their significant other had "selective hearing," and could not understand what their partner is saying to them.

CONTINUE READING BELOW

Recommended Videos

It can even mean something more serious. "Most of us will have experienced 'selective hearing' — either being the accused or the accuser," said Kirran Saimbi, senior hearing aid audiologist of Scriven Hearing Care, which conducted the study.

"But joking aside, 'selective hearing' could be a sign of hearing loss," he added.

His advice? Pay attention and seek help if you think you or your loved one are experiencing hearing loss.

"The changes in our hearing are often so subtle and happen over time, that it can be very hard for us to notice the impact it's having on our lives and those around us. That's why regular hearing checks are so important," he said.

4. You don't have sex anymore.

Intimacy is an important part of marriage. According to experts, the one you need to focus on the most is your relationship or marriage with your significant other.

If your husband is ignoring you, it can be a sign that one of his needs is not being met. Sometimes, all he needs is a little lambing.

As celebrity mom Marian Rivera says, "Tayong mga babae ang mauna kung sakali mang busy ang ating mga asawa. Hindi 'yan nakakabawas sa ating pagkababae. Tayong mga babae ang tumatahi sa ating mga pamilya."

5. The talking has stopped.

Communication is key in any relationship, but if your partner would rather avoid the problem than discuss it with you, then it can be a sign of a deeper issue.

"The number one thing is that people want to be understood and they want to feel like their emotions are being valued," Jonathan Robinson, a couple's therapist and author of More Love, Less Conflict: A Communication Playbook for Couples, tells Fatherly.

ADVERTISEMENT - CONTINUE READING BELOW

Sometimes all it takes is to ask your partner how he is feeling at the end of a long, tiring day. Work on your listening skills and don't get carried away by anger and frustration.

Calm down before saying things you might end up regretting. The goal is to have an open line of communication, more compassion, and affection for each other.

Think your husband is having an affair? Click here for tell-tale signs of cheating.

What other parents are reading
Celebrate your pregnancy milestones!

Enter your details below and receive weekly email guides on your baby's weight and height in cute illustration of Filipino fruits. PLUS get helpful tips from experts, freebies and more!
You're almost there! Check your inbox.

We sent a verification email. Can't find it? Check your spam, junk, and promotions folder.

Trending in Summit Network