Why Is My Wife Always Angry? Hubbies, 5 Reasons And How You Can Help Her Better Next Time

No, she's not crazy. And it's not your fault (most of the time).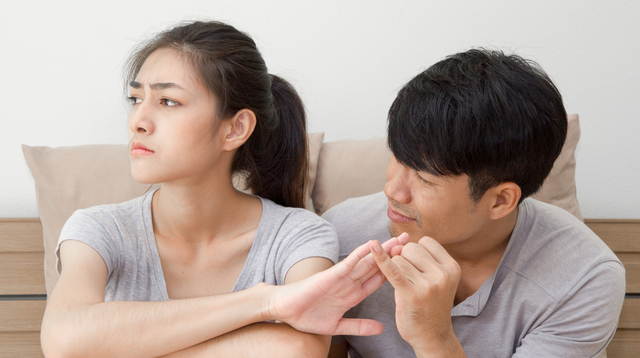 Men often joke about being a bullied husband, but there are actually a lot of them out there who cannot help but ask, "Why is my wife always angry?" After years of marriage and having kids, it seems every little thing just sets her off now.

Her smiles have become rare, she always looks frustrated, and it's like she hates your very existence. So, what changed?

How wives express their anger

According to a recent study, women experience anger as frequently and as intensely as men. But while men are more outwardly expressive (yelling to show their anger), women have a tendency to contain their feelings.

Men know danger is imminent when they ask, "Is everything ok?" and the answer is a curt "Fine." It's even worse when they get the silent treatment. A woman's anger gets scarier as the emotions build up and explode.

Why your wife is angry all the time

Of course, there is always a reason for this behavior. It's also likely that you're contributing to her feelings of rage, no matter how great of a guy you think you are. Marriage is a two-way street and both partners can be at fault when discontent happens.

Here are some valid reasons for your wife's anger.

1. She is exhausted.

Not just physically — your wife might be drained mentally and emotionally, as well.

"Women are tasked with managing many aspects of who they are and what they need to be for those around them, like their spouses, kids, families, and employers," explains Guy Stuff Counseling. It's called emotional labor and it often goes unnoticed and uncounted. It's also the reason why moms feel tired most of the time.

ADVERTISEMENT - CONTINUE READING BELOW

You might think you're doing her a favor by asking her to let you know if there are any chores that need to be accomplished, but don't be surprised if it just makes her more frustrated.

"If a husband is going to the grocery store but asks his wife about what he should buy or for meal-planning, well, that's not really helping with the emotional workload," says Virginia Pelly, a writer for Fatherly.

"I don't want to micromanage housework. I want a partner with equal initiative," adds Harper's Bazaar writer Gemma Hartley.

Husbands, you can turn things around by recognizing the invisible work that your spouse is doing on a daily basis. Instead of asking what supplies you need, make a list and go to the grocery by yourself. Plan and cook the family dinner. Do things without being asked.

Let her know — out loud — how much you appreciate everything she's doing. Find ways to ease her stress, whether it's massaging her neck and shoulders or letting her catch up on her favorite K-drama while you finish the household chores.

2.  She feels pressured.

Moms are always expected to pull themselves together even through hardships because that's what 'motherhood' is all about. Frankly, it can get overwhelming.

These expectations can also make them feel helpless — they have little control of their life now that they're raising tiny humans. They have to sneak in pockets of rest in the bathroom, they can't eat on time, and they often have to drink their coffee cold.

CONTINUE READING BELOW

Recommended Videos

They won't admit it but letting go of the life they once led can make them feel resentful. They might seethe in anger and they can release these negative emotions on you.

Husbands, you might not be able to do tasks that only moms can do — give birth or breastfeed — but you can be a steady presence that lets her know you're in this journey together. Even before she asks, be there for her and help her get through the day.

Change diapers, wake up early to make breakfast, show her more affection. Avoid running down all the things you've accomplished for the day — remember marriage is all about teamwork and not keeping tabs.

3. She has needs that are not being met.

Mom rage is often a sign that a woman's needs is not being met. It may also be stress manifesting itself.

Let your wife rest, make her sit down for an entire meal, and let her enjoy the food while it is still hot. Have a conversation with her and let her blow off some steam, but make sure you're really listening to what she's saying.

She might be at her breaking point from listening to the same nursery rhymes all day or dealing with toddler tantrums. She is bound to get angry, so don't argue! Get the kids out of her sight so she can have a few minutes of peace by herself.

4. It's the hormones.

Your wife will likely refuse to blame their feelings of anger on their hormones, but hormonal fluctuations are a reality. Mood swings can happen, whether they're pregnant or suffering from premenstrual syndrome (PMS).

ADVERTISEMENT - CONTINUE READING BELOW

When this happens, just put an effort to make her as comfortable as possible. Let her indulge in her cravings, make her laugh, and make her feel loved.

5. She's suffering from postpartum depression.

If her mom rage seems to be getting out of hand, it might be time to acknowledge that she is going through something more serious. Experts have been saying that anger is a symptom of postpartum depression and it can make her feel like she's slipping out of control.

"I often find that the anger is alerting us to feelings of being overwhelmed, resentment at not being appreciated or acknowledged by those close to us, isolation from our usual social supports, uncertainty about acclimating to our new life as a mom, and guilt related to our perceived failures in mothering," explains Carolyn Wagner, an American therapist, to Mother.ly.

If her emotions are getting out of hand, consider seeking professional help. Be supportive and let her talk to an OB, physician, or therapist. Don't let her suffer alone.

Women are often perceived as confusing — sometimes crazy — beings, but they're really not. All they need is your love and support. They appreciate you, too, so just hang in there!

They say husbands are moms' ultimate stressor, so click here for ways to be a better partner.

What other parents are reading

Celebrate your pregnancy milestones!


Enter your details below and receive weekly email guides on your baby's weight and height in cute illustration of Filipino fruits. PLUS get helpful tips from experts, freebies and more!

You're almost there! Check your inbox.


We sent a verification email. Can't find it? Check your spam, junk, and promotions folder.
Trending in Summit Network