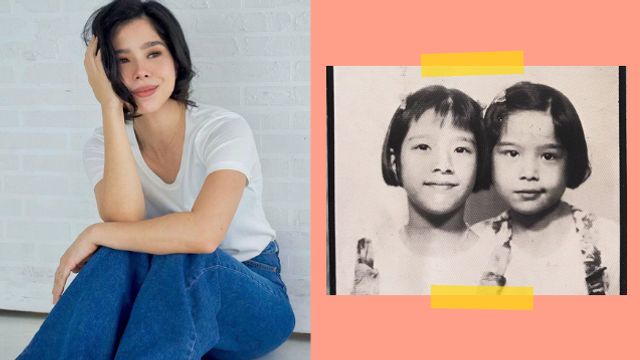 Saab Magalona is putting an end to speculations regarding her relationship with sister Maxene Magalona.
On November 23, Maxene posted a sweet birthday greeting in Instagram for her younger sister and accompanied it with a throwback photo. In case you didn't know, she and Saab share the same birth date — two years apart!
The sweet caption included a quote: "Sisters don't need daily conversations. They don't always need to be together. As long as they live in each other's hearts."
"This is my soul honoring yours. God bless you always," Maxene added.
As greetings for the two sisters poured in the comments, some fans noticed that Saab did not reply to Maxene's post. It irked one netizen enough to leave a scathing comment, which caught Saab's eye.
The day after their birthday, the mom of two posted an Instagram Story with a screenshot of the netizen's comment, hinting at a supposed rift between her and her sister. The commenter also went on to preach Saab about "humility" and "forgiving her sister" Maxene.
"The world does not revolve around your feelings. Matuto ka magpakumbaba at magpatawad sa ate mo. Bakit? Ikaw lang ba may pinagdadaanan? 'Yung ate mo ba wala?" read part of the comment addressed to Saab.
As a response, Saab said, "When they think they know better."  She also told the commenter, "kaka-computer mo 'yan," an expression usually said when a person experiences a negative consequence after spending too much time in front of a computer screen.
It turns out, Saab did reply to her Ate, but in private and by messaging her directly (totally normal for sisters, right?).
"Happy bday Maxx. Miss you and love you always. And you are always in my heart," Saab's message read.
Maxene replied and said she felt the same way, and that she was always praying for Saab and her family.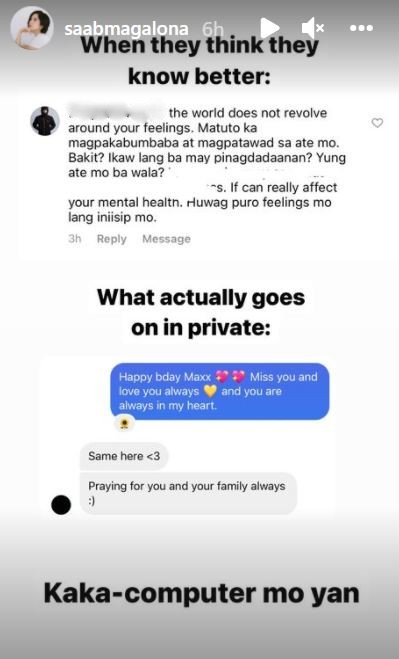 Rumors about an alleged feud between Saab and Maxene started in 2019 when netizens noticed cryptic posts shared on the sisters' social media accounts. There's also the fact that they don't follow each other on Instagram.
While Saab didn't have to share her message to Maxene to the public, their short conversation shows the sisters are still on good terms. And as the mom points out in her story, some matters are best kept private.
Happy birthday, Saab and Maxene!
It's normal for some family members to have misunderstandings but what if it's been going on for a long time? Click here for how to mend a family feud.