Focus, Social Interaction, Mindfulness And More: Benefits Of Yoga For Kids With Special Needs

All kids have a number things to gain from yoga, including genuine connection to themselves and others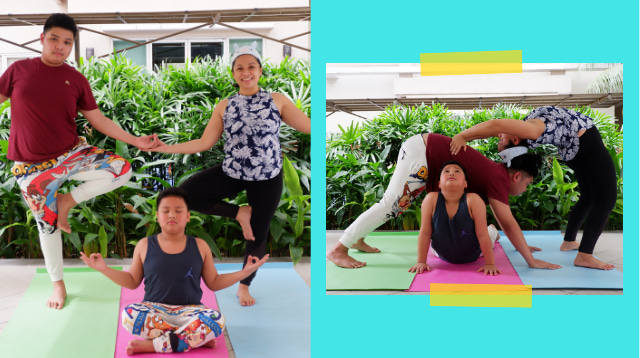 Many studies have shown that keeping a regular yoga practice greatly impacts one's health and well-being. As we celebrate International Yoga Day on June 21, it is only right that we too recognize that children, including those with special needs, benefit from it as much as do adults.

Safe space, mindfulness and other benefits of yoga 

"With changing demands in their performances in school, at home, and the society, children like adults, also experience stress.

It manifests in forms of disconnection to the body and the mind," says Jonnah Catapia, a certified Kids Yoga teacher who studied at Medicale Yoga Institute, a school accredited by the Yoga Alliance. 

She explains that symptoms of this 'disconnection' may come in the form of agitation, hyperactivity, over-eating, lethargy, low self-esteem, and anger outburst, among others.

Jonnah Catapia and her kids enjoy yoga as a family.

"Yoga becomes beneficial for children by creating a safe space for mindfulness and genuine connection to their selves and others," she elaborates. 

ADVERTISEMENT - CONTINUE READING BELOW

For children with special needs particularly those with behavioral and physical conditions, regular yoga practice helps in their social interaction, focus, and building flexibility and strength.

Citing a 2011 study, Jonnah, shares that when 24 children on the autism spectrum were subject to a program that consisted of 18 yoga poses for a span of eight weeks, the result showed "a positive impact… on behavioral and cognitive symptoms" from the program.

RELATED: This School Shows Meditation Can Help With Misbehavior

Citing findings in another study done in 2006, she shares that children who were clinically diagnosed with Attention Deficit Hyperactivity Disorder (ADHD) and were given a 'body-oriented' method of treatment demonstrated that "yoga can be an effective complementary or concomitant treatment for attention-deficit hyperactivity disorder." 

For children with physical limits or disabilities, yoga is always beneficial as long as it does not cause pain, injury, or discomfort.

"If a full expression of the pose is not available to a certain child, the teacher can help the child modify or regress it," Jonnah says. 

A child with cerebral palsy who is confined in a wheelchair, for example, can still do forward folds by simply reaching his or her knees.

Teaching yoga to children

Teaching yoga to children, especially toddlers, can be a challenge what with their shorter attention span. However, it is at this age that parents can jumpstart an appreciation for the practice.

Teacher Jonnah advises that the best age to start is when the child already follows simple instructions.

CONTINUE READING BELOW

Recommended Videos

"There are already yoga classes designed for toddlers. The choice of yoga poses depends on the available motor skills of the child," she says. 

Yoga poses can be adjusted to the child's motor skills.

If, for example, a toddler has yet to develop balance and coordination he/she can benefit more from seated poses and coming into all fours like table top position or downward-facing dog, explains Jonnah.

"These poses also help in strengthening their abdominal muscles," she adds.  

On the other hand, since children are naturally flexible than strong, it will be easier for them to do more forward bends than rocking on their backs, she explains. 

Yoga using the senses

Mentally and behaviorally, yoga helps children become more aware of their emotions and feelings.

Incorporating short activities such as pointing to body parts, simple poses, group play, yoga arts, and music, all contribute to awareness and mindfulness, says Jonnah. 

ADVERTISEMENT - CONTINUE READING BELOW

"One of the beauties of yoga is that it helps the child to connect to their feelings by being more aware of it. That sense of mindfulness helps bring out positive emotions that are significant to learn at a young age."

Jonnah, who co-founded the Radha Yoga PH community with four other partners, has been teaching Yoga for Kids since 2021. During the pandemic, it has been able to offer online Yoga and Arts summer camp for children ages 6-12 years. 

Some yoga poses also help strengthen your child's abdominal muscles.

For children with special needs, she says, teaching yoga is best done in a one-on-one class where the teacher can tailor poses and activities specific to the child's needs. 

"The yoga activities for kids include short meditation, setting affirmations, flow of yoga poses and arts activities," she shares, stressing that yoga is not limited to the different poses or asanas but is a way of life and, thus, can be practiced whether on the mat or outside. 

ADVERTISEMENT - CONTINUE READING BELOW

'For children with behavioral and physical conditions, regular yoga practice helps in their social interaction, focus, and building flexibility and strength.

So how can parents better engage their children in yoga without literally forcing them to do the poses?

"Children learn through their senses," says Jonnah. Here, she gives a number of activities that parents can do to incorporate yoga in children's lives using the senses: 

Engage the eyes through books, flash cards, videos, or their own practice of yoga at home. 
Engage the ears through soothing yoga music or songs that includes positive affirmations.
Engage the nose through aromatherapy that is suited to the child's age. 
Engage the tongue through mindful eating by having the right choices of food that can nourish and strengthen the body. 
Engage the skin by making physical connection like feeling the earth when one walks barefooted.

Most parents probably don't realize it can be this simple or, perhaps, they have been doing it all along. Jonnah reminds parents that consistency is key for better 'recall' of what yoga is all about to young children.

"If parents can engage as much sensory organs into the practice of yoga, then the child learns more and develops more recall of the practice," she concludes.

What other parents are reading

Celebrate your pregnancy milestones!


Enter your details below and receive weekly email guides on your baby's weight and height in cute illustration of Filipino fruits. PLUS get helpful tips from experts, freebies and more!

You're almost there! Check your inbox.


We sent a verification email. Can't find it? Check your spam, junk, and promotions folder.
Trending in Summit Network