Their first meeting was a memorable one. In 1991, Beethoven Michael Del Valle Bunagan entered a rap contest at Eat Bulaga — and lost. Ogie Alcasid was one of the judges. Now known as Michael V. or Bitoy, the erstwhile noontime show contestant never forgot that incident.
Now, they are fast friends, having worked together through the years on top-rated comedy shows Tropang Trumpo and Bubble Gang, along with several movies that capitalized on their comedic timing and musical talents.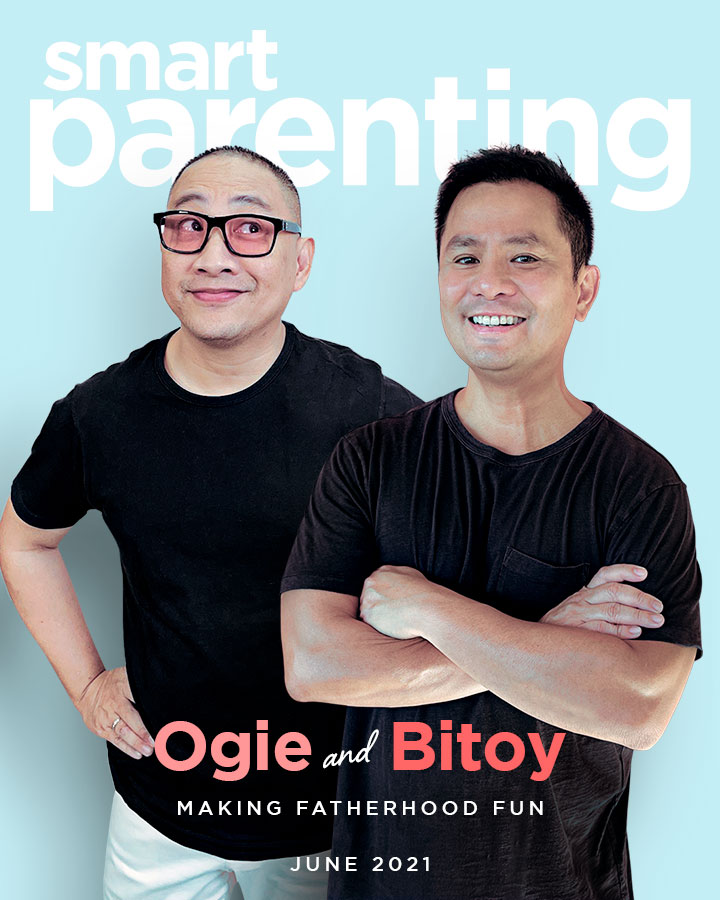 Having worked closely through the years gives even their families a sense of familiarity. Not only do they live near each other and are in constant communication, but they also bump into each other in the weirdest circumstances.
"I remember we were surprised to find each other vacationing with our families in Tokyo at the same time," he says.
ADVERTISEMENT - CONTINUE READING BELOW
They are also the kind of pals who would call each other for favors. "Like kung mayroon akong itatanong about gadgets or for tips about shooting videos, I call Bitoy," Ogie shares. To which Bitoy jokes, "mas magaling ka na nga sa akin, naunahan mo pa ako mag stream."
He then proceeds to talk about the first livestream that they did together. Ogie recalls having technical difficulties, "and when I looked at my phone, there was a message from Bitoy telling me to breathe."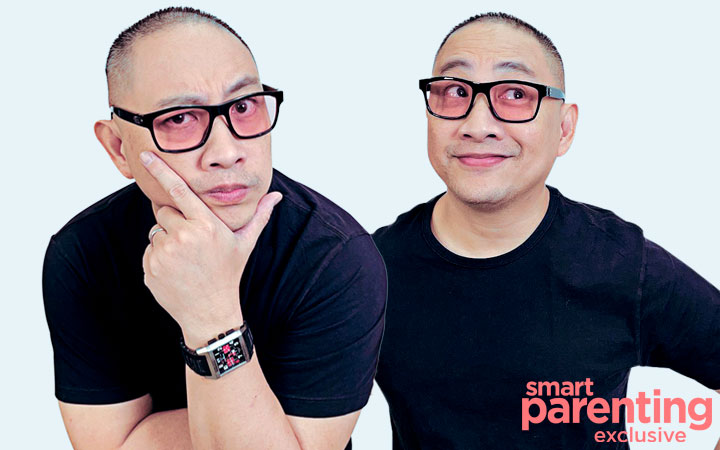 As dads, they also share the occasional chat, updating each other on what their kids are up to. "Asking for parenting advice, I think it is more of a mom thing," says Bitoy, "Kami, madalas kapag may ginawa lang maganda yun mga anak namin — or may ginawang kalokohan, ibinibida namin. Pero asking for advice how to raise our kids, I don't remember asking Ogie for that and vice versa. Siguro, dahil tiwala kami sa mga nanay ng mga anak namin na, 'Kaya na nila yan.'"  
CONTINUE READING BELOW
Recommended Videos
Ogie says that there were times when they would ask each other for help with contacts, like the time his daughter Leila contracted dengue and they needed blood donors. Bitoy, ever the faithful friend, was one of those who went to the hospital.
Life under lockdown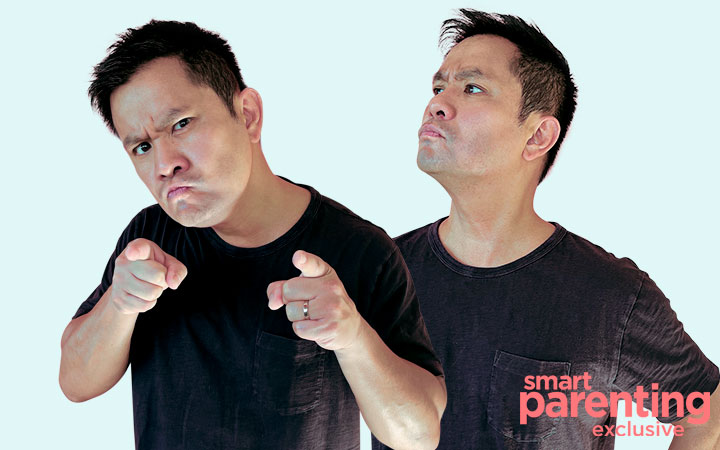 Usually busy with tapings and 'guestings', the two suddenly found themselves homebound like the rest of the country because of COVID-19 quarantine regulations. This, they say, gave them an opportunity to bond with their families: Ogie, with his wife Regine Velasquez and their son Nate and his daughter Leila from his previous marriage to Michelle Van Eimeren, and Bitoy with his wife Carol and their four children Milo, Yanni, Migo, and Maypaul.
"As a father, naku, tuwang-tuwa ako na sama-sama yung mga anak ko sa bahay!" — Michael V
Ogie says, "as far as getting families closer is concerned, it may be the best thing that's happened. Although, I also hear that with some families, this also exposed yung hindi nila pagiging connected.
ADVERTISEMENT - CONTINUE READING BELOW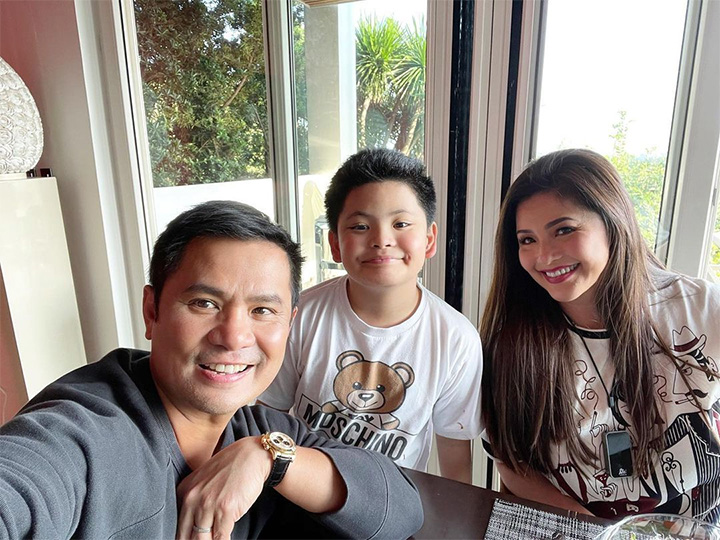 "Apparently, each member of the family has their own world, especially with phones and all that. So, I guess, I would suggest that families take advantage of this time, when you're really not using social media and have real, real family time, kasi kami parang ganun yun nangyari sa amin."
For his part, Bitoy says that he feels the kids are missing out. "During that time, at their age, we had a fair share of socialization, and going out to do all that crazy stuff. Our youngest is 12 years old, and parang sobrang bata pa niya para mawala agad yung experience na yun. At this time, yun lang ang konting regret ko. Pero as a father, naku, tuwang-tuwa ako na sama-sama yung mga anak ko sa bahay!"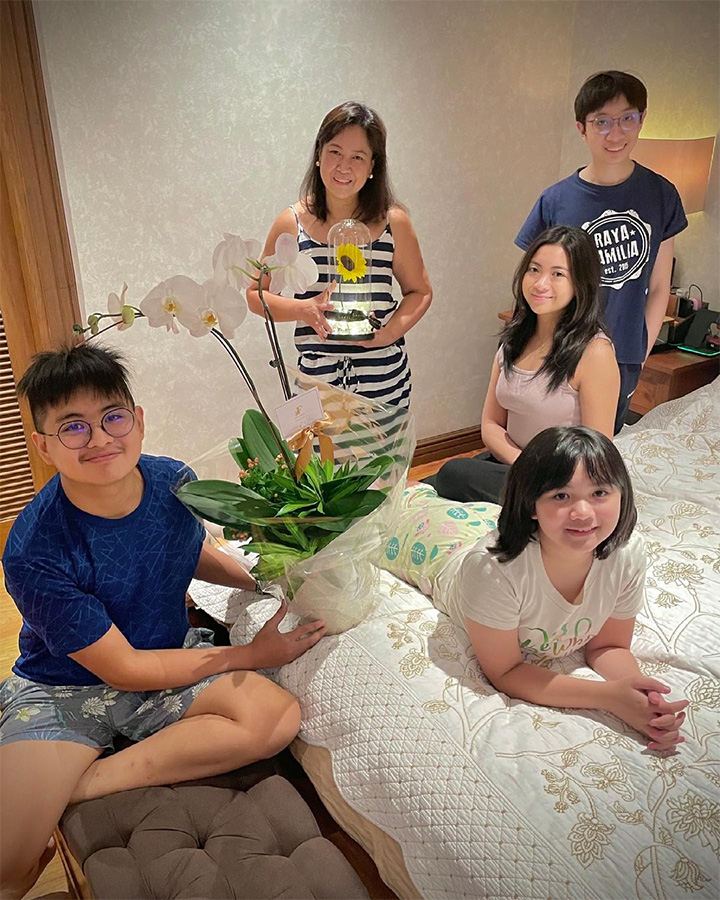 ADVERTISEMENT - CONTINUE READING BELOW
Because they are all together 24/7, they have also been able to watch their kids more closely. This led to some discoveries on the part of these daddies.
Ogie says that his son Nate has an ongoing fascination with a gadget ordered online that squeezes all the toothpaste out of the tube and agrees that it is a very satisfying gadget indeed. He also encourages his son's fascination with astronomy, setting up a telescope so that they can have a viewing party of the recent lunar eclipse.
"With Nate, because he is still young, every day is a discovery," Ogie says. His two girls are finding their own way into the world and he proudly shares that they also love to sing.
"Sarah is now in college in Australia and natuwa ako na mahilig din pala siya kumanta, I remember confiding in Bitoy before that I felt na walang nagmana sa akin." He also reveals that Sarah is a Type-1 diabetic, and it is perhaps spending so much time in the care of healthcare workers that has inspired her to take up Nursing.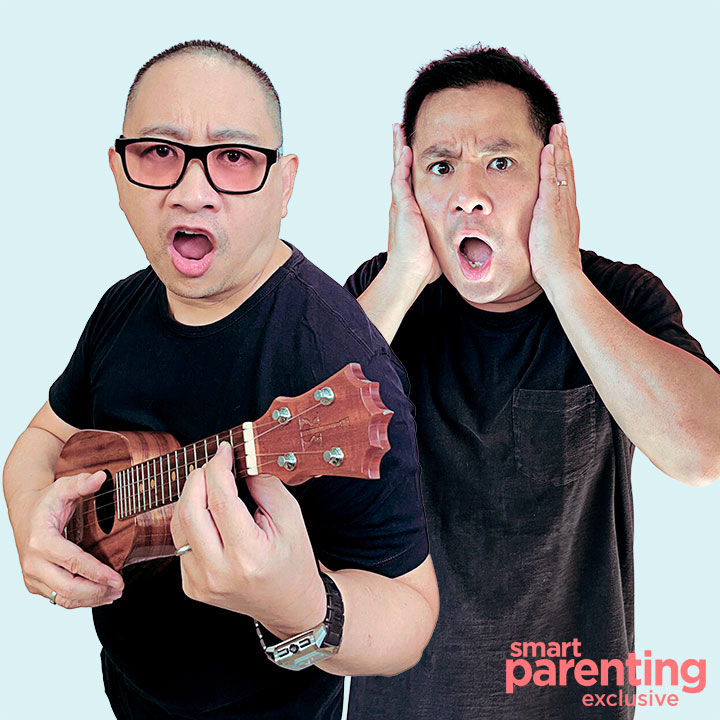 ADVERTISEMENT - CONTINUE READING BELOW
Bitoy says that his four kids have their own interests, and he is all about supporting these. "Early on, lumitaw agad yung mga hilig nila. Yung bunso ko mahilig magdrawing at magpainting. Yung sumunod, si Migo, yun yung mahilig sa gitara — mahilig sa instrumento, actually. Nag-aarrange na siya.
"Tapos, yung daughter ko na isa, si Yanni, yan ang mukhang papasok sa showbiz. Tapos, si Milo, yun panganay ko, siya yun mahilig sa gadgets. Siya yun nagsusupervise sa lahat ng mga electrical sa bahay ngayon."
He adds that Migo requested for a guitar as a gift for his high school graduation and he readily gave in. "It's the same way that our own dads were supportive of what we wanted when we were kids. Kung ano ang trip nila ngayon we support that."
Hilarity rules at home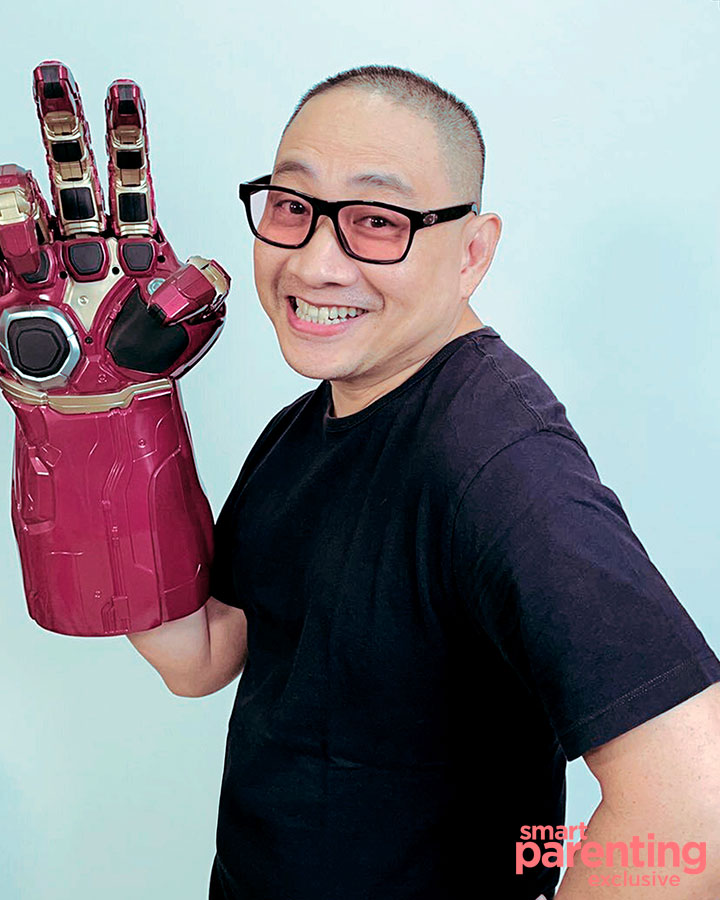 ADVERTISEMENT - CONTINUE READING BELOW
For Ogie and Bitoy, a sense of humor is of utmost importance when dealing with kids, with Ogie going as far as saying, "May tatay ba na walang sense of humor? Parang lahat naman yata meron."  
Bitoy adds, "Tatay ko madalas hindi sinasadya, pero nakakatawa siya. I think with kids kasi mas madaling makuha yun attention nila or mas madali silang mapapaniwala with humor.
"Mas madali makipagcommunicate sa mga kids if you inject humor from time to time, kasi mas madali silang naa-amuse eh, tsaka makukuha mo agad 'yung attention. Di kagaya 'pag seryoso kaagad, they tend to reject right away kung ano yung point na gusto mong iparating sa kanila."
He relates this with how priests conduct their homilies. "'Pag nag misa 'yan, minsan nagsisimula sa joke. So nakuha na ang attention mo, makikinig ka na sa homily niya."
Even their kids are getting in on the act, they say. "They say their daddy is sira-ulo or crazy," Ogie laughs.
"Now, they are studying how to be funny. Sometimes, they will just come up to you and say, 'I have a joke, I have a joke! And I get to appreciate their punchlines and wit. I guess that's the influence that we have and it's a good thing." He spills that Leila is often funny even if she is not trying to be and Sarah has a winning sense of humor.
They admit there also comes a point when their kids give up on their dad jokes. "Umaalis sila ng dinner table," Bitoy chuckles. "Yung ayaw na tapusin yung dessert dahil joke ako ng joke. Hindi nila matapos yung mga iniinom nila."
ADVERTISEMENT - CONTINUE READING BELOW
Ogie shares that Regine often has the last say. "Laging may pambara yan — 'Naku, hindi masyadong pinag-isipan yun punchline' — laging ganun."
He addresses Bitoy, "Alam mo, 'yun 'di ba, Pare, hirit ka lang ng hirit…parang, sige, shotgun, baka may tamaan ako, eh. Once in a while, meron ka rin naman, sasabihin, 'Uy, nakakatawa yun, a.' It's a compulsion." To which Bitoy replies, "We have our moments."
"'Pag bago kang tatay or a father-to-be, there is a romantic idea of what being a father is. Ang sarap isipin 'di ba." — Ogie Alcasid
Parental guidance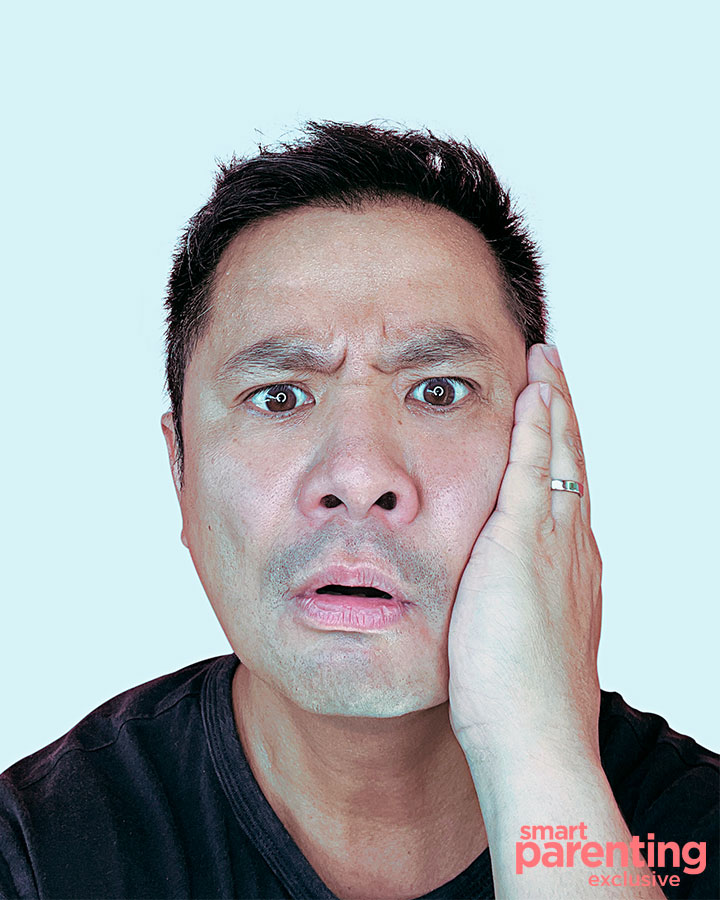 When asked for their message for fellow fathers, true to form, Ogie immediately quips, "Bakit ninyo ginagawa yan?" To which Bitoy chimes in and remarks that this would make a great meme.
On a roll, Ogie goes further to say, "Kasi 'pag bago kang tatay or a father-to-be, there is a romantic idea of what being a father is. Ang sarap isipin 'di ba, kasi talagang, 'Yeah, Tatay na ako!' but, parang pag-aasawa yan, di ba?" he leaves the statement hanging, then laughs, "I think I've gone too far."
ADVERTISEMENT - CONTINUE READING BELOW
On a serious note, he adds there's a thrill in seeing that you have a replica of yourself, but its also serious business. "All I can say is enjoy the ride. Enjoy the ride but at the same time, put your foot down and be involved, kasi you're going to miss out."
As an example, he talks about the time that he only had one free day and yet still flew to Australia to celebrate Leila's 18th birthday. "I flew in, went to her party. Nanggulo ako dun sa mga kaklase nya, kumanta-kanta pa ako dun, and then, I flew out the next day. And then my daughter said, 'Why would you do this?' Sabi ko, you only turn 18 once."
He adds, "You have to be there for the important occasions. Hindi mo naman magagampanan lahat, 'di ba? But, at least the most important ones, you have to be there. Kasi maaalala nila yun." He also says that COVID restrictions prevented him from attending Sarah's graduation, which he watched via Zoom.
Bitoy advises making an assessment of what they liked and didn't like about their own dad's parenting style. "Kung ano yun mga hindi nyo nagustuhan, huwag niyo na gawin sa mga anak nyo. At kung ano yun mga nagustuhan nyo, kung ano yung na-enjoy nyo, yun ang doblehin nyo, times two palagi."
Click here to watch Michael V and Ogie do the "Questions I've Never Asked My Friend" challenge!
Catch Michael V and Ogie Alcasid on the Smart Parenting YouTube Channel andFacebookpage this whole month of June and in celebration of Father's Day! Just go to SmartParenting.com.ph to read our stories featuring these funny celebrity dads.
ADVERTISEMENT - CONTINUE READING BELOW
MORE FROM Smartparenting.com.ph