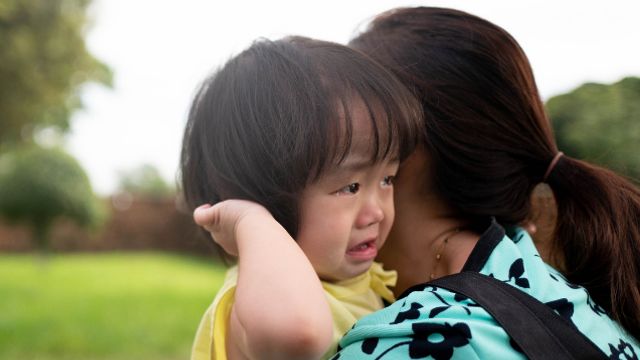 After being used to staying home for almost two years because of the COVID-19 pandemic, it's normal for children to feel a sense of fear as they begin to explore the outdoors again. The question now is how parents can help kids overcome this fear.
"If you were below eight years old during the pandemic, you would truly get shocked, surprised," clinical psychologist Dr. Ruben Encarnacion tells SmartParenting.com.ph.
He explains this age group is more likely to find it difficult to adjust in the so-called "new normal," since kids this age haven't formed a solid memory of how things were pre-pandemic. Everything outside the four corners of your house now feels new to them and even overwhelming.
"The security is in the consistency of the routines that parents provided for them. So, kung consistent 'yung routines nila, you take them out now, it's all new to them. They don't have concept of pre-pandemic," Dr. Encarnacion said.
When this happened to Mommy Lanie Macatangay's 5-year-old daughter, who cried when she was taken outdoors, Lanie assured her child that they took enough precautions against the virus. Dr. Encarnacion says this is one way to help kids who are afraid of being outside. (Read more about Mommy Lanie's experience with her daughter here)
How to help kids transition from pandemic isolation to socialization
It's okay if your kids are not feeling okay after bringing them outdoors for the first time. What matters is how you, the parent, can manage this negative emotion.
Dr. Encarnacion offers some tips to help you and your kids cope in the new normal.
Show and tell your surroundings
Dr. Encarnacion says parents should help their kids make sense of the new surroundings. By being descriptive, kids can build a sense of familiarity.
"What you see, i-mirror ninyo sa kanya. Do not assume that what you see is readily visible to the child... Whatever you see, whatever you hear, smell, taste, introduce to the kid. Parang 'show and tell'."
Doing this can help kids build object permanence, or "the ability to remember objects and specific people that are not present." Dr. Encarnacion adds, instead of taking the kid back indoors when they feel anxious, the parent should be patient in explaining that being outdoors is part of their life.
Explain the pandemic in simple terms
Another reason kids get nervous when stepping outside is because they cannot fully understand why they weren't able to go out for the past two years. This is why Dr. Encarnacion emphasizes parents' role in explaining the situation we are currently facing.
"Just tell them straight. There's a virus, kailangan i-simplify mo 'yun," he says.
Dr. Encarnacion says it's a must to explain to kids how we can get the virus. While it can cause death, it should also be made clear that COVID-19 does not automatically mean a person will die because of it. 
"Kailangan ipaliwanag na hindi naman lahat ng nagkakasakit, namamatay. That's important. Tsaka tell them, tayo, nag-iingat. So, you need to make them [feel] secure," Dr. Encarnacion says.
Lastly, Dr. Encarnacion tells parents always to make their kids feel that they are loved. This is the most important thing to help them muster the courage to face today's challenges.