Sometimes It's a Really Good Idea to Let Your Child Play in the Mud or Dirt

Experts say allowing kids to play in dirt fosters brain development, among other benefits.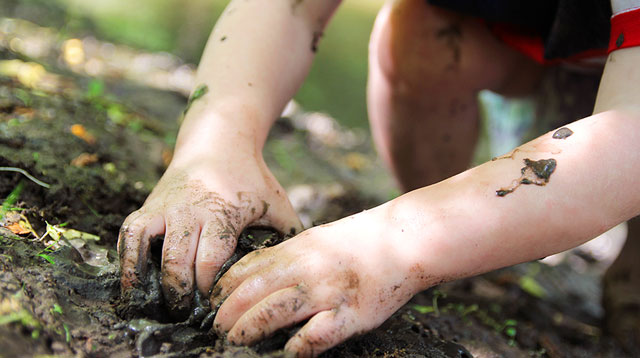 As we write this piece, the temperature outside of Metro Manila is 34°C. The idea of playing outdoors — at least between 11 a.m and 4 p.m. — feels like we'll end up putting our kids through heat exhaustion. Who can blame kids for preferring to stay indoors? But once they are in the house, it is very easy to play games on their mobile devices for hours on end. We can all agree that's something we don't want to happen regularly.

Besides, the benefits of letting your child play outdoors (early in the morning or after 4 p.m.) are numerous when it comes to his development, whether you make him ride his bike around the neighborhood or even dig his hands (and feet) into the dirt. Sure, it's the perfect opportunity to get exposed to icky bacteria and nasty stains on his clothes. However, experts say that letting your little one get dirty can actually be very helpful for his all-around growth!

Why you should let your child play in the mud

Allowing a child to get dirty and play in the mud, so to speak, is more than just about making him have fun. It naturally develops the eight sensory systems (yes, eight! more about this below), gives way to significant brain development, has a positive impact on his health positively, and caters to kids of all ages and skill sets. Plus, just imagine the potential for beautiful memories you can make with him!

It develops the eight senses

ADVERTISEMENT - CONTINUE READING BELOW

You read that right — aside from the five senses we all learned about in school, three other bodily systems can be improved  when a child plays in the mud. These are called the vestibular sense, the proprioceptive sense, and the interoceptive sense. 

The vestibular sense is the sensory system that contributes to a human's ability to maintain balance and body posture. It is also responsible for collecting information that is important in controlling bodily movements and reflexes that move the different parts of the body.

The proprioceptive sense focuses on the awareness of the position of the body, so that a person can know, for instance, where to put their foot when stepping off a curb or how much pressure to use when pressing a button in an elevator.

Lastly, the interoceptive sense refers to the system that allows a person to feel and understand what is going on inside his body by sending messages from the organs to the brain. This sensory system lets a person know when he is full, hungry, hot, cold, thirsty, or when he needs to use the restroom.

It's vital to develop the eight senses because altogether, they allow children to interpret the world and organize how they respond to the stimuli they encounter. If even one of these systems are not functioning properly, it can become difficult for the child to figure out how to respond to stimuli so he might get overwhelmed.

It fosters the development of their brain

Through activities like movement and physical play, the brain of child forms new connections, and this is followed by the improvement of different abilities such as motor skills, language, problem-solving, learning, creativity, socialization, and personal awareness. Similarly, children who are allowed to play freely can learn about the world they live in.

CONTINUE READING BELOW

Recommended Videos

It can stimulate their immune system

Perhaps the most common reason why many parents are hesitant to let their kids play in the dirt is that they don't want them exposed or contaminated to different types of potentially harmful bacteria. But according to research, there is a kind of bacteria found in dirt, called Mycobacterium vaccae, which can actually benefit a child's health!

This bacteria has been proven to cause an increase in the levels of serotonin, an endorphin, which helps soothe, calm, and relax the brain. Scientists have even claimed that if a child is regularly exposed to Mycobacterium vaccae, he becomes less vulnerable to experiencing depression.

Similarly, science has also previously claimed that when a child is exposed to dirt and germs, his immune system is strengthened, so he is less likely to develop allergies and asthma. Still, make sure to dress your child in protective gear like rain boots when he goes mud-playing and to select an area that has not been treated with any chemicals or served as a toilet for animals.

It's fun for kids of all developmental levels

Even children who are younger or going through developmental issues will enjoy playing with mud! It is an open-ended material that kids can play with in different ways. For instance, younger or less-skilled kids might pay more attention to experience the sensation of mud in their hands, while older kids might have more specific learning goals they want to achieve in playing with dirt.

ADVERTISEMENT - CONTINUE READING BELOW

Ideas for playing in the mud with your child

It's going to be dirty, but it's also going to be fun! Here are some things you can try out when you go mud-playing with your little one:

Make mud pies (embellished with "décor" like flowers, leaves, sticks, and stones)
Gardening
Racing toy vehicles on a muddy racetrack
Jumping and splashing in puddles
Floating paper boats

Whatever game or activity you decide to try out with your child, don't forget that you have a big role in making the experience as productive and enjoyable as possible for him. Take the chance to encourage him to find new ways to learn, to simply give him the language he needs to describe what he is doing and creating and to celebrate his efforts in playing.

Happy mud-playing!

What other parents are reading

Celebrate your pregnancy milestones!


Enter your details below and receive weekly email guides on your baby's weight and height in cute illustration of Filipino fruits. PLUS get helpful tips from experts, freebies and more!

You're almost there! Check your inbox.


We sent a verification email. Can't find it? Check your spam, junk, and promotions folder.
Trending in Summit Network