A Secret to These Moms' Breastfeeding Success: 'Our Husbands Give All-Out Support'

Tribes and 'breast friends' shared with us the wonders of breastfeeding during a Hakab Na event.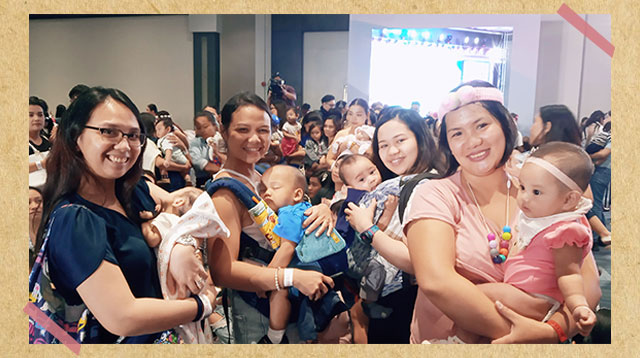 Breastfeeding entails a lot of sacrifices. Even with all the breastfeeding benefits — physical, mental, psychological, and social — that breastfeeding brings to both mother and child, it also takes a toll, and sometimes I can't help but want to give up.

Finding empowerment in other moms

So last August 18, I asked my husband if we can attend Hakab Na at SMX Convention, the largest breastfeeding event convened in the Philippines. This year's thrust, "Empower Parents, Enable Breastfeeding" was timely to douse my thoughts on giving up on breastfeeding.

Talks by celebrities, real moms who encountered difficulties in breastfeeding, and the Breastfeeding Pinays (BFP) founders gave light to misconceptions about tandem feeding (feeding more than one child), donating breast milk, relactation (stimulating the breast to produce milk again), and breastfeeding while pregnant. For many of the moms, especially to first-timers like me, the highlight of the event was the "Sabayang Pagpapasuso" or Simultaneous Breastfeeding.

Strength does come in numbers — many came in tribes, donning matching headdresses and shirts. Those who did not come with a tribe had their "breast friends" with them. Mothers came with children of all ages. Some even came with two children to breastfeed! Although I never felt any discomfort nor shame in breastfeeding in public, I felt the warmth and beaming pride shine through the hall.

ADVERTISEMENT - CONTINUE READING BELOW

"Hakab Na," which means "latch on," is also celebrated in pocket groups all around the Philippines such as in Rizal, Davao, Tagaytay, Bulacan, and Iloilo. 

PHOTO BY ANNA PATRICIA RODRIGUEZ-CARRANZA




 

Pinay moms share breastfeeding stories of encouragement and empowerment

Camille (leftmost) together with her friends or "tribemates" at Hakab Na 2019.

PHOTO BY

Anna Patricia Rodriguez-Carranza

First-time mom Camille Lim-Hernandez, 29, exclusively breastfeeds her firstborn. She says she seldom goes out that's why she has never experienced an uncomfortable breastfeeding situation.

She recounts her husband Erick's "all-out support" after she gave birth: "My baby was born preterm [and] our NICU pedia informed my husband that I need to breastfeed since it is best for our daughter. When I was brought to the hospital room, I was surprised to see a box of lactation goodies [from Erick]. Since then, I knew that my husband gives his all-out support for our breastfeeding journey to succeed. He encourages me at times when I want to give up and provides me comfort."

CONTINUE READING BELOW

Recommended Videos

Liana is a tribe member of the INAtura, a mom group advocating for natural parenting styles.

PHOTO BY

Anna Patricia Rodriguez-Carranza

Liana Ichon Villamin, 33, tandem feeds her 3-year-old and 10-month-old. She says that with her conservative personality, she found it difficult to breastfeed outside the house, especially at church."Gumagamit pa talaga ako ng nursing cover. Minsan ayoko na lang umalis kasi mas comfortable pa sa bahay lang kasi unli nursing at tulog lang kami."

Her husband, Edward, is in charge of burping the baby after feeding! During the time she got clogged ducts due to baby's poor latching, her husband still encouraged her to breastfeed and helped her with some home remedies to ease the pain. Even after his work outside the home, he still helps Liana with the remaining household chores.

Myrrel (center) is one of the leaders of a tribe under Shadrach's Collection, a local brand of ring slings, woven wraps, and carriers.

PHOTO BY

Anna Patricia Rodriguez-Carranza

ADVERTISEMENT - CONTINUE READING BELOW

Myrrel Serrano, 30, is working full-time and currently breastfeeding her 15-month old. To her, coming home tired from work, with a full boob, is one of the challenges of breastfeeding, especially during baby's growth spurt periods.

Before giving birth to their youngest, Myrrel's mind was all set to exclusively breastfeed (EBF). She made Benjamin, her husband, promise to never make her give up on it despite the pain or any challenges she may encounter. When days are tough, he would take over caring for the baby and let her have her "me time". He would constantly tell her how she is doing great and thank her for choosing to give their child breastfeeding benefits.

Yvette is a Professor at the College of Education under the Reading, Early Grades, Art and Language Education (REGALE). She is also the author of Letting Sunny Go, a children's book on sharing things that one treasure the most.

PHOTO BY

Anna Patricia Rodriguez-Carranza

ADVERTISEMENT - CONTINUE READING BELOW

Yvette Concepcion-Alcazar, 43, lives in a household full of males — her husband, two teenagers, and a grade-schooler — all of whom are supportive of breastfeeding her youngest son.

While teaching her graduate class, her 15-year-old son, who was watching over Urie, her one-year-old baby, came over to her classroom. "Urie was looking for me and wanted 'dede.'" She recounts talking in front of the class, carrying Urie and dancing around, seeing if he'll stop crying. When the baby didn't stop crying, Yvette told her students that she needed to breastfeed while talking. She remembers being "very glad that my students were very supportive, and that made me feel empowered."

Breastfeeding involves men, too

With the hashtag #IbalikSaUsoAngPagpapasuso, BFP, together with the Department of Health, World Health Organization, and United Nations Children's Fund, believe that breastfeeding should not just be a one-time fad but something that society accepts as a norm.

After the event, I looked up #HakabNa2019 on the Internet, and it made me angry and sad to see a lot of misogynistic and perverted comments on some Hakab Na posts.

I cannot imagine seeing sexual innuendos commented on a photo of a mother feeding her child. Some even wished they were there to witness a sea of boobs. It was a good thing that those bad comments, both from real and fake-looking accounts, were drowned by the facts and encouragement of the breastfeeding community.

It just goes to show that the men who commented inappropriately did not actually know that the event was not just for the moms themselves. Adding to the numbers of attendees were the non-breastfeeding contingent — husbands, partners, grandparents, older children, and security personnel.

ADVERTISEMENT - CONTINUE READING BELOW

Here's how men show their support for breastfeeding

Raymart, 25, supports his wife by cooking food with galactagogues. "Sabaw na may malunggay, saka capsule na may malunggay." He also makes sure his wife is always hydrated.

PHOTO BY

Anna Patricia Rodriguez-Carranza

Errol (left), the owner of Go Dad Bags, says that dads should be more hands-on. He believes that dads should share the load with the moms — literally — that's why they designed diaper/baby bags, especially for men.

PHOTO BY

Anna Patricia Rodriguez-Carranza

ADVERTISEMENT - CONTINUE READING BELOW

Our "Men in Fatigue" from the Armed Forces of the Philippines (AFP) were also supportive of the families that went to the event. According to Capt. Gensen Fababier and First Lieutenant Aman Pulido, it is their second year to be in Hakab Na. "Siyempre, maraming bata. They (organizers) called on us to secure the space." To them, they are just doing their duty "to serve and protect."But their presence serves as an assurance to parents to let their children roam around while the event is happening. In light of the interview, they think that perhaps the next time around, they will include women from the AFP to join in serving the event.

The whole Pasay area platoon, led by Capt. Fababier and First Lieutenant Pulido were in charge of securing the area.

PHOTO BY

Anna Patricia Rodriguez-Carranza

Like what Hakab Na proved, empowerment can be found in numbers. For instance, when Camille doubts if her milk is enough, she says her breastfriends always remind her that her body produces milk sufficient for her child.

ADVERTISEMENT - CONTINUE READING BELOW

Breastfeeding is a difficult journey but the breastfeeding benefits make it worthwhile. At times when you feel like giving up, think of it this way: breastfeeding is primarily about nourishing, says Yvette. Myrell adds: once you know and believe in the amazing things about the liquid gold, you will never doubt your milk and yourself. 

What other parents are reading

Celebrate your pregnancy milestones!


Enter your details below and receive weekly email guides on your baby's weight and height in cute illustration of Filipino fruits. PLUS get helpful tips from experts, freebies and more!

You're almost there! Check your inbox.


We sent a verification email. Can't find it? Check your spam, junk, and promotions folder.

Trending in Summit Network