Pregnancy Doctors: Should You Consult An Ob-Gyn or A Perinatologist?

Here's everything to know about the different doctors you may need before or during pregnancy.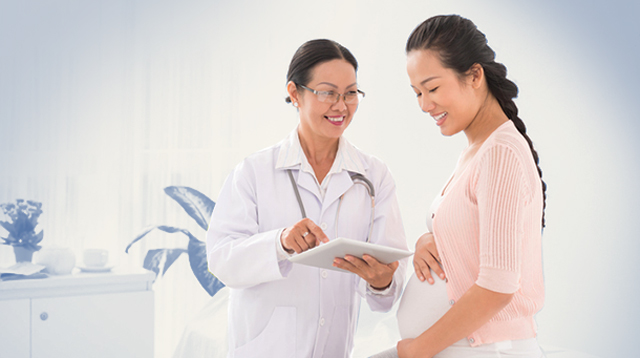 Since every pregnancy is different, a preggo may need special care that goes beyond just having an obstetrician-gynecologist or ob-gyn. Moms who have gestational diabetes, preeclampsia, or Antiphospholipid Antibody Syndrome (APAS) may need more than one pregnancy doctor to care for her before, during, and after pregnancy.

Before I was diagnosed with APAS, I was being managed by an ob-gyn. After my second miscarriage, she suspected I had APAS and referred me to a perinatologist who specializes in APAS. The perinatologist then referred me to a reproductive immunologist for the pregnancy workup. I only saw my perinatologist again when I already got a positive pregnancy test.

APAS is only one of five categories of reproductive-immune disorders or failures (RIDs or RIFs), specified by Dr. Alan Beer, who was at the forefront of reproductive immunology. It can be overwhelming to deal with it, especially when you first find out you have it.

Pregnancy doctors you may need   

Dr. Kathryn Kristy Parreno-Bautista, who holds clinic in Bacolod City, is an ob-gyn, sonologist, and perinatologist all rolled into one. She shared with SmartParenting.com.ph a guide on the pregnancy doctors a woman may need as part of her medical team.

What's the difference between an ob-gyn and a perinatologist

One of the most common questions asked in a Facebook group I belong (All About APAS and RID) is if a pregnant woman needs a perinatologist. There are no hard and fast rules on this one. Some preggos decide to stay with their ob-gyn while others look for a specialist. 

An ob-gyn is "a physician who specializes in the care of women and their reproductive tract concerns, from childhood to pregnancy, to menopause," explains Dr. Parreno-Bautista.

A perinatologist, on the other hand, is an ob-gyn "who underwent further training for the subspecialized care of high-risk women," she adds. Also called maternal-fetal medicine specialists, perinatologists are "trained in diagnosing and managing conditions that affect both the pregnant mom and her unborn child. The most common concerns handled by perinatologists are pregnancy complications and fetal anomalies." 

ADVERTISEMENT - CONTINUE READING BELOW

According to Dr. Parreno Bautista, a pregnancy is considered "high-risk" if the woman has the following (but not limited to):

poor obstetrical history (e.g., she has a history of abortions, preterm delivery, or neonatal death)
underlying conditions such as hypertension, heart disease, asthma, diabetes, renal disease, connective tissue disorders, and seizures
history of fetal growth disorders, congenital fetal anomalies
been pregnant with multiples (e.g., twins, triplets)
previous maternal infection
infertility or immunologic disorders 

For these conditions, a patient is usually referred to a perinatologist. In APAS or RID cases, a perinatologist is essential to a pregnant woman's medical team to ensure the safety and stability of both mom and baby. (Click here to know more about high-risk pregnancies.)

A perinatologist also performs sonologic procedures, a.k.a ultrasounds, to confirm the pregnancy, screen for anomalies, assess the likelihood of developing high blood pressure during pregnancy and initiate preventive management, and check for signs of compromise of both the mother and the fetus. 

Do you need a reproductive immunologist, fertility specialist, or reproductive endocrinologist?

Aside from a perinatologist or ob-gyn, a pregnant woman may need to consult with a reproductive immunologist. Typically, this is the case if the cause of her high-risk pregnancy is an autoimmune condition. 

A reproductive immunologist evaluates the patient and interprets blood laboratory analysis. There are tests required to diagnose specific RIDs to have a well-directed management plan for the woman's successful pregnancy. Several treatment options are then directed, depending on the woman's particular immunological problem. 

Some women who are planning to get pregnant but are having difficulty conceiving due to RID choose to see a reproductive immunologist first in coordination with a fertility specialist. 

Women who have a hard time conceiving and have fertility issues go to a fertility specialist, who are or also work with reproductive endocrinologists. Reproductive endocrinologists carry out several fertility tests and treatments that may include ovulation induction, intrauterine insemination (IUI), and in vitro fertilization (IVF). 

ADVERTISEMENT - CONTINUE READING BELOW

What other parents are reading
According to Dr. Parreno-Bautista, there are no clear guidelines yet as to the process by which certain specialists are called into a pregnant woman's medical team. Ob-gyns usually refer their patients to specialists.
"In the realm of recurrent pregnancy loss, which is the common manifestation of APAS and other RIDs, it is best to have a complete and thorough multi-disciplinary team taking care of the patient from conception to pregnancy to ensure optimal maternal and fetal outcomes," Dr. Parreno Bautista suggests.
Find the right obstetrician-gyneologist for you. Click here for a list of qualities to look for to guide you.
What other parents are reading

Trending in Summit Network