Pinay Mom Shares Successful Unmedicated VBAC Story: 'I Trusted My Body and Birth Team'

The mom vowed to try for a VBAC after regretting her C-section.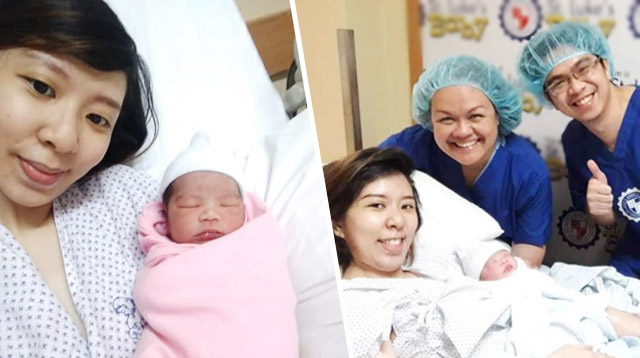 Eury Silvestre-Lardizabal, 26, wanted a vaginal birth for her firstborn, but it didn't seem possible.

"On my 35th week, I visited her for my regular prenatal checkup. We found out that baby's position was breech (feet first), and right then, I was told that I would need to undergo a cesarean section on my 38th week," she tells SmartParenting.com.ph in an email interview.

Eury recalls she had asked the doctor to wait for her baby to turn. She read up and tried some exercises to get her baby into a head-down position, but to no avail. "My OB told me that there was no chance [my baby] will turn since I have a very small frame. I was also told that I cannot go into labor since I am asthmatic, so we needed to schedule my C-section," she shares.

What other parents are reading

 

Eury and Andre with their firstborn, Artemis, who is now 4 years old.

PHOTO BY

courtesy of Eury Silvestre-Lardizabal

ADVERTISEMENT - CONTINUE READING BELOW

Eury's C-section went smoothly, and she gave birth to a healthy baby girl, whom she and her husband Andre named Artemis. But Eury couldn't shake the feeling that she needed to be more informed if she became pregnant the next time.

"A few months after I gave birth, I researched about vaginal birth after cesarean (VBAC), and I was inspired by some of the stories. I told myself if ever I get pregnant again, I would go for VBAC," she says. "I should have trusted my body and instinct and look for a doctor who will provide me options."

When she got pregnant with her second child in 2018, Eury made an appointment with ob-gyn Dr. Menefrida Reyes whose patients successfully underwent gentle births and vaginal birth after cesarean (VBAC).

What other parents are reading

From the beginning, Eury felt at ease with Dr. Reyes. "The [long] wait time and consultation with her were really worth it," the mom wrote on a Facebook post detailing her childbirth.

"She asked me what happened during my first pregnancy and educated me about vaginal birth and C-section," Eury tells Smart Parenting. "She also told me that with my first pregnancy, it was still possible to deliver my baby vaginally and that there was a way to turn her head down since I had no other complications."

Eury shares that she felt the doctor's sincerity and was moved with what the ob-gyn told her. "She believed I had the right to deliver my baby the way I wanted to [as long as] I will have a healthy pregnancy."

CONTINUE READING BELOW

Recommended Videos

What other parents are reading

Preparing for a VBAC birth

Eury was more confident with her second pregnancy that she created a birth plan for her second child.

PHOTO BY

courtesy of Eury Silvestre-Lardizabal

With her doctor's permission, Eury started doing light exercises to increase stamina since she needed strength for the "trial of labor after cesarean" or TOLAC, the attempt to have VBAC, according to the American College of Obstetricians and Gynecologists.

Despite having a supportive doctor monitoring her, people discouraged Eury to continue pushing for a VBAC. "[They told me] I wouldn't be successful since I have a small physique and that [having a VBAC] is not safe since I had a C-section," she shares.

Eury's comfort was her husband. "I know he was anxious, too, but his trust and support helped me a lot," she shares.

On her third trimester, she went through lab tests and finally gave her VBAC consent. She also finalized her birth plan and decided to do the Lamaze method, which focuses on using controlled breathing techniques to help during labor and opens the option of having an unmedicated birth.

"I realized I wanted to deliver my baby as naturally as I could," Eury shares. "I opted not to have any medical interventions unless really needed. Dr. Reyes supported me with my birth plan."

ADVERTISEMENT - CONTINUE READING BELOW

What other parents are reading

Going through VBAC delivery

Since Eury did not experience labor in her first pregnancy, her ob-gyn had to guide her on what to expect. "I was told that once I start to feel contractions, with shorter intervals and if pain becomes unbearable, that's already active labor, and I needed to go to the hospital," she writes on Facebook.

Eury downloaded an app called "Contractions Timer" on her phone to monitor her contractions, which started on her 35th week. It still took her a while to realize and accept she was in active labor.

"In the evening of March 22, [her 38th week] I was having contractions again, but the pain was tolerable," Eury wrote on her Facebook post. "Around 11 p.m., the app tracked that it was already active labor, but I was not convinced since the contractions were the same, and the pain was still manageable. So, I put my daughter, Artemis, to bed and then slept beside her.

"After an hour, the contractions woke me up, [which were happening at] consistent intervals. The pain was still manageable. Around 4 to 5 a.m., I could no longer go back to sleep, so I ate breakfast instead. Part of my birth plan was to have food and water intake over IV fluids, so I made sure I get to eat and drink while in labor," she wrote. "Around 6 to 8 a.m., I already told Andre to take me to the hospital, so we could have the baby's heartbeat checked since I was labor for a few hours."

ADVERTISEMENT - CONTINUE READING BELOW

What other parents are reading

Eury credits the success of her VBAC to her supportive birth team — her husband, Andre, and her ob-gyn, Dr. Menefrida Reyes.

PHOTO BY

courtesy of Eury Silvestre-Lardizabal

After an internal exam (IE) in the hospital, Eury was found to be 4cm dilated and was moved to the labor room. After another hour, intense pain prompted another IE. It was then that her water bag broke and from 8cm, she became dilated at 10cm.

Eury was calling for Dr. Reyes, but she was still in the middle of a CS operation. "The urge to push was becoming extreme, and when the OB residents checked, they could already see the baby's head," Eury wrote.

She was rushed to the delivery room, and since she was on Lamaze, she was not given any anesthesia for the pain. After an agonizing wait, her birth team, which included her husband, was finally complete, and Eury started pushing.

"At 11:07 a.m., our VBAC Lamaze baby, Mayumi Soleil, was out," Eury wrote.

ADVERTISEMENT - CONTINUE READING BELOW

What other parents are reading

The key to a successful VBAC

Eury with Mayumi.

PHOTO BY

courtesy of Eury Silvestre-Lardizabal

It's been about two weeks since Eury gave birth, and both she and her baby are recovering well at home. Up to now, the mom of two still cannot believe that she had a successful VBAC. After experiencing both a C-section and vaginal delivery, Eury realized the importance of trusting your body and advises other moms who would like to try for a VBAC to do the same.

"Read and research about all your options and discuss them with your OB. It's important to have a supportive birth team, who will respect and support your birth plan and at the same time will guide you throughout your journey," she shares. "We all deserve to have a positive birthing experience."

What other parents are reading

Celebrate your pregnancy milestones!


Enter your details below and receive weekly email guides on your baby's weight and height in cute illustration of Filipino fruits. PLUS get helpful tips from experts, freebies and more!

You're almost there! Check your inbox.


We sent a verification email. Can't find it? Check your spam, junk, and promotions folder.
Trending in Summit Network