Pambabae Lang Ang Yoga, Other Misconceptions That Discourage Men

Do you think you're not flexible enough to do yoga? We talk to a coach and yoga teacher about common misconceptions.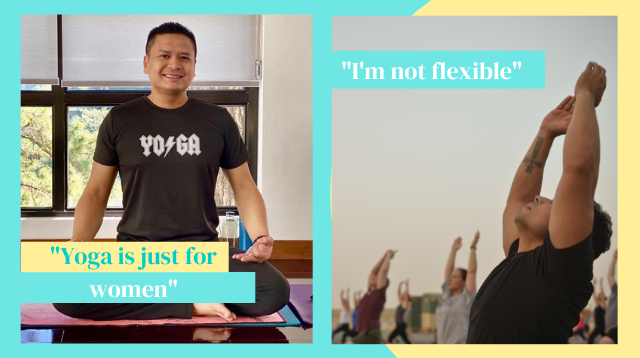 Did you know? While women have been the face of yoga in modern times, it was actually men that began this ancient practice. We don't mean muscular half-naked men doing handstand push-ups on the beach; we mean older men well into their fifties to their seventies that are able to reach down all the way to their toes.

Before the spread of yoga to America in the 1890s, spiritual gurus from India practiced this ancient philosophy of mind, body, and soul as a way of life. It wasn't just for physical fitness or mental health, but a lifelong practice to achieve harmonious and compassionate living. It wasn't until the 1950s that Indra Devi, the first Western woman in yoga, opened a studio in California that the phenomenon took off.

Today, there are over 300 million yoga practitioners around the world, but only 30 percent of these are men. Why is that? Harvard Health Publishing reports that people usually think yoga is only "for young women or for those who are already flexible, athletic, or spiritual." Most men immediately count themselves out because of this, which is a shame because yoga has so many benefits for all body types, ages, and genders.

On a recent SPerience at The Farm at San Benito, Bojo Bonifacio – a dad of three – tried yoga for the first time in his life. While he said he had a lot of friends that did yoga, he expressed, "I don't think that [yoga] is something that's really made for me."

ADVERTISEMENT - CONTINUE READING BELOW

There are actually about a dozen main styles of yoga being practiced today. Hot, Ashtanga, Vinyasa, Kundalini, Yin, Restorative, Power, Aerial, Acro, Rocket, Prenatal, and Kids Yoga are just some of the well-known types of classes, and each offers a different experience of the holistic practice. For beginners, it is often recommended to start off with a Vinyasa (which roughly translates to "flow") class, as it will walk the student through a series of accessible poses at an easy to moderate pace.

Common Misconceptions About Yoga

"I'm not flexible enough."

Bojo, like most men, named flexibility as the main issue; that if he were "younger," he would also be "more flexible" and hence, more willing to try yoga. While it's true that the body becomes less flexible with age, this doesn't mean it's irreversible. Yoga can actually improve flexibility through its dynamic and passive stretching flows paired with diaphragmatic breathing (or belly breathing), which allows the body to relax and access a deeper range of motion.

"I'm going to make a mistake and look stupid."

Bojo voiced out a fear that many other dads and men think before they try yoga. "I was actually afraid that I would get pins and needles, or I would get cramps, and I would disrupt the whole class," he said, "Thankfully, I was able to follow the instructor."

Allan Ray Enriquez, the coach and proprietor of MoveYouBetter, has been teaching and practicing various styles of yoga, sports therapy, and even fascial manipulation techniques for years now. He affirms that it is a standard to ask first-timers about their fitness levels and medical conditions before a class, in order to help them adjust in poses accordingly. "Anytime they feel uncomfortable [during the session,] I ask them to raise their hands," said the coach.

CONTINUE READING BELOW

Recommended Videos

"Yoga goes against my religion."

Movement is not the only way to practice yoga. There's also silent meditation, chanting and music, and breathing. Often, especially with chanting the universal sound of "Om" or another Sanskrit mantra, many people believe they are participating in a cult or religion. This isn't true.

ADVERTISEMENT - CONTINUE READING BELOW

"Yoga means union, and it means unifying our mind, body, and soul, as well as knowing the connection we have with everything and everyone," said Medicale Yoga Institute's co-director JC De Leon. As a lifelong yoga practitioner, martial artist, and father to one (plus fur babies), JC has always stressed that yoga is not a religion, but a way of life. "I try my very best to practice compassion for others, as well as to myself," he adds, "When I say compassion for oneself, I mean treating my body right with both movement and stillness, feeding my mind with knowledge and setting time for devotion and prayer."

Historically, yoga has roots in Hinduism, Buddhism, and Jainism, because it originated in the East where these religions existed. However, it was a means to express values common to these great religions, such as non-violence (ahimsa) and truthfulness (satya). These universal values towards peace and justice are present as well in Christianity, Islam, and Judaism.

"Yoga is just stretching. I'd rather exercise."

You'd be surprised how a gentle flow can get your muscles to work out with just a simple hold of one, two, three slow breaths in one pose. Yoga has a way of focusing your energy in a movement that engages multiple muscle groups at the same time and making the most out of the short period you stay there to burn calories, clear your mind, and tighten up that area of your body.

ADVERTISEMENT - CONTINUE READING BELOW

Coach Allan shares that he often asks his male first-timers, especially the athletic ones or those who said they weren't flexible enough for yoga, how they feel after class. "Most of them return because they find themselves challenged by the asana [the poses]," he said, "Or because they felt more open (or mobile) after."
If you are looking for a sweat fest, though, sign up for a Power Yoga, Hatha, or Rocket Yoga class ASAP! These strength-intensive styles of yoga are not for the faint of heart.

In yoga, it's also important to rest and recover. For those intentions, try out Yin Yoga, Restorative Yoga, and Meditation classes. "In the time of pandemic, being online is very crucial, but I always remind myself to disconnect technologically to allow breathing space, not just for my eyes and senses, but for the whole body," said Teacher JC. "Besides practicing various styles of yoga and martial arts; nature and reading actual books give me a sense of connection and peace."

"I'm too _____ for this."

ADVERTISEMENT - CONTINUE READING BELOW

Whether you say "old," "fat," "slow," or something else to fill the blank – notice that what you're really doing now is judging yourself. Yoga is an inclusive practice and one of its biggest benefits is teaching non-judgment and self-acceptance. If you're open to yoga, it can help you practice simply observing your thoughts, your feelings, your body, and your reactions without attaching a judgment on it. So, yes, you can say, "I am old," but with a different perspective, it ceases to be something that degrades or limits you. In the same observation, you can then also say, "I am uncomfortable now, but I am trying something new." These gentle ways of thinking and speaking to yourself can have impactful changes on your wellbeing over time. That's yoga.

What other parents are reading

Celebrate your pregnancy milestones!


Enter your details below and receive weekly email guides on your baby's weight and height in cute illustration of Filipino fruits. PLUS get helpful tips from experts, freebies and more!

You're almost there! Check your inbox.


We sent a verification email. Can't find it? Check your spam, junk, and promotions folder.
Trending in Summit Network