Do You Really Need to Walk 10,000 Steps a Day? New Study Says That's Not the Case

Is walking 10,000 steps in a day is really the best way for a person to be healthier and live longer?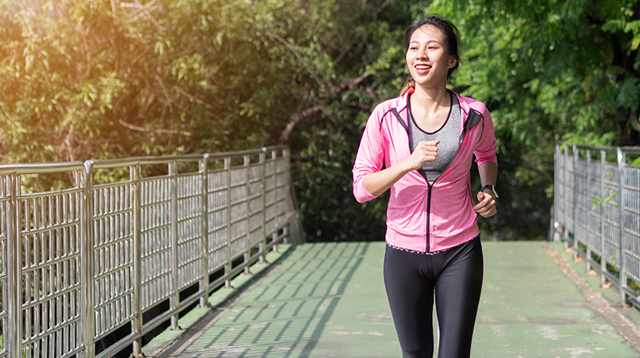 We all try to keep our bodies healthy by embracing a nutritious and balanced diet and staying physically active. You don't have to enroll in a gym to get exercise — walking is a great alternative. And you may have probably heard you need to walk 10,000 steps a day to make it count. There are pedometers and apps that can help you count your steps, but let us be honest, we don't need a counter to tell we barely make it to 5,000 steps.

Based on a recent study published in the Journal of the American Medical Association, however, you don't need to pressure yourself  with that 10,000-mark — around 4,400 steps will do!

The study, led by I-Min Lee, a professor in the Department of Epidemiology at Brigham and Women's Hospital and a professor of Medicine at Harvard Medical School, looked into the correlation between walking 10,000 steps a day and longevity of life in older women. According to The Harvard Gazette, the researchers examined "outcomes over an average of more than four years for older women in the Women's Health Study who had measured their steps for a full week."

The Women's Health Study was a trial that was conducted to look at the benefits and risks of taking low-dose aspirin and vitamin E in preventing cardiovascular disease and cancer in women. After it was concluded, almost 18,000 of its subjects were invited by Lee and her fellow researchers to participate in their long-term observational study.

ADVERTISEMENT - CONTINUE READING BELOW

This time, the women with an average age of 72 were each asked to wear an accelerometer device, which measures their acceleration, on their hips for seven consecutive days during all waking hours. They were followed over the course of more than four years during which more than 500 of them passed away. 

The researchers analyzed data from 16,741 subjects who wore the accelerometer device. They found that those who walked an average of 2,700 steps in a day were at the greatest risk of death (with 275 women dying throughout the duration of the study) and the women who walked an average of 4,400 steps in a day were 41% less likely to die. As the number of steps increased, the risk of death continued to lessen, but this leveled off at 7,500 steps in a day.

Lee's team also concluded from their study that the intensity of walking (how fast or slow they walked) did not have any bearing on their risk of death.

Importance of physical activity

While the study did not look at how step count affects health and quality of life, there is no denying that its results further show the benefits of physical activity. For one, according to the World Health Organization (WHO), research has proven that adults who are physically active are:

less likely to develop illnesses such as coronary heart disease, high blood pressure, type II diabetes, depression, and hip or vertebral fracture
manifest higher levels of cardiorespiratory and muscular fitness
more likely to achieve weight maintenance and a healthier body mass and composition.

ADVERTISEMENT - CONTINUE READING BELOW

Recommended Videos

Lee herself says the findings of the study only emphasize how critical physical activity is — even just a small amount — can be in a person's health. "The main take-home message is that even a small amount of physical activity can significantly benefit your health," she tells media outlet WBUR, as reported by Romper.

"In this study, we found that stepping a very modest amount — 4,400 steps a day — significantly lowered mortality rates compared with stepping, say 2,700 steps a day," Lee continues.

What other parents are reading

The WHO has the following recommendations regarding physical activity for adults between the ages of 18 and 64 years:

At least 150 minutes of moderate-intensity aerobic physical activity, at least 75 minutes of vigorous-intensity aerobic physical activity, or an equivalent combination of moderate- and vigorous-intensity activity throughout a week
At least 10 minutes' duration of aerobic physical activity
At least 300 minutes of moderate-intensity aerobic physical activity, at least 150 minutes of vigorous-intensity aerobic physical activity, or an equivalent combination of moderate- and vigorous-intensity activity throughout a week (for additional health benefits)
Muscle-strengthening activities involving major muscle groups on 2 or more days per week

Examples of physical activity

One would argue that taking care of a child is enough exercise in itself — and, indeed, it is — but it is also important for adults to engage in other activities that can keep the body active. As intimidating as '4,400 steps' may sound, it is not actually that difficult to accomplish. For instance, Lee tells TODAY that even doing basic daily functions like going to the bathroom and walking around the house can help an average person reach up to 2,500 steps a day.

ADVERTISEMENT - CONTINUE READING BELOW

When it comes to physical activity, Lee says the idea is "to make movement automatic," so that it becomes much easier to get that much-needed exercise.

"When you get up in the morning, you don't think about: Should I brush my teeth or should I not brush my teeth?" she tells TODAY. "Once you get in the habit of not sitting around so much, but walking a little bit more, people will be surprised by how easy it is to get the extra steps."

What other parents are reading

One way to work towards being more physically active: Put down your phone! Adults are just as prone to staying sedentary or inactive with their eyes glued to their phones or gadgets as young children are. Once you've put away your phone, try taking a quick stroll around your neighborhood, playing with your child or with your pets, or doing some gardening.

More activities to increase your daily physical activity are taking the stairs whenever you can, parking your car a little farther away from where you need to do, listening to music during your walk to make the activity more enjoyable and motivating, and even taking your family with you on physical activities like jogging or hiking.

At the end of the day, the amount of physical activity you can do in one day still depends on your present fitness level and what your fitness goal is, as Mayo Clinic points out. Therefore, there is no need to be too hard on yourself to reach 10,000 or some other number of steps in a day. Remember, even a little bit of activity is better than no activity at all. Make exercise a part of your regular routine, and you'll surely reap the benefits!

ADVERTISEMENT - CONTINUE READING BELOW

What other parents are reading

Celebrate your pregnancy milestones!


Enter your details below and receive weekly email guides on your baby's weight and height in cute illustration of Filipino fruits. PLUS get helpful tips from experts, freebies and more!

You're almost there! Check your inbox.


We sent a verification email. Can't find it? Check your spam, junk, and promotions folder.

Trending in Summit Network