Exhausted and Emotionally Withdrawn Parents May Be Feeling Parental Burnout

Burnout can happen to everyone, whether you're a working mom or a stay-at-home mom.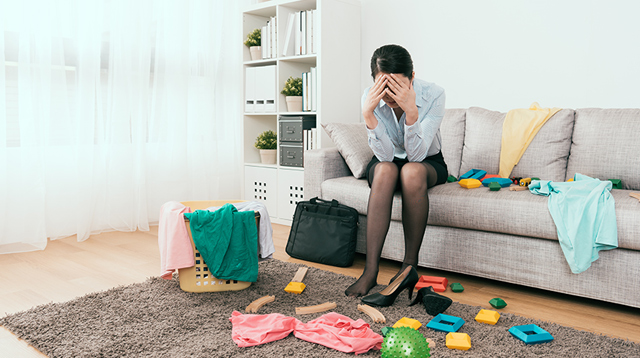 Burnout is real, especially in the workplace. But burnout is not just about feeling exhausted or stressed about work. According to experts, it is actually a much more severe ordeal that can happen to people, and it might also be linked to very serious disorders.

Are burnout and depression connected?

In May 2019, the World Health Organization (WHO) announced that it now recognizes burnout as "an occupational phenomenon" that can be diagnosed, as reported by CNN.

The organization defines burnout as "a syndrome conceptualized as resulting from chronic workplace stress that has not been successfully managed." Furthermore, the WHO cites three symptoms that can be used to diagnose an individual with burnout:

Feelings of energy depletion or exhaustion
Increased mental distance from one's job or feelings of negativism or cynicism related to one's career
Reduced professional efficacy

In an article for TODAY, experts suggest that there may be a link between burnout and disorders such as depression and anxiety. Irvin Schonfeld, a professor of psychology at the Colin Powell School for Civic and Global Leadership at the City College of the City University of New York, tells TODAY, "If someone thinks he or she is suffering from high levels of burnout, I would suspect depression."

Schonfeld, who has been doing research on occupational therapy for years along with his colleagues, suggests that it might be better to view burnout, depression, and anxiety as if they were on a continuum. "It can be more helpful in seeing burnout, anxiety, and depression falling along a segment," Schonfeld states. "If you are not doing enough things to help burnout, you tip toward depression."

ADVERTISEMENT - CONTINUE READING BELOW

What other parents are reading

According to TODAY, there is no clear way to remedy burnout. While going on vacations or getting a massage may seem like a good way to replenish your energy, Schonfeld says these methods don't actually deal with the larger issue.

Instead, according to psychologist Lily Brown, a professor of psychology in psychiatry at the Center for the Treatment and Study of Anxiety at the University of Pennsylvania, treatments for depression, like different kinds of therapy, may be instrumental in remedying burnout before it develops into something worse.

"It's an important step to figure out a way to express needs and healthy boundaries," Brown tells TODAY. She recommends learning how to say no to things that can cause stress to become overwhelming, as well as engaging in social activities, and exercising.

Burnout happens to parents, too

While the WHO states that the definition it provides for burnout should be viewed in the context of work, it is worth noting that there have been studies which found that similar symptoms occur in individuals such as parents.

In 2017, New York Magazine reported on a survey done by researchers from the Université Catholique de Louvain in Belgium. Researchers found that just like working professionals, moms and dads also experience "parental burnout."

The survey, which was published in the journal Frontiers in Psychology, found that of more than 2,000 parents surveyed, 12.9% of mothers and 11.6% of fathers reported that they had "high burnout."

"That meant they felt exhausted, less productive and competent and emotionally withdrawn — qualities that are similar to professional burnout — at least once a week," according to CNN.

CONTINUE READING BELOW

Recommended Videos

As a result, the researchers say that parents go through an ordeal that might actually be more serious than the burnout they would experience at a typical job, and that parental burnout is "highly correlated with depression, addiction and other health problems," according to New York Magazine.

"The emotional detachment parents experience when they reach the end of their rope can be a particularly harrowing experience."

What other parents are reading

How you can deal with burnout

Burnout is something that can happen to anyone. The good news is even if you might be going through this ordeal, there are plenty of ways you can care for yourself, whether you feel exhausted from work, from parental life, or from both.

Don't be afraid to ask for help

Don't force yourself to do everything. Though you want to make sure you do all that you can for your family or career, it is also important to give yourself a break every now and then. When you feel exhausted, there is no shame in enlisting the help of your partner, relatives, or colleagues. This way, you not only get some much-needed and well-deserved rest, but you can also work closely with your family or friends and deepen your bond with them. You are a team, after all!

Learn how to say no

A lot of us feel guilty about saying no when people ask us to take on different responsibilities. For instance, if you're a working mom, you might have experienced feeling forced to accept a task that ended up adding to your own stress. Stay-at-home moms might have gone through times when they felt pressured to do everything on their own even if they knew they could ask someone else for help.

ADVERTISEMENT - CONTINUE READING BELOW

But mom, don't feel like you can't say no. Motherly provides three questions you can ask yourself when you find yourself being asked to take on additional responsibility: "Do I need to do this? Do I want to do this? Does this give me energy?" If your answer to any one of these questions is no, then just refuse! 

What other parents are reading

Build a support system

Everybody needs people who will encourage them to keep going even when they feel bogged down by how overwhelmingly stressful life can be. Surround yourself with positive people whose energy can rub off on you and who can help you in different ways, such as providing helpful advice or listening to your troubles.

Make time for me-time

Sounds easier said than done, but taking time off for yourself every now and then is not supposed to be a luxury — it's something you deserve! When you take better care of yourself, you'll be more productive and able to take better care of your family. So don't feel guilty about taking the chance to go to the spa or to do some quiet reading by yourself!

For ideas on what you can do during your me-time, click here.

Spend time with your partner and your friends

Squeezing in some time to engage in social situations is another way to cope with burnout, according to TODAY. First, there's going on date nights with your significant other. It's easy to prioritize your kids over your marriage, but spending some quality time with your partner can be just what you need to ease your load, and can give you both the strength to get through the challenges of being parents.

ADVERTISEMENT - CONTINUE READING BELOW

Don't forget to spend time with your friends! Having mom friends to hang out with is a priceless resource for any parent because these people can understand what you are going through and help you figure out how to deal with your challenges in stride. Take the opportunities available to you — such as visiting your child's school or the neighborhood park — and find mom friends to add to your circle!

What other parents are reading

Reduce your gadget use

Being on social media too much can be one more reason why you might be going through parental burnout — specifically, seeing all those posts about moms who seem to have perfect lives might be causing you to mount unnecessary pressure on yourself. Remember that every mom's journey is different, that not everything on the Internet is real, and that you are doing just fine, mom! Instead of getting too consumed with comparing yourself to those picture-perfect moms you see online, try going gadget-free for a few hours, or even a day. You might discover yourself feeling a lot better!

Be on the lookout for symptoms of depression

Knowing now how closely associated burnout might be to depression and anxiety, it is important for moms to pay attention to their own symptoms. It helps to be aware of whether you are going through burnout or if you might already be experiencing something more serious. If you do find that you might be manifesting symptoms of depression, don't be afraid to seek professional help.

ADVERTISEMENT - CONTINUE READING BELOW

Don't be afraid to reach out if you are feeling anxious, helpless, or despondent. If you need someone to talk to: 

Crisis Line +633 893-7603 / +63 917 800-1123 / + 63 922 893-8944 
Manila Lifeline Center at +632 896-9191 or +63 917 854-9191
Department of Health's 24-hour suicide prevention hotline Hopeline +632 804-4637 / +63 917 558-4673 and 2919 for Globe and TM subscribers 
You can also join SOS Philippines on Facebook, a support group founded for survivors of suicide loss and Filipinos undergoing mental health ailments like depression and bipolar disorder.

What other parents are reading

Celebrate your pregnancy milestones!


Enter your details below and receive weekly email guides on your baby's weight and height in cute illustration of Filipino fruits. PLUS get helpful tips from experts, freebies and more!

You're almost there! Check your inbox.


We sent a verification email. Can't find it? Check your spam, junk, and promotions folder.
Trending in Summit Network