'Red, Itchy Rash' Doesn't Always Mean Skin Allergy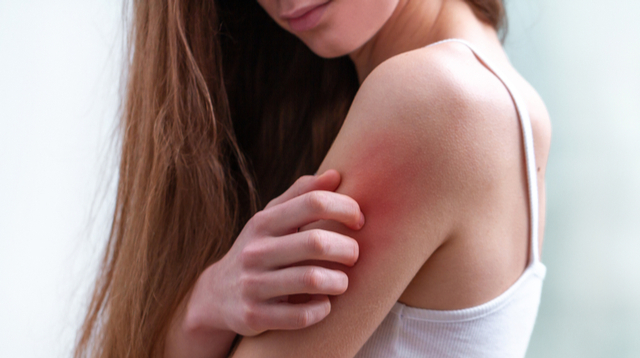 Skin allergy is one of the different kinds of reactions that our body produce due to allergens that can be found in dust mites, pets, pollen, insects, ticks, mold, food, and even some medications. When an allergen triggers an immune system response, then it becomes an allergic skin condition. 

What does skin allergy look like?

Having rashes do not always mean you have a skin allergy. Experiencing red, itchy, and bumpy skin can mean a lot of things, according to the American College of Allergy, Asthma & Immunology (ACAAI). These are commonly seen in different skin conditions, and only a board-certified allergist can determine if your symptoms are the result of allegies.

There are many things that can cause rashes. It may occur as an allergic reaction to food or medication. It can also mean exposure to certain plants like poison ivy. Or, it can mean an illness like measles or chickenpox.

Two of the most common types of skin rashes related to allergens are eczema and hives. Eczema, also called atopic dermatitis, is a chronic condition where the skin can't provide protection from bacteria, irritants, and allergens. This causes dry, red, irritated, and itchy skin. When it gets infected, the skin may produce small bumps that ooze a clear or yellowish liquid, according to the ACAAI.

Hives or urticaria, on the other hand, is a common condition that affects up to 25% percent of kids. It is characterized by red, itchy, and swollen bumps or welts on the skin. It can show up anywhere on the body and is often a result of an allergic reaction from medication or food, but there are cases when the cause is unknown.

ADVERTISEMENT - CONTINUE READING BELOW

Because there are so many reasons for allergies on the skin, it is important to never self-diagnose. Always check with an expert so you can properly address your discomfort. Here are six more things you need to know about skin allergies.

Skin allergies present itself in different ways.

For example, Eczema usually produces dry, sensitive skin where red, itchy patches may occur. On the other hand, hives are typically reddish, raised, itchy bumps that turn white in the center when pressed. There's also contact dermatitis where red, itchy bumps appear on only the area that came in contact with the trigger.

Jewelry can trigger contact dermatitis.

Contact dermatitis happens when your skin comes in contact with an irritant or an allergen, which can be found on metals such as nickel in jewelry. There are also other causes of contact dermatitis such as soaps, laundry detergents, fabric softeners, shampoos. Even excessive exposure to water can cause it!

Staying out of the sun can help if you have a rash.

According to ACAAI, if your skin is already irritated or sensitive, exposure to UV rays and possible sunburn could cause you more discomfort. They recommend you to cover up and stay out of the sun as much as possible.

Shaving cream, lotion, and some perfumes also cause rash, blisters, itching, and burning, but only when exposed to sunlight. This is another case of dermatitis called photoallergic contact dermatitis.

Cold water can help stop itching fast.

Applying a cold, wet cloth or ice pack to itchy skin can provide instant relief. You can also have frequent baths (try an oatmeal bath!) and adequately moisturize your skin to help provide comfort for your irritation.

ADVERTISEMENT - CONTINUE READING BELOW

Recommended Videos

Avoid scratching skin rashes. This prevents more irritation, which may lead to infection.

There are home remedies for allergies on the skin.

Applying aloe vera or coconut oil can help soothe mild rash caused by contact dermatitis. Being able to identify potential triggers for the skin allergy is also helpful as it gives you the power of knowing what to avoid.

Seek medical consultation if your symptoms worsen.

If you experience discomfort and are worried about your skin condition, talk to your doctor immediately. According to Healthline, schedule an appointment if you experience a rash along with any of the following symptoms:

increasing pain or discoloration in the rash area
tightness or itchiness in the throat
difficulty breathing
swelling of the face or extremities
fever of 38 degrees celsius or higher
confusion
dizziness
severe head or neck pain
repeated vomiting or diarrhea
joint pain
a sore throat
red streaks or tender areas near the rash
a recent tick bite or animal bite

A rash can mean many things including this rare autoimmune disease. Read our story here.

Celebrate your pregnancy milestones!


Enter your details below and receive weekly email guides on your baby's weight and height in cute illustration of Filipino fruits. PLUS get helpful tips from experts, freebies and more!

You're almost there! Check your inbox.


We sent a verification email. Can't find it? Check your spam, junk, and promotions folder.

Trending in Summit Network