This Dad Went From Weighing 175 Pounds to Completing 6 Duathlons in One Year

The dad of two says he owes "the new me" to his wife, who stuck with him through the hardest of times.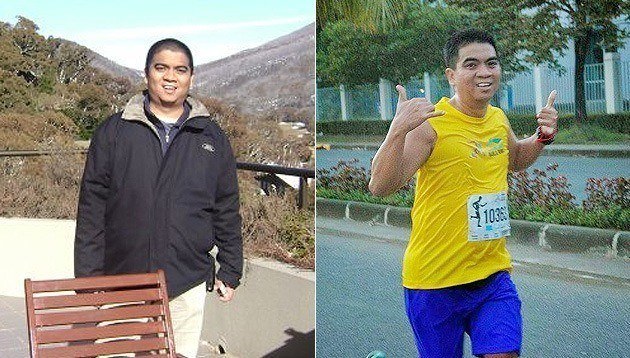 For the longest time, Butch has been struggling with his weight, but the dad of two just could not stick long enough to a fitness routine. He was physically inactive, severely obese, and a habitual smoker. His wake-up call came after he experienced two deaths in the family; he knew he had no other choice but to change. With the help of a running coach, and his wife, Butch at 43 is now at the healthiest he's ever been since he graduated from college. Here is his inspiring story. 

"When I was young, I didn't have any weight concerns," Butch shares. "In fact, it was the other way around -- I was so skinny. I ate a lot, but when I graduated from college in 1994 I only weighed 110 pounds because I played basketball a lot."

Things changed right after college when Butch started working for one of the country's top accounting firms. His job as an external auditor was so demanding and required a lot of out-of-town trips that there was little time for sports and other physical activities. "Within a year, I ballooned from 110 to 135 pounds. By the time I left the company in 1998, I was 165 pounds," he said.

ADVERTISEMENT - CONTINUE READING BELOW

In 2000, Butch got married and moved to Cebu. There, he tried to resume playing basketball, but his weight kept him from keeping up with his younger, more athletic co-players, so he eventually stopped. He continued to smoke (a habit he picked up in his teenage years) and eat unhealthily. "At my heaviest, I weighed 175 pounds," he relates.

Butch knew something was absolutely wrong when in 2004 he started experiencing urinary incontinence. A brother-in-law, who was a doctor, suggested he undergo tests, which revealed that his blood sugar and triglyceride levels were above the normal range. An endocrinologist advised him to lose weight, quit smoking, and take maintenance drugs, which he dutifully followed -- for three months. He lost 10 pounds and his sugar levels went down, but he went back to his unhealthy ways.

What other parents are reading

There were other attempts to live a healthier lifestyle: in 2013, he shifted to smoking e-cigarettes, and after eight months, he was able to give up smoking completely. He and his wife also started joining fun runs, doing three kilometers but never going beyond eight kilometers because of knee pain. 

It was only in 2014, when Butch's father and brother both died of cancer in the same year, that Butch hardened his resolve. "I knew I had to change for the better for the sake of my family," he shares. This was also the year that a triathlete-friend referred them to a running coach who started working with the family. The rest, Butch says, is history.

ADVERTISEMENT - CONTINUE READING BELOW

"To compete in long distance runs, you really have to be super fit. I knew I had to lose weight to ease the pressure on my knees so that I could run faster and longer. So I limited my intake of softdrinks and other high-sugar beverages and controlled my food intake by counting calories," Butch shares. "I was finally able to join many running events, including a 21K half marathon, in 2014. In 2015, I was down to 152 pounds and was able to compete in my first ever duathlon. In 2016, I completed six different duathlons."

What other parents are reading

Today, Butch is trim at 158 pounds with normal blood sugar levels. He runs and/or bikes two to three times a week, and always makes sure that his calorie intake is less than or equal to his calories burned. "I'm more energetic, less sickly, and less prone to stress," he says. He hopes to be able to participate in a triathlon one day.

ADVERTISEMENT - CONTINUE READING BELOW

Butch reveals his inspiration to maintain a fitter lifestyle. "I owe this new me to my wife, who stuck with me through thick and thin during the whole process. Training alone was very difficult, so when I started running she also started training with me. When I started biking, she also joined me." And to those who are having difficulty shifting to a healthier lifestyle, he has this to say: "Changing to a healthy lifestyle is a choice, and it's really a difficult one. Remember that while you are free to choose the easier, less healthy path, you are not free from the consequence of your choice. Surround yourself with people who the have the same interest and conviction as you." 

Trending in Summit Network