Experts Say Wearing Gloves Inside Grocery Stores Gives 'False Sense Of Security'

It becomes ineffective if you continue to do the following.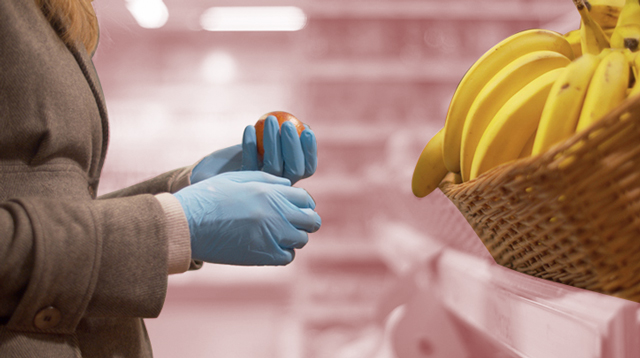 With over 3,600 confirmed coronavirus disease 2019 (COVID-19) cases in the country, Pinoys are becoming more cautious and vigilant when it comes to protecting themselves against the virus. The Inter-Agency Task Force (IATF) for the Management of Emerging Infectious Diseases has already made it mandatory to wear face masks when going out on essential trips, but what about additional layers of protection, like wearing gloves when doing the groceries?

According to experts, wearing gloves won't give added protection against the risk of coming into contact with germs. It even provides a false sense of security to the wearer.

The United Kingdom's National Health Service (NHS) says that while face masks and gloves play a "very important role" in a clinical setting, there is "little widespread evidence" that they are useful for members of the public.

How wearing gloves become ineffective against COVID-19

In an interview with Good Housekeeping, Robert Amler, M.D., the vice president for government affairs at New York Medical College and former chief medical officer at the Centers for Disease Control and Prevention (CDC) in the U.S., explains that "people often don't understand that a glove could transfer germs to any and all surfaces they touch" — yes, including your face. "The glove itself is only as good as not touching your face with the glove. So, you know, you can touch things with your hands," he says.

He adds, "As long as you've washed your hands or use hand sanitizer afterwards (to kill the virus), you've accomplished the same thing."

ADVERTISEMENT - CONTINUE READING BELOW

COVID-19 is primarily transmitted through respiratory droplets (for example, when an infected person sneezes or coughs) but it is also possible for the disease to spread by touching contaminated objects or surfaces and then touching the face. This allows bacteria to enter your system through mucous membranes through the eyes, nose, or mouth.

If you accidentally tear a glove or remove it in a way that cancels out the protection it provided in the first place, then it will be the same as not wearing any. Wearing gloves can also make you less cautious and make you think that you can touch anything you want.

"If you're wearing gloves while shopping but happen to itch your nose or rub your eyes, it defeats the purpose of wearing gloves," Sandra Kesh, M.D., an infectious disease specialist, tells Good Housekeeping.

If you want gloves to give you that sense of protection, Dr. Kesh advises you to think of it as being infected. "When wearing gloves, you should picture them being infected, or 'hot.' Anything they touch gets infected, so to speak."

You can wear them at the grocery, but you should still practice social distancing, which experts say is still one of the best ways to prevent COVID-19, next to frequent handwashing. Dr. Kesh also advises you to dispose of the gloves as soon as you step out of the store. "Ideally, wear the gloves until you can wash your hands and no longer need to use them. You should consider your hands dirty until then, however," she says. "In the process of removing gloves, your hands actually become somewhat contaminated, which is why we always recommend hand washing after glove removal."

ADVERTISEMENT - CONTINUE READING BELOW

Recommended Videos

If you choose to wear gloves until you get home, you should disinfect all the surfaces that you've touched with it afterward: your car's steering wheel, gearshift, doors, interiors, and your wallet, your phone, etc. Then, wash your hands with soap and water.

Is there a proper way to remove gloves?

Below are the steps to remove gloves and protect yourself from getting the virus, according to the U.S. CDC:

Grasp the outside of one glove at the wrist. Do not touch your bare skin.
Peel the glove away from your body, pulling it inside out.
Hold the glove you just removed in your other gloved hand.
Peel off the second glove by putting your fingers inside the glove at the top of your wrist.
Turn the second glove inside out while pulling it away from your body, leaving the first glove inside the second.
Dispose of the gloves safely. Do not reuse the gloves.
Clean your hands immediately after removing gloves.

Can I reuse gloves?

Because there's a shortage of personal protective equipment worldwide, Dr. Kesh suggests that you can submerge latex or rubber gloves in soapy water for reuse if you don't have any choice. But some solvents found in soaps or sanitizer may "interfere with the glove's material" making them ineffective, warns Dr. Amler.

If you're using wool or woven gloves, you should always wash them after every use. You should also consider disinfecting your outside clothes when you've been outside. Read up on the proper way to do that here.

ADVERTISEMENT - CONTINUE READING BELOW

Keep your home virus-free! Click here to adopt a doctor's sterile technique for disinfecting groceries and food deliveries and here for a list of disinfectants you can use to clean rooms and surfaces. For more stories on COVID-19, click here.

What other parents are reading




Celebrate your pregnancy milestones!


Enter your details below and receive weekly email guides on your baby's weight and height in cute illustration of Filipino fruits. PLUS get helpful tips from experts, freebies and more!

You're almost there! Check your inbox.


We sent a verification email. Can't find it? Check your spam, junk, and promotions folder.

Trending in Summit Network