This Vaccine May Be an Unusual Gift for Your Teen, But It Can Save His Life

It's an effective way to protect her way before she becomes sexually active.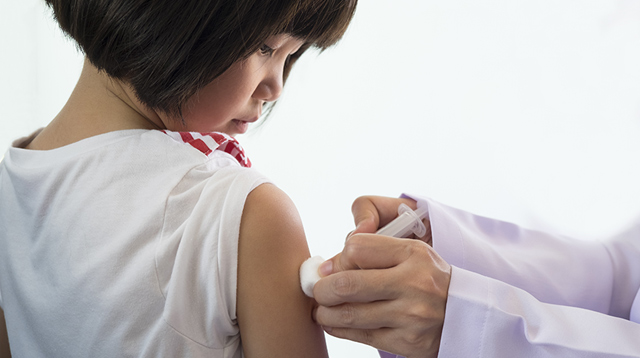 Protecting our children from sexually transmitted infections (STI) need to start when they are young, way before they become sexually active. The HPV vaccine, which is one of the recommended vaccines for children to receive, is one of the most effective ways to shield them from those infections, which can also cause different diseases.

What is HPV?

Human papillomavirus (HPV) is defined as the most common STI in the world. HPV is primarily transmitted through vaginal, anal, or oral sex with an infected individual, though, according to the Centers for Disease Control and Prevention (CDC), it is more frequently spread during vaginal or anal sex.

Anyone sexually active can get infected with HPV, even those who have only had sex with one person. However, the World Health Organization (WHO) also says that penetrative sex is not required to transmit HPV. This can also happen during skin-to-skin genital contact.

There are many different types of HPV. Many of these do not cause health problems; according to the WHO, most HPV infections typically go away on their own within a few months to two years after the acquisition. There are also certain types of HPV, which are labeled as 'high-risk.' Mayo Clinic says that some types of HPV lead to cancer in the cervix, while others lead to cancer of the anus, penis, vagina, vulva, and back of the throat (oropharynx).

Other types of HPV that don't cause cancers may lead to genital warts or respiratory papillomatosis, a condition where wart-like tumors grow in the passages leading from the nose and mouth into the lungs.

ADVERTISEMENT - CONTINUE READING BELOW

Cervical cancer, one of the diseases caused by HPV, is the fourth leading cause of cancer-related death in females, says the WHO. In 2018, an estimated 570,000 new cases were recorded, including more than 311,000 deaths.

The risk factors for the development of adverse health conditions in individuals with HPV infection include the type of HPV they have, their immune status (people with compromised immune systems, such as those living with HIV, are less able to fight off HPV infections and its possible complications), co-infection with other STIs (i.e. those that cause herpes, chlamydia, and gonorrhea), the number of babies a woman has given birth to, giving birth at a young age, and tobacco smoking.

HPV symptoms and possible complications

According to Planned Parenthood, most people who get infected with high-risk HPV don't tend to show any symptoms until the virus has already caused serious damage to their bodies. HPV-associated cancer, for instance, can take up to decades to develop after a person gets infected with the virus. It is for this reason that regular testing is highly recommended, as these can help prevent HPV infection before it even happens.

The symptoms experienced by an individual with HPV can vary based on the type of cancer he or she has. Penile cancer, for example, has symptoms where the color and thickness of the skin of the penis change or a painful sore appears on the penis. Anal cancer can cause anal bleeding, itching, pain, discharge, or changes in a person's bowel movement.

CONTINUE READING BELOW

Recommended Videos

Symptoms of vulva cancer include changes in the color or thickness of the skin of the vulva, chronic pain or itching, and a lump. Symptoms of throat cancer include a sore throat, ear pain that doesn't go away, constant coughing, trouble swallowing or breathing, weight loss, and a lump in the neck.

Meanwhile, the CDC says that genital warts caused by HPV usually appear as a bump or group of bumps in the genital area. These bumps can be small or large, flat or raised, or even shaped like a cauliflower. A healthcare provider will be able to diagnose genital warts by looking at the genitalia of an individual with HPV.

HPV treatment and prevention

There are no tests that can conclusively determine a person's 'HPV status' or his or her risk of being infected with HPV in the future, says the CDC. There are also currently no tests that can detect HPV in a person's mouth or throat.

Similarly, there is also no treatment for the HPV virus. There are, however, treatments available for the problems caused by the virus. Genital warts, for example, can be treated with medicine prescribed by a healthcare provider. The CDC writes that if left untreated, genital warts may either go away on their own, stay the same, or grow in size or number.

Other conditions, such as HPV-associated cancers, are much easier to treat when detected and diagnosed early, which is why doctors encourage taking preventive measures as soon as possible. The WHO says that one way to prevent HPV infections early on is by providing adolescents with information and warnings about tobacco use, sex education tailored to their age and culture, and knowledge on how to use condoms correctly, as well as circumcision for males.

ADVERTISEMENT - CONTINUE READING BELOW

On the other hand, women ages 30 years and above are encouraged to take routine screenings and tests to look for any signs of HPV, especially high-risk types of the virus. The CDC says that regular testing, which is recommended for women between 21 and 65 years old, can help prevent cervical cancer.

Using latex condoms correctly and having sex with someone who only has sex with you are ways to protect yourself from HPV infection if you are sexually active.

HPV vaccine is your child's best protection

The best way to protect a person from HPV infection and its possible complications is to adminsiter the HPV vaccine at the recommended age. The vaccine is licensed for use in children between 11 and 12 years of age, though it may also be given to boys and girls by the time they are 9 years old. In the childhood immunization schedule for 2019 prepared by the Philippine Pediatric Society (PPS) and the Pediatric Infectious Diseases Society of the Philippines (PIDSP) in cooperation with the Philippine Foundation for Vaccination (PFV), the recommended age for children to get their first dose of the HPV vaccine is 9 years old.

The CDC recommends two doses to provide them with the protection they need. The vaccine may also be administered to females between 13 and 26 years old and to males between 13 and 21 years old who have not yet been vaccinated or have not received the recommended number of doses.

Studies have suggested that the protection provided by the HPV vaccine is long-lasting. Recent research which followed people a decade after being vaccinated found that there was no evidence of weakened protection over time.

ADVERTISEMENT - CONTINUE READING BELOW

Again, the HPV vaccine is an effective form of protection for individuals who are not yet sexually active. The CDC notes that the vaccine may not work as well in people who have been exposed to one or more types of HPV before and that it cannot treat existing HPV infections or HPV-related conditions.

Click here to learn why it is highly important for parents to have their children vaccinated.

What other parents are reading

Celebrate your pregnancy milestones!


Enter your details below and receive weekly email guides on your baby's weight and height in cute illustration of Filipino fruits. PLUS get helpful tips from experts, freebies and more!

You're almost there! Check your inbox.


We sent a verification email. Can't find it? Check your spam, junk, and promotions folder.
Trending in Summit Network