Measles Outbreaks in the U.S. Linked to Travelers Who Visited the Philippines

There are now more than 1,000 individual cases of measles reported in more than 20 states in the U.S.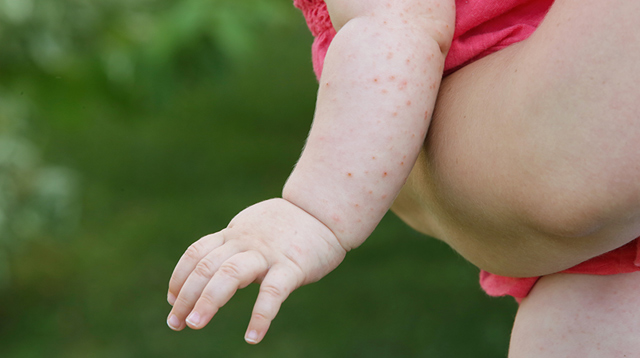 The number of measles cases in the United States has now reached the 1,000-mark, according to the Centers for Disease Control and Prevention (CDC) with 1,044 individual cases confirmed in 28 states across the U.S. recorded between January 1 and June 13, 2019. It is the highest number of measles cases in that country since 1992, and it is made more alarming by the fact that measles was declared officially eliminated there in 2000.

On June 5, 2019, when the CDC reported that the number of measles cases had reached the 1,000-mark, Health and Human Services Secretary Alex Azar released a statement on the website of U.S. Department of Health & Human Services.

"The Department of Human and Health and Human Services has been deeply engaged in promoting the safety and effectiveness of vaccines, amid concerning signs that there are pockets of undervaccination around the country," Azar states. "The 1,000th case of a preventable disease like measles is a troubling reminder of how important that work is to the public health of the nation."

U.S. measles outbreak linked to the Philippines and other countries

According to the CDC, the ongoing outbreaks are connected to people who got infected by the virus during their overseas travels to countries such as Ukraine, Israel, and the Philippines.

James Goodson, a senior measles scientist at the CDC, tells NPR, "When we see large measles outbreaks that are common destinations for U.S. travelers, like we're seeing this year, that's when we often see the largest number of measles cases in the U.S."

ADVERTISEMENT - CONTINUE READING BELOW

Goodson elaborates the rapid spread of measles is due to its nature. "The only reservoir for the measles virus is people. So the only way you're going to get measles is if you come in contact with somebody who's infected with measles."

During the first half of the year, the Philippines experienced an outbreak of measles in different cities and provinces. In February 2019, the Department of Health (DOH) confirmed a measles outbreak in Metro Manila and Central Luzon. At the time, there was a staggering 550% increase from the number of cases recorded during the same period in 2018. On February 7, 2019, the DOH announced more than 1,500 individual cases and 26 deaths reported.

According to a joint report by the World Health Organization (WHO) and the United Nations Children's Fund (UNICEF), 34,950 individual cases of measles have been reported through the DOH's routine surveillance system including 477 deaths, as of May 11, 2019.

The joint report also states that most of the patients who died of measles came from Regions III, IV-A, VIII, and the National Capital Region (NCR).

What is measles?

Measles is a highly contagious disease that can lead to a variety of potentially life-threatening complications. It is easily spread through the air when an infected person sneezes or coughs and someone nearby inhales the droplets. Other ways that measles can be transmitted are via direct contact with fluids coming from the mouth or nose of an infected person.

According to the CDC, the symptoms of measles typically manifest in seven to 14 days after a child gets infected. Two to three days after symptoms begin, a child who has it may develop tiny white spots inside his mouth. Three to five days after symptoms start, the rash can break out, starting as flat red spots on the child's face, eventually spreading down to his neck, trunk, arms, legs, and feet. The CDC notes that when the rash appears, the child's body temperature may jump up to more than 104° Fahrenheit (40° Celsius).

ADVERTISEMENT - CONTINUE READING BELOW

Recommended Videos

Pediatric infectious disease specialist Dr. Jay Ron O. Padua, FPPS, DPIDSP, tells SmartParenting.com.ph, "The illness usually lasts for seven to 10 days, even longer if there are complications."

Complications that people infected with measles may experience are ear infections, which can result in permanent hearing loss and diarrhea. Some patients may also suffer from severe complications such as pneumonia (infection of the lungs) or encephalitis (swelling of the brain). These complications are among the leading causes of deaths in patients infected with measles, according to Dr. Padua.

Measles can be fatal to patients of any age group, though there are those who are at high risk of the possible complications brought by measles. These groups are:

Children less than 5 years old
Adults over 20 years old
Pregnant women
People with compromised immune systems due to illnesses such as HIV infection or leukemia

How to protect children from measles

The WHO reported that young children who are not vaccinated are at highest risk of getting infected with measles. And according to experts, the best way to shield them from the potentially fatal complications of measles is by making sure they are vaccinated.

"We cannot say this enough: vaccines are a safe and highly effective public health tool that can prevent this disease and end the current outbreak," Sec. Azar says in his statement. "The measles vaccine is among the most-studied medical products we have and is given safely to millions of children and adults each year.

In the Philippines, the measles vaccine is included in the childhood immunization schedule, prepared by the Philippine Pediatric Society (PPS) and the Pediatric Infectious Disease Society of the Philippines (PIDSP) together with the Philippine Foundation for Vaccination (PFV). The measles vaccine is advised to be given in one dose at 9 months of age. During outbreaks, the vaccine can be given as early as 6 months of age.

ADVERTISEMENT - CONTINUE READING BELOW

There is also the Measles-Mumps-Rubella or MMR vaccine, which is advised to be given in two doses, starting 12 months of age. Both the measles and MMR vaccines are available for free in health centers all over the country.

If you have concerns about the schedule or vaccines, doctors reiterate the importance of discussing it with your pediatrician.

"We acknowledge that some patients will require schedules that are different from our recommendations," said PPS president Dr. Salvacion Gatchalian during a press conference at PIDSP's 26th annual conference earlier this year. "That is why it is important for parents to consult their pediatricians so they can make the best possible decisions for the health and well-being of their children."

"Vaccinating our children is one of the most basic medical interventions to ensure that our children develop as healthy adults," PIDSP president Dr. Anna Lisa Ong-Lim shared during the same press conference. "Some fears and myths persist that vaccines could harm infants, but decades of studies have shown that vaccines prevent unnecessary child deaths instead of causing them."

Aside from getting immunized, practicing good hygiene is another way to prevent getting infected by measles. The CDC suggests taking steps such as frequent hand washing, using a hand sanitizer that contains at least 60% alcohol, covering the mouth and nose when sneezing, and avoiding close contact with people who might be sick.

What other parents are reading

Celebrate your pregnancy milestones!


Enter your details below and receive weekly email guides on your baby's weight and height in cute illustration of Filipino fruits. PLUS get helpful tips from experts, freebies and more!

You're almost there! Check your inbox.


We sent a verification email. Can't find it? Check your spam, junk, and promotions folder.

Trending in Summit Network