Nico Says 'The Dirtier, The Healthier' In Raising Tili, Solenn Agrees But With Precautions

Plus doctor's tips on how to ensure healthy skin while your child enjoys playing.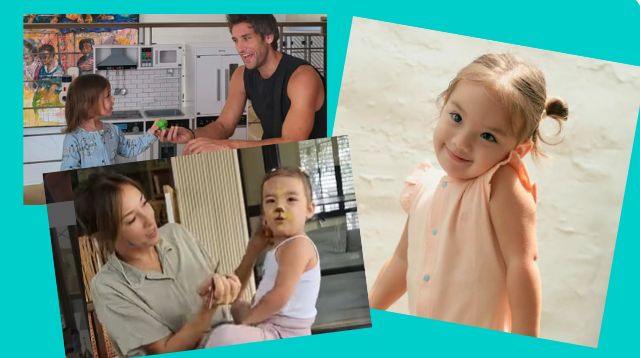 Solenn Heussaff and Nico Bolzico look back on the day their unica hija Thylane was born, on January 1, 2020, from different perspectives.

"Actually, I didn't really see her at first," says the Filipino-French actress/artist/entrepreneur, referring to their panganay. "I was C-section, and she was covered. When she came out, they took her right away to the side. I don't know, clean her…Nico was there. He cried for 25, 45 minutes."

The Argentinian businessman and model owns up to his emotional reaction: "Before having Thylane, I don't remember the last time I cried. The moment you cry like a baby."

He adds having that same reaction to anything the little girl does till this day: "She made me so sensitive."

Solenn recalls her own emotional moment with Thylane: "Just seeing her come out and hearing her cry, knowing that everything went well was just so magical experience. I wish every mom could experience that. It's such a beautiful thing. Also it's very scary."

The couple are just thankful that their daughter grew up to be generally healthy, with just minor issues, particularly concerning the skin. They share some of their experiences at the recently concluded Cetaphil Skin Summit 2022, an online event organized by the skincare product they endorse.

Says Solenn on Thylane, nicknamed Tili or #tilibolz on social media: "She hasn't had many allergies. But she had cradle cap. She had baby acne, just small dots everywhere. We haven't experienced diaper rash."

ADVERTISEMENT - CONTINUE READING BELOW

Nico adds, "She gets mosquito bites. With that, she's very sensitive."

Well it helps that the couple have found the right balance in letting their daughter run free and get dirty while being protective and cautious.

Bathing the child

Solenn recalls giving Tili's first bath at home: "It was actually me and my mom. I didn't know what to do, and Tili was 2.7 kilos when we came back from the hospital. So she was really small, and thin…and red. I had my mom come.

"I'd been watching these videos and everything. But you know, it's true what they say mother's instinct just kicks in, and it…Everything you read or hear does help in some ways, but it just happens. It's magical. It was scary."

Solenn says she eventually learned how to give Tili a bath, which she still does now that the little girl is 2 years old. When Tili needs to take a shower, on the other, she has Nico on standby.

Says Nico of his and his daughter's ritual during shower time: "We look at the mirror for a little bit. I use gentle wash and shampoo. The only thing is be careful because she can get slippery. She really moves a lot. We wash away together now. I wear my trunks."

For her part, Solenn says she uses the baby wash product to make a bubble bath instead of applying it directly on Tili's skin. She adds that she shampoos Tili's hair when the little girl did extra activities, like swimming in a pool. The chlorine from the pool will be washed out by shampoo. Afterwards, she applies lotion on Tili's skin if the little girl has been "exposed to a lot of sud or having some of kind of rash."

CONTINUE READING BELOW

Recommended Videos

Putting the child to sleep

Solenn and Nico agree on using bath or shower time as cue for Tili to prepare to go to bed. They believe that's the reason why their daugther is a "very good sleeper."

Solenn points out, "Sleep is a good help not only for kids but also for us, adults. You feel better the next day. You function better. You're nicer to people. If [kids] sleep well, everything will just be a breeze. They nap on time as well.

"It's just being consistent with about what time you put them to bed, whether they're tired or not." Meaning, Tili has follow her 7 p.m. bedime at all times.

Nico gives an additional explanation, "Being consistent means explaining to her why she needs to go to bed. 'You need to sleep now to rest because tomorrow you have classes and swimming lessons.' And she understands. Sleeping is really part of how she grows well. She looks forward to next day."

Letting the child gets dirty but...

Nico says he grew up in a farm in Argentina, so he believes in "the dirtier, the healthier" tactic. Solenn agrees, "As long as she doesn't put anything in her mouth. Anything else, if she wants to get dirty, it's part of growing up."

Solenn gives examples on how their tactic works: "We let her lay and roll around, walk barefoot on the street. I feel it will also build her immunity. We make it a point to wash her after."

ADVERTISEMENT - CONTINUE READING BELOW

Doctor's tips

With Solenn and Nico at the online event was Dr. Mara Evangelista-Huber, a board-certified dermatologist and dermapathologist. The doctor gave tips on how to ensure baby's skin stays healthy while enjoying play.

Be aware of what's gonna irritate the baby's skin and also the potential allergens

The doctor suggests avoiding these things:

Extreme temperatures. Meaning, "sobrang init, sobrang lamig." It can impact the skin barrier of kids. So try to avoid situations when it's too hot or to cold.

Insect bites. These tend to heal slow in kids. So try using repellants and protective clothing, like long pants rather than short pants, so they won't get bitten. Also avoid certain times of the day "na maraming kumakagat," particularly at dawn and dusk.

Pollen. Not everyone reacts to pollen, the doctor said, but there are kids who react to pollen. Also plant sap, "'yung katas ng plant." Some kids also react to fur.

Be prepared for booboos

Because booboos can happen, the doctor pointed out and went on telling what to do best:"If you have a scrape or gasgas, just wash it with a gentle cleanser. Put a thick moisturizing cream on top that will help it heal.

"I also find applying a thick cream on areas subject to friction a lot, like the elbows and the knees. That will prevent abrasion or gasgas from happening."

Wash your kid's hands after they play

Dr. Evangelista-Huber pointed out, "It's important to use a gentle soap or cleanser because the skin can get irritable if you use something harsh. Choose one with mild ingredients, like sodium lauryl sulfate or anything with coco or coca in them. It means they are coconut-derived. Moisturize after washing."

ADVERTISEMENT - CONTINUE READING BELOW

Read here about baby skin myths and how to address each of them.

What other parents are reading

Celebrate your pregnancy milestones!


Enter your details below and receive weekly email guides on your baby's weight and height in cute illustration of Filipino fruits. PLUS get helpful tips from experts, freebies and more!

You're almost there! Check your inbox.


We sent a verification email. Can't find it? Check your spam, junk, and promotions folder.
Trending in Summit Network