'After Spain:' A Story Of Grief And Love For Kidlat De Guia (Part 1 of 2)

Lissa Romero recounts how she met her husband, the late artist Kidlat de Guia, whose unexpected passing has left a void that she is filling with love and grace.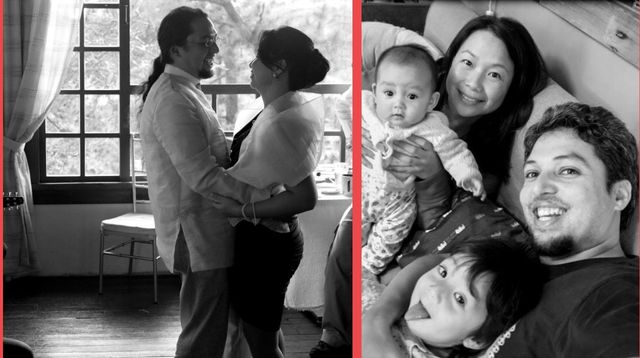 Lissa Romero De Guia and her late husband Kidlat are celebrated artists and members of the Baguio community. Early in 2022, Kidlat tragically and suddenly died while on a work trip with his father and namesake, the National Artist Kidlat Tahimik. This is the first of two exclusive essays that Lissa has written since the life-changing incident. Smart Parenting is honored to hold space for her grief and love. Read the second essay, How A Family Allows Grief And Love To Be A Gift, here.

On May 17, 2007, I met a guy named Kidlat.

We were both guests at the 26th birthday party of a common friend. It was a bit of a set-up. My friend's mother had already tried to prime me for the introduction, saying that she felt we had a lot in common since we are both creatives (he as a photographer and filmmaker; I as a musical theater performer and writer), and we both spoke German.

"Lissa, this is Kidlat. Kidlat, this is Lissa," my aunt said as she brought us face to face with one another. She waved her hands in a gesture that meant we should start talking to each other. "You know, you both speak German. So…speak German!" And with that directive, she turned around and left us to behold one another, I in a state of shock and embarrassment. Two minutes later, we were gabbing away happily, our conversation fueled by endless bottles of Merlot.

When Kidlat called me for the first time, I realized with some alarm that I couldn't remember how he looked. What I did remember was how he made me feel. From the moment I heard his voice on the phone, I knew I could trust him. There was no logic to it. My soul just knew.

ADVERTISEMENT - CONTINUE READING BELOW

Of course, we went through the process of learning one another. Morning conversations were fueled this time by extremely strong cups of coffee, always made from Kidlat's special mixture of Benguet, Barako, and Arabico beans freshly ground in a hand held grinder.

PHOTO BY

COURTESY OF Lissa Romero de Guia

I realized with some alarm that I couldn't remember how he looked. What I did remember was how he made me feel.

From the outside, it may have appeared that we had nothing in common. Kidlat was the firstborn son of Eric de Guia (aka the Father of Philippine Independent Cinema, Kidlat Tahimik) and German stained-glass artist and doctor of Sikolohiyang Pilipino, Katrin de Guia. I am the firstborn daughter of Ronnie Romero, who made a career ascending the corporate ladder at General Electric Philippines, and Interior Designer and artist Marisa Romero. But we soon discovered that Kidlat was not as bohemian as his parents, and I was not as right-wing as mine.

We sort of gravitated towards the moderate center, where we met and mingled. And yes, sometimes we did speak German with one another -- he in his authentically colloquial dialect tinged with Bavarian, I in the clipped Goethe Institute accent he sometimes made fun of. It was our secret language, when we didn't want to be understood by those around us.

ADVERTISEMENT - CONTINUE READING BELOW

Recommended Videos

Aside from his skill in making me laugh, what endeared me to Kidlat was his spirituality. I have been a seeker since childhood. I was not satisfied with the ready-made answers and precepts we were forced to swallow in the private Catholic schools I attended. On our first date, Kidlat gave me a small blue booklet on the ancient wisdom of Eckankar, his spiritual path. "Is this a cult?" I asked, half jokingly. I soon found that I resonated with the teachings of Eckankar, its core belief being, "Soul exists because God loves it."

Kidlat was someone I could "talk Universe" with, and it was such a comfort to know we were partners in this vital aspect of our lives.  We both practiced a kind of meditation or contemplation that allowed us to "soul travel", to explore our relationship with God in the soul plane. This attuned us to the subtle aspects of spiritual experience, which contributed to our soul growth on this earthly plane.

RELATED: I'm A Muslim Who Graduated From An All-Girls Catholic School

Soulmates with a Flawed, Human Marriage

On January 9, 2011, three-and-a-half years after that fateful meeting, we tied the knot at Hill Station restaurant in Baguio. We had our first child, Kalinaw, in 2013, then Amihan in 2015.

Suddenly, the footloose and fancy free creatives had to do some serious "adulting." Over the years, the stress of breastfeeding, sleepless nights, dealing with debt, looking for freelance work, the clashing egos of two panganay trying to get a grasp of their world eventually deposited a crust of resentment between us.

ADVERTISEMENT - CONTINUE READING BELOW

When the coronavirus pandemic hit in March 2020, I was trapped at home and faced with an inconvenient truth: that, in order to "protect" myself, I held my husband at arms-length, creating an emotional distance, a buffer. At first, I thought we needed to heal our relationship. But the deeper we delved into this, I realized that I needed to heal myself, my long-held and illusory attitudes.

Not that Kidlat did not have his shortcomings. We were both human beings, after all, and wonderfully flawed. But while I was listening to the audio book of Meggan Watterson's amazing book, Mary Magdalene Revealed: The First Apostle, Her Feminist Gospel and the Christianity We Haven't Tried Yet, golden-tongued wisdom jumped out at me, and I paraphrase:

"We all come from the vibration of love. We are love itself. But what prevents us from being the vibration of love that we are is our own tendency to judge."

That statement hit me right between the eyes. That was the truth I was meant to hear. And so from 2020 till 2022, that was what I was working on—to grow deeper into self-love, which nullifies one's need to judge (for what is judgment but the fear that we ourselves are not lovable or good enough?), trying to grow once more a fecund garden of love between my husband and me.

RELATED: You Have 'Emotional Wounds' And You May Not Know It: 3 Ways To Be Kinder To Yourself

'After Spain'

As 2022 rolled around, I felt that our relationship was finally taking flight. We looked forward to spending more time together as a family after his intense work as his father's right hand man in putting up his epic art installation at the Palacio de Cristal in El Retiro Park in Madrid. Kidlat had many creative projects lined up or in progress, while I had just secured a publishing deal for my first collection of essays. Abundance in many forms was flowing towards us. Our personal plans were earmarked for "after Spain," after his return from the installation's egress in Madrid.

ADVERTISEMENT - CONTINUE READING BELOW

But on March 8, 2022, the unthinkable happened. After a family video call with the children and me, before he could step out of his BnB in Madrid to begin his day, Kidlat passed away from natural causes.

"How could our favorite person in the world die?" my son asked me. "Everything dies," I responded, inadequately, though my heart also yearned to know why.

Being human, I allowed myself to feel every emotion this event triggered. I did not try to be "evolved" by hiding behind philosophical platitudes to keep grief at bay. My willingness to be vulnerable became my secret weapon, my strength. Though at times painful, being willing to experience the spectrum of human emotions allowed me to feel my wholeness.

Yet my training as an energy healer as well as years of practicing soul travel allowed me to connect with Kidlat in a special way. From the moment we heard of his death, all I could feel was the tidal wave of his unconditional love filling my heart and everything and everyone that surrounded me. The intimacy we had been striving for as a couple found completion in his death. We are now always connected, and for the first time in my life, I feel completely supported.

ADVERTISEMENT - CONTINUE READING BELOW

Even though my world lacks his physical presence, I feel him continue to work with me in my earthly life. Freelance work as a voice over artist flooded into my space, and I sometimes left his wake in order to do my recording work. My first book People I Have Been was recently published and successfully launched in Baguio where we live, and broke the bookshop's record for most sales by an author in a single day. Even as I grieve the loss of my soulmate, grace continues to flow into our lives. And I know we have Kidlat—in cooperation with the Divine power—to thank for that.

Marriage vows usually state that our love continues "till death do us part." I'd like to change that to "till death do us not part."

My grief is not an ache to be wished away. Rather, it is a continuous act of loving the beautiful soul that is Kidlat.

Lissa Romero de Guia is an author, certified Self-Love Solution teacher and theta healer, and voice over artist. She lives in Baguio with her children Kalinaw and Amihan. Visit Atma Prema Wellbeing Group for more information on the Self-Love Solution Program or to purchase Lissa's book.

Celebrate your pregnancy milestones!


Enter your details below and receive weekly email guides on your baby's weight and height in cute illustration of Filipino fruits. PLUS get helpful tips from experts, freebies and more!

You're almost there! Check your inbox.


We sent a verification email. Can't find it? Check your spam, junk, and promotions folder.

Trending in Summit Network