Kilig! Chito Miranda Pens Sweet Birthday Message For Neri; Nobody Saw That Last Line Coming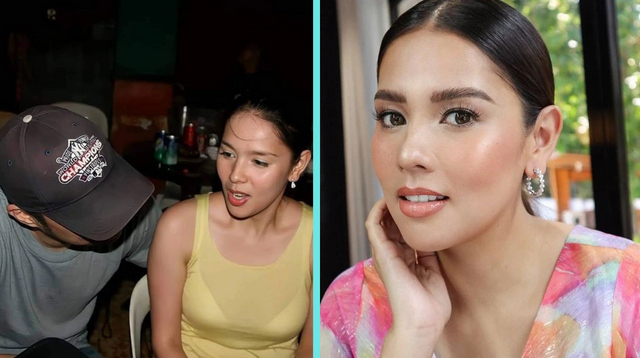 May it be Mother's Day, birthday, anniversary, or ordinary day, Chito Miranda always writes the best letters for his wife Neri Miranda.

The Parokya Ni Edgar frontman never fails to drop the best lines that make netizens kilig and call him, "Idol!"

On Neri's 39th birthday, Chito shared a throwback photo of him while he was still making 'da moves' towards his Wais Na Misis.

He wrote, "Eto yung time na nagpapa-cute pa lang ako kay Neri Naig.

He then went on to say how he never thought that Neri will be the woman who would change his life.

"Hindi ko pa alam nung time na 'to na sya pala ang magiging dahilan kung bakit ako magiging sobrang masaya at kuntento sa buhay.

Masaya naman ako dati (rakenrol eh), ngunit wala akong paki sa mundo at di ko alam na hindi pa pala ako kumpleto...at may isasaya pa pala.

May ibang level pa pala ng kaligayahan na nakalaan para sa akin."

He revealed, he never thought he'll be able to give and receive so much love with his family.

"May nagmahal sa akin na higit pa sa pagmamahal ko sa aking sarili. Nagkaroon ako ng asawa't mga anak na sobrang mahal na mahal ko, na di ko man lang inakala na may ganung capacity pala ako to love.

Chito then praised Neri, telling her that she gives him peace.

"She is my constant reminder that everything will be fine...that life may not be perfect, but it will always be beautiful because I will always have her to hug when I really need one.

ADVERTISEMENT - CONTINUE READING BELOW

She is my closest, most direct connection to God kasi dahil sa kanya, I am reminded everyday kung gaano ako ka-blessed at kung gaano kaganda ang mundo.

Because of her, I am at peace.

This is how I feel because of Neri.

That is how much I love her."

And as if these weren't enough, the last few lines drew praise from his Instagram followers, "Happy Birthday, Neri Naig, 6th placer sa SCQ, ngunit number 1 naman sa tagumpay ng buhay. I am sooooo proud of you, at mahal na mahal na mahal talaga kita, asawa ko.

Especially when he closed with this line, "...buti nalang talaga nilandi kita."

'Best post-marriage pick-up line ever'

Netizens cannot help but laud Chito for writing the best birthday messages for his wife. One user said, "Chito and his not-so-long love letters/messages to Neri, hayyy."

One even described Chito's message as "So pure. Walang halong chemical kuya Chito. Kakakilig."

Chito's cousin, Julia Pangilinan Arenas, even said, "Best post-marriage pickup line ever ang closing mo cuz. Ayos hahaha."

Who else remembers Chito's lengthy message to Neri when he only wanted to say, "I miss you?" Read it here.

Ways to appreciate your spouse

Even when there's no occasion, taking time to appreciate your spouse for what they do is always a good idea. 

Elizabeth McCormick, a licensed Social Worker and mental health counselor, shared on Marriage.com some ways how you can show your appreciation and gratitude to your spouse.

1. Say it and mean it

We often assume that our spouses already know how much we love them and so we don't make an effort to say it. According to McCormick, saying thank you is not enough sometimes. "Appreciate them for their acts of kindness and thoughtfulness, and most importantly, thank them in both public and private," she said.

If you are not good at expressing your feelings verbally, then keep it short, just like Chito here:

2. Proclaim it

Even if you think a public acknowledgment is not your thing, McCormick said, "A partner who openly recognizes and praises their spouse in front of others makes a statement with witnesses, often strengthening the sincerity of thankfulness. She adds, "It often means more to the recipient if the statement is made without fear of who may be listening."

RELATED: How The Silent Treatment Is A Marriage's Silent Killer

3. Let them know they are your priority

McCormick reminds spouses, "Do not be afraid to go out of your way to show your partner they come first." This is also what this mom of six reminds parents, that a happy marriage is a precursor for healthy parenting. 

A challenge for spouses

Here's a challenge for you: Browse your phone's gallery and look for an old photo of you and your spouse. Write a short but heartfelt message to thank them for being your partner. End it with an unexpected one-liner that will make them smile. 

Share it with your partner via private message, or post it on your social media. You'll never know how much it would mean to them. It's a small gesture, but doing these simple acts daily, will go a long way.

ADVERTISEMENT - CONTINUE READING BELOW

A husband wrote an appreciation post for his wife, but netizens were not happy about it. Read it here.




Trending in Summit Network