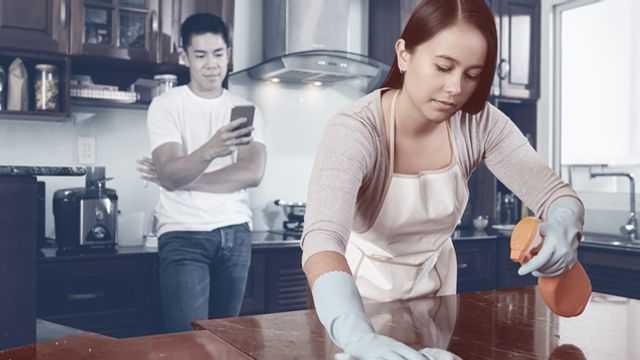 Though millennial dads have really stepped up their game when it comes to caring for the kids, we still hear stories from exhausted moms who are at their wits' end trying to convince their spouses to help out at home. And according to a recent U.S. survey, women still handle a larger chunk of household tasks than men, even among younger couples.
 A new report by management consulting company Gallup found that women are still more likely to do laundry, clean the house, cook and prepare meals, wash the dishes, do grocery shopping, and make decisions about furniture and decorations compared to their male partners. On the other hand, men stick to traditionally male chores, like keeping the car in good condition, doing yard work, and making decisions about savings and investments.
Interestingly, when it comes to paying bills, both men and women are almost equal at shouldering household expenses. The same goes for child care and planning family activities. But when asked about who does certain household tasks, both men and women are likely to say that they do an equal or larger share of work than their partner.
Gender plays a part in dividing household tasks
What the Gallup survey shows is that gender is still the driving force behind the division of household labor. And it's not just in the U.S. — a recent poll done in the Philippines shows that the bulk of the parenting load still falls upon women. Sixty-three percent of Pinoys surveyed admit that their female partners do most of the housework, with 61% saying it is the mom who spends significant time taking care of the children.
Traditional ideas remain strong even in modern society. This leads to women going through emotional labor — the invisible work that moms do to make sure the household is running smoothly, and which often goes unnoticed.
"We are told frequently that women are more intuitive, more empathetic, more innately willing and able to offer succor and advice. How convenient that this cultural construct gives men an excuse to be emotionally lazy," shares Jess Zimmerman, who has written about emotional labor in the household, in an interview with Quartz.
How men can help their wives
More often than not, dads won't be able to recognize emotional labor. So for moms who want their partners to help out more, just ask. Take the time to talk to your husband in a calm, patient, and open manner and make him understand what needs to be done.
"Men know they need to contribute with housework and childcare but often don't understand how to have a conversation about the emotional work that needs to be done in a relationship," says Rebecca J. Erickson, a sociology professor and researcher at the University of Akron, in an interview with Fatherly. "Love is supposed to come naturally, but it takes work getting outside of yourself to show care and concern for another person being attentive."
Obligating your husband to do his share of chores is valid. As one of our readers shared in her #SPConfession, "I hope dads and husband realize that even if they work or provide for the family, they need to initiate helping women with the household chores—they live in the house, after all. It is never the wife's sole responsibility to keep the house tidy or look after the children. Regardless of who is bringing home the bacon, they should work with the wife on how to divide the workload at home."
Ever wondered why moms seemingly end up more tired than dads? Click here to know more.