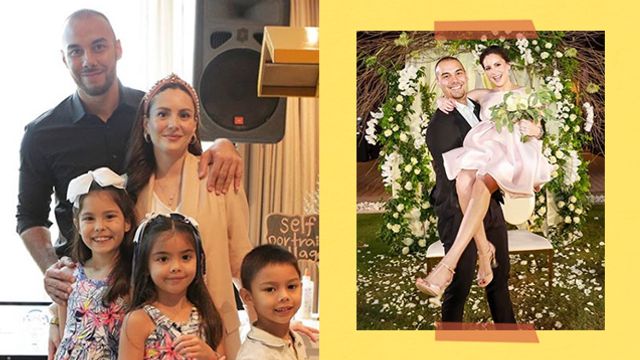 Marriage is hard, so it's always great to have other couples to look up to as inspirations in making marriage work. Doug and Chesca Kramer are an example of such couples. The latest episode in Team Kramer's Family Matters series, called #RelationshipGoals, touches on the couple's marriage and how they make it work.
Doug and Chesca started by talking about their relationship as boyfriend and girlfriend: Their first date (to which Chesca was late!), why they fell for each other, their honeymoon stage.
Of course, they also experienced different struggles as a couple. Doug said that though he and Chesca don't fight often, when they do argue, it's when they really cannot understand one another.
Chesca shared a story about a huge fight they had. "[During] one of our fights, he told me off. I cursed at him. I said a bad word. And then he goes to me, 'You know, you don't have to curse me that way. You don't have to say bad words just so that you could get your message across.' And that really put me in my place."
Doug was also so agitated that he ended up punching his car. "I was so pissed off at [her, but] she was smiling the whole time we were trying to debate. So I punched the CR-V. That's how mad I was." He also said that he had a plastic bottle that he would squeeze whenever he felt angry.
After that, Doug and Chesca started cultivating better habits in handling conflicts. "I remember that I never went back to that kind of venting out," said Doug. "From when we were boyfriend and girlfriend, we learned already what gets us so mad. So there are times that we might still argue, but it wasn't like before anymore."
He continued, "There are a lot of times that we really don't understand each other, but the point is, we love each other and we do everything to make it work. Me and Mama, we have a lot of misunderstandings. When Mommy and Daddy fight, we never make it go past a day. When we have those arguments, we just agree to disagree rather than hold a grudge and not talk. I believe that you should… like in the Bible, 'Never let the sun go down on your anger.'"
Doug also said, "Those cool-offs, those fights which last for a day — if you get used to that, you get used to fighting for one week, and then suddenly you don't see each other, suddenly you've grown out of love. And we never chose not to resolve things at the end of the day. 17 years now, never."
When Scarlett asked if love is hard to handle, Chesca responded, "It can be hard to handle if you don't choose to love. Because every day is a choice, Scarlett. You have to make a choice to love the person, to compromise, to get along, and when you fight to resolve things. And it will be difficult if you don't choose to do those things."
Ultimately, for this celebrity couple, what makes their marriage work is their mutual choice to stay committed to the covenant they made to God and each other.
"It will not always be kilig moments throughout your marriage, throughout your relationship," Doug said. "It's not. There are a lot of times that you really have to have that choice that, 'I need to love my wife despite.' And it's like that, e, it's compromise — that's marriage."
Chesca also said, "Acceptance and knowing that, 'I am not alone, you're my partner. Let's go together. Let do this together. Let's go through this challenge together.' It's so hard to be in a marriage where you feel like you're the only one working on the marriage.
"You are committed, you have that covenant, you made that commitment, and you must stay committed no matter what."