How My Toddler (And Our Family!) Survived A Year Without Gadgets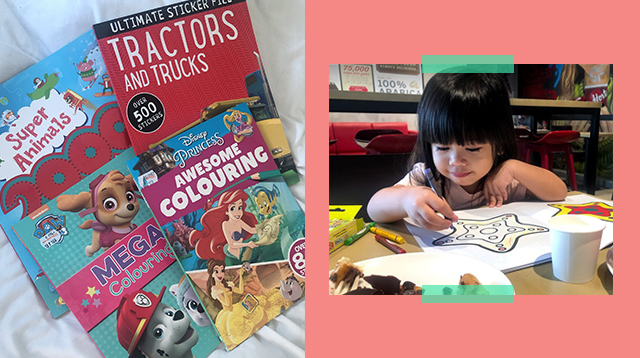 Gadgets have become a big part of our daily lives and even us adults can't seem to last a day without using our smartphones. It's also affected parenting as some parents struggle with letting gadgets and screentime take over their children's lives.

Last February 2020, we celebrated an important milestone: our daughter, Monica, was able to achieve being gadget-free (that is, no use of mobile phones or tablets) for a whole year! While she still has screen time — she loves watching Blippi, Paw Patrol, My Little Pony, and Frozen, she watches only through our TV set. Still, going gadget-free has shown nothing but positive results and I must admit that it is one of the best decisions we've made as parents.




After a year without gadgets, I really saw a difference in Monica's behavior. But I also cannot blame parents for using gadgets as babysitters because I was once in their shoes. In a previous story that I wrote for SmartParenting.com.ph, I resorted to giving my daughter my phone just so I can rest for a little while. And it worked for a time — whenever she would fuss, we will give our phones and she will quiet down. Whenever we went out to eat, we made her watch videos so she would stay still and my husband and I can enjoy our food. 

We thought gadgets weren't too bad until we saw changes in her behavior: she became impatient and moody. She would not play with her toys and would just cry and ask for her iPad. That's when I realized that gadgets weren't really helping. I may have a little bit of alone time but it is affecting my daughter.

ADVERTISEMENT - CONTINUE READING BELOW

Activities that promote gadget-free play

She was 2 years old at the time and from then on, we decided to keep her iPad and not give in to her every whim. It was not easy, but it is doable. What's important is you find activities that your child is interested in!  Here are 5 things that helped us in our gadget-free journey:

Stickers

Give Monica stickers and I can assure you: she'll stay put for a long time.

PHOTO BY

courtesy of author

I cannot count how many stickers we've bought for the past two years because it brings her happiness —  we can't leave the house without bringing at least one sticker pack. We used to buy from the mall or bring sticker book until we discovered that we can get stickers from Divisoria mall at Php6 per pack. Of course, we hoarded!

Toys

Shopkins instead of gadgets!

PHOTO BY

courtesy of author

ADVERTISEMENT - CONTINUE READING BELOW

Recommended Videos

I bring a small pouch filled with toys whenever we go out. She loves Shopkins and she enjoys playing with the toys all the time. Monica always does pretend play with her toys, so I believe this helps in honing her imagination as well.

Storytime

Instead of using gadgets, we take the time to really talk to our daughter. We exchange stories, and we answer any questions that she has for us. In turn, we also ask her questions to keep the conversation going.

Activity and coloring books

We got these from book sales!

PHOTO BY

courtesy of author

At 3 years old, Monica has started her love for drawing, writing, and coloring. She will draw anything that she sees and observes.

Uninstall kiddie apps on phones

We don't bring our iPad anymore when we go out and we no longer have any "kiddie apps" on our smartphones. This way, we can really be firm in not handing out gadgets even when she starts to become fussy.

ADVERTISEMENT - CONTINUE READING BELOW

What other parents are reading

Positive effects of going gadget-free

Monica is kept occupied by coloring books whenever we go out.

PHOTO BY

courtesy of author

Just to reiterate, I don't have anything against those who let their kids use gadgets. After all, we are parents and we always want the best for our kids. With the whole year of no-gadget use, we have observed these positive changes in Monica.

No major tantrums

She's 3 years and 9 months old and has not thrown any major tantrums at home or outside. She can manage her emotions and will not throw a fit when things don't go her way.

Don't get me wrong, my daughter is not perfect — she will cry when sleepy, she can be really cranky, she can get on our nerves because of kakulitan, but we've never had any meltdowns so far. We think it's because she can express herself well thanks to the activities that we do.

ADVERTISEMENT - CONTINUE READING BELOW

She has good focus

When she does something or when we talk to her, she seems to really listen and follow through. She can stay still for a good 30 minutes whenever she plays, draws, colors.

She's learning independent play

She can play well — alone or with a playmate. Monica is an only child and it's just the two of us at home most of the time. Solo play has not been a problem. She can play on her own with her toys for 3 straight hours.

She is happier

I may sound like I'm bragging, but this is what we're experiencing now and I believe it's a benefit we're reaping from being firm in not letting her use gadgets.

I don't know until when we can keep this no-gadget rule, but we'll try to do it as long as we can. Sooner or later she will grow up and mobile phones will already be a necessity so for now, we will cherish the days that she learns and develops through play, communication, and the people around her.

Din Real Bautista is a proud full-time homemaker and proud member of the SmartParenting Mom Network. Most of the time, she's busy raising a kind-hearted and strong human being named Monica together with the most amazing husband, Beejay. The rest of her time, she's making sure her life is better outside social media.




What other parents are reading




Celebrate your pregnancy milestones!


Enter your details below and receive weekly email guides on your baby's weight and height in cute illustration of Filipino fruits. PLUS get helpful tips from experts, freebies and more!

You're almost there! Check your inbox.


We sent a verification email. Can't find it? Check your spam, junk, and promotions folder.

Trending in Summit Network