'It Took Me Seven Years To Graduate Because I Had A Baby'

If not for her husband and their children, she would have left her manuscript a long time ago.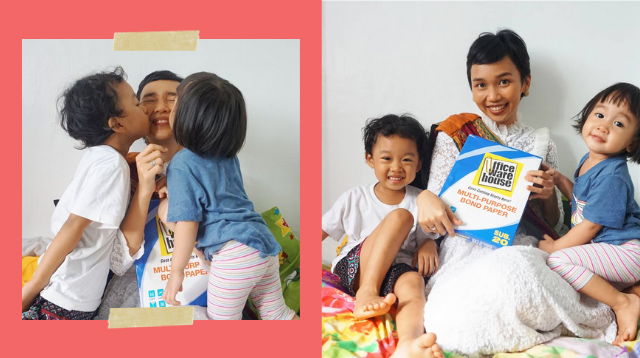 Welcome to Real Parenting, a space where parents can share the joys, pain, and the mess of parenthood. Want to get something off your chest? Share your parenting journey? Email us at smartparenting2013@gmail.com with the subject "Real Parenting." Click here to read more 'Real Parenting' stories.

In an unfortunate time in the world's history, I find myself having a simple reason to be grateful — I finally had time to work on and finish my master's thesis. It may sound callous to some (as at some point, I was also angry at posts made during the COVID-19 pandemic that looked "entitled"), but I hope you finish reading my story.

The moment I knew my name was on the list of candidates for graduation, I was ready to take that planned graduation photoshoot, all the more because it was needed for the online graduation ceremonies. Why? Because I wanted to tell a rather long story about a mother: a story of hope and love amidst the sea of self-doubt, pain, struggle, sacrifice, smiles, hugs, tears, loads of laundry, and trips to the wet market.

Z, my then-boyfriend (now husband) and I planned our life together in relation to our career. My young mind would race through every possible school and specialization I could think of. I felt exhilarated at the thought of writing scholarship grants and living abroad. Z had a more steady trajectory of working towards his counselor's license.

But our schedule was not ours to implement — on my final semester for graduate course work, I became pregnant with our first child. Marriage came, and then the baby, then all the other adulting stuff that we had to do.

ADVERTISEMENT - CONTINUE READING BELOW

Most of our friends were in study mode while Z and I were the first to go on the family track. So, instead of scouting for countries which had the best cost of living vis a vis scholarship grants, I was looking at maternity packages and vaccine prices. Instead of my husband practicing his counseling skills on others, he had to process the sudden shift of both our feelings and thoughts, brought about by having a child.

The author with her two kids.

PHOTO BY

Courtesy of Pat Rodriguez-Carranza

Of course, I was not all sulky and regretful. In fact, when the thought of raising a family sunk in, I was excited to check out prenatal nutrition plans and try out combinations of names for our child. When our first child was born, I immersed myself in online communities, mostly on attachment parenting practices like breastfeeding, babywearing, cloth diapering, and baby-led weaning. I embraced the tiring yet delightful world of motherhood with open arms. 

CONTINUE READING BELOW

Recommended Videos

I told myself, I am a mother, only among other roles.

I refused to become part of the statistics of women who found it hard to go back to work, of women who would give up their studies due to lack of institutional policy by their university, and so much more. After all, I've seen the women in my life multitask and innovate. My mom brought me and my siblings to graduate class to help her present her report in education as a puppet show. My yaya would be the best hairdresser even without formal training. My mom's co-teachers would have all sorts of brochures they pass around after school hours. My professor in educational counseling had to go out of the classroom several times to breastfeed her child. My thesis adviser told me her story of being non-tenured while raising her son through graduate school.

I loved the idea of juggling motherhood with work and study. My teacher self loved the idea of developing and applying theories of learning and pedagogy to my children. My feminist ideals pushed me to challenge the norms of today's society and be an inspiration for other moms. But perhaps, it was the weight of regret in the future — what would happen if I did not push through with my studies?

If not for her two kids, says the author, she would not have pushed herself to get her Master's degree.

PHOTO BY

courtesy of Pat Rodriguez-Carranza

ADVERTISEMENT - CONTINUE READING BELOW

I remember taking my comprehensive exams during my 2nd trimester. I went back to work around two weeks after giving birth. My job allowed children to be brought at the workplace and babywearing saved my sanity each time I had to commute to work with the two children. Breastfeeding and diaper changing breaks would be normal during meetings and classes.

On the heaviest days, I would pass the yoke to God — should I stop? Should I quit? What do you want me to do with my life?

Sometimes, an open group chat box would be the only break available in between work, just to air out my sentiments. I would often be irked by the sight of my husband watching commentary videos while washing the dishes, the same way he is irked by my nagging tone. Computing how long until my next salary as a contractual was always the main agenda after paying the month's rent or spending a day at the emergency room.

These, among so many other iterations of multitasking.

Oftentimes I would ask myself if I should just leave my studies and current work. On the heaviest days, I would pass the yoke to God — should I stop? Should I quit? What do you want me to do with my life?

I never got the answer straight away, but He gave me the solutions to each problem I faced. Now that I had time to reflect, the blessings had always been there.

My children were able to get class slots in schools and daycares in the university that matched my work schedule. Z and I were able to work on our differences and priorities, slowly but surely. Even though late, paychecks always arrived when needed. Babywearing allowed me to multitask at work.

ADVERTISEMENT - CONTINUE READING BELOW

Our parents send food, clothes for the girls, and assistance, even when we do not ask. I have made friends with the staff and other faculty because small yet meaningful talk arose whenever I am with my children. I had more cousins and mothers in Z's family.

Extending my residency in graduate school made my RRL meatier by acknowledging how egoistic and idealistic yet empty my pre-motherhood manuscript was. Taking care of the children meant also taking care of myself, something I usually forego as a person very driven at work. Blogging about my experiences of motherhood connected me to other mothers and opportunities I would have not met if I am not where I am now.

It's quite a long list of ups and downs — I would not mention all. I believe every mother blogger out there has written a thing or two about these experiences. And even before the phenomenon of blogging, a bag of old wives tales of mothers attempting all sorts of roles has been there. (Save for the patriarchal society that my husband and I have been trying to break down, as most of our misunderstandings come from ingrained habits). These affirm that motherhood, among other roles, is not something new.

But in a time of people losing hope (myself included), another human's story of perseverance, a bit of stubbornness, humility, and joy may be enough to console us. That there are other people like me going through this. If they can do it, perhaps I can as well, in the best possibility that God has in store for me.

ADVERTISEMENT - CONTINUE READING BELOW

So after seven years in graduate school, four of which were dedicated to my thesis, I borrowed a camera and asked my husband to take my photos. He knows how important this milestone is for me. In fact, if not for him and our children, I would have left my manuscript a long time ago. (Also because he told me that he would only take his thesis after I finish, to which I also want him to do for himself.)

My family has always anchored my ship. Of course, God directs the water and the wind to where my ship is continually sailing. I may not be where I am as I originally intended to be but this redirection did not stall my journey – it has made it really worth it.

Anna divides her 24 hours between full-time housework and childcare, part-time teaching at the University of the Philippines, extension work with the Philippine Society for Music Education, and the Smart Parenting Mom Network. She writes short snippets on motherhood on her Instagram, @mamaatbp or does philosophical musings with her husband, Z. 

Motherhood should not stop you from reaching your dreams. Click here for a mom who got her degree 28 years later and graduated alongside her two kids.

What other parents are reading

Celebrate your pregnancy milestones!


Enter your details below and receive weekly email guides on your baby's weight and height in cute illustration of Filipino fruits. PLUS get helpful tips from experts, freebies and more!

You're almost there! Check your inbox.


We sent a verification email. Can't find it? Check your spam, junk, and promotions folder.

Trending in Summit Network