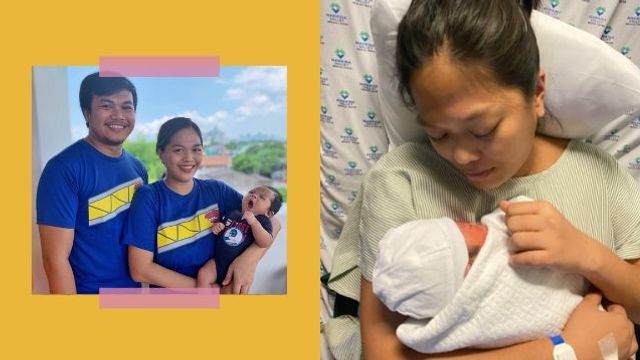 One of the biggest worries expectant moms have is giving birth in the middle of the COVID-19 pandemic. While there are new hospital childbirth protocols in place that aim to protect not only the moms and their babies but the other patients as well, moms still cannot help but fear the possibility of getting infected with the virus once they go into labor. They are also unsure if their birth plans will still be followed.
New mom Krista Garcia, 32, a digital content strategist who gave birth last April 11, 2020, had already prepared her birth plan weeks before the enhanced community quarantine (ECQ) was announced. "But before I could discuss it with my OB, ECQ happened and our check-ups were cancelled," she tells SmartParenting.com.ph through email. "We coordinated via Viber as she instructed me to do weekly ultrasounds at a local clinic, answered my questions about symptoms, updated me on my chosen hospital's safety protocols, and so on."
When she finally gave birth, some of the items in her birth plan, "like having the husband in the operating room, deciding when to take pain management, etc," were not prioritized. But Krista had complete trust that the hospital would do its best to take care of them.
Preparing for childbirth during the 'new normal'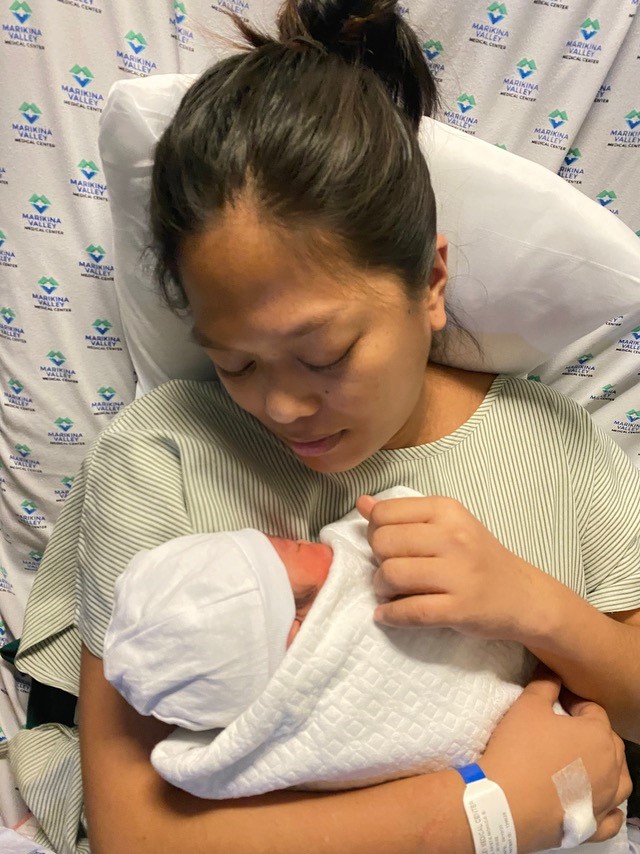 Pre-ECQ, Krista had already prepared herself for the arrival of their child. Because she had internal bleeding on her first trimester and was diagnosed with gestational diabetes (GD) on her fifth month, Krista was also cautious about her pregnancy state. "Since I was a first-time mom, I went ham on researching pregnancy and birthing 101 from the moment we found out," she tells Smart Parenting.
She made sure to research her OB's accredited hospitals to check maternity packages, facilities, and feedback from patients. "We were targeting a normal delivery, but was also monitoring my weight since GD babies tend to be heavier, increasing my risk for a CS delivery," she shares.
When the ECQ was announced, Krista admits that she was a little relieved knowing that her husband, Ranie, and their immediate family would be with them at home, which would make the transition into motherhood easier. But when she and Ranie heard the news about increasing cases and community transmission, they couldn't help but worry about their safety in the hospital. Krista monitored the case count in her chosen hospital in Marikina City every day.
"Some people told me to consider giving birth in a maternity hospital or a lying-in clinic instead. I reached out to inquire, but decided in the end that it was still safer for me and baby to give birth with our OB, whom we already trust and who is familiar with our condition," Krista shares. "My GD also meant I could have complications during birth and I just felt it would still be safer for me to give birth in the hospital."
It helped that her OB was in constant communication with her throughout her pregnancy. "[She] assured me that they would follow protocols to ensure we won't be knowingly exposed," Krista adds.
What to expect when giving birth in the hospital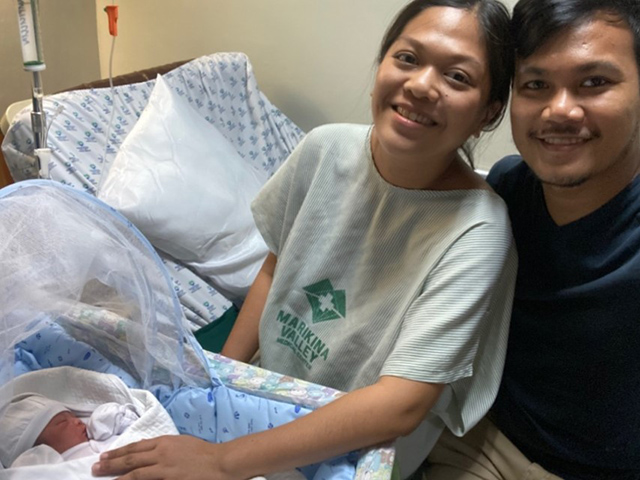 To lessen exposure, doctors will advise going to the hospital only for emergency cases or when you are about to give birth. Krista also delayed going to the hospital as much as possible.
"On the eve of my delivery, we went to the ER when my contractions became frequent and more painful. We didn't wear PPEs (personal protective equipment) but we were assured that the route from ER to OR was completely separated from the COVID-19 wing," she shares. And while she was expecting to go through a COVID-19 screening as advised by her OB, it didn't happen.
(New hospital childbirth protocols state that all pregnant women should undergo a triage to check for symptoms and exposure to COVID-19. Some hospitals will also require a COVID-19 swab test or chest X-Ray with a blood test to check for pneumonia and other infections. Read more here.)
Krista spent active labor in the maternity ward as the labor room was not available at the time. Ranie was with her at this stage, but was not allowed in the operating room during the actual childbirth.
The new mom was wheeled into the operating room when she was around 8 to 9 cm dilated and she noted that all the staff who attended to her were wearing their PPEs throughout. Her son, Lawin Elias was born at 6 a.m. on April 11, via normal delivery. Krista remembers that her son was placed on her chest, but she also passed out due to exhaustion.
When she awoke, Krista was informed that Lawin was in the Neonatal Intensive Care Unit (NICU), which was part of hospital protocol to reduce babies' exposure to possible carriers of the COVID-19 virus. They were able to bring him out so Krista could offer him breast milk for his first feed, but he would also have to stay there a little longer for blood sugar tests since Krista had gestational diabetes.
The staff also explained to her that because of the protocol, she would not be allowed to go to the NICU to feed her son. As Krista was unable to express breast milk right away, Lawin was given infant formula while he stayed in the NICU.
Lastly, the hospital was not able to do the newborn screening because the kits were not available due to the ECQ. Thankfully, he was able to get his BCG and Hepa B vaccines, which should both be given at birth.
Krista and her son stayed in the hospital for two nights — Krista had to have her sugar monitored for 24 hours to be cleared of gestational diabetes. "Thankfully, my delivery was a fast one [and] despite the fact that my baby was born face up and with a cord coil, we gave birth vaginally sans complications," she says.
The cost of her birth during quarantine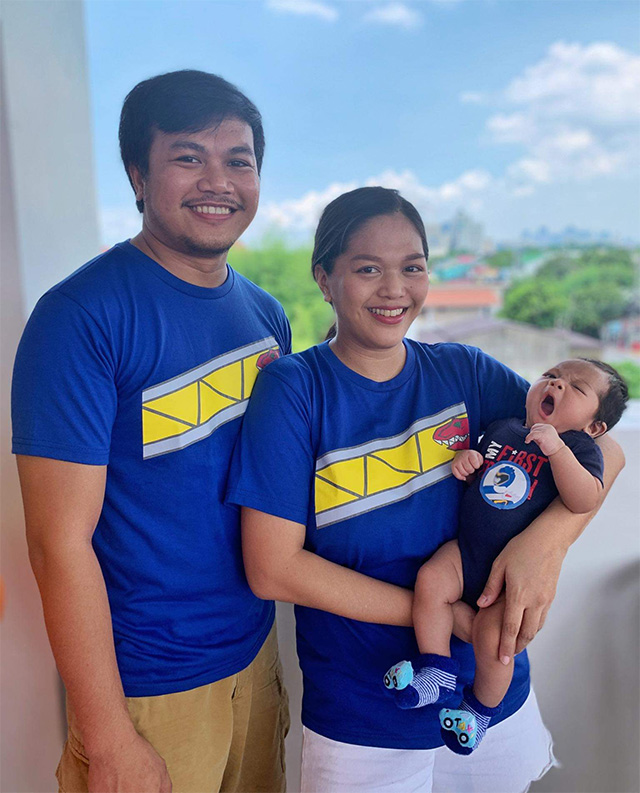 Krista shares that she only paid for her maternity package, which amounted to Php87,000 after PhilHealth was deducted. "It was more or less the same rate as the hospital's pre-COVID rate for normal births," she says. "There were no additional charges for PPEs, though all doctors and nurses wore them."
After her ECQ childbirth experience, the new parents are now adjusting to their new normal. "We're exclusively breastfeeding. I have more or less become accustomed to multiple night feeds, diaper changes, and the fact that a little human being is now dependent on me 24/7," she says.
They were also able to do Lawin's newborn screening after a month. "The results (all negative) arrived last week, coinciding with his first well baby check-up and 6-in-1 vaccines," Krista shares.
No one wants to give birth during a pandemic and while her birth did not pan out like she imagined it to be, she is grateful that the hospital staff took care of her and Lawin the best they could. "That said, I would also recommend in these times a maternity clinic for women who still have time to modify their birth plans. Again, reducing risk to exposure is the most important detail while we deal with COVID-19," she says.