You'll Have To Go Through 4 Stages Of Labor Before You Get To Hold Your Baby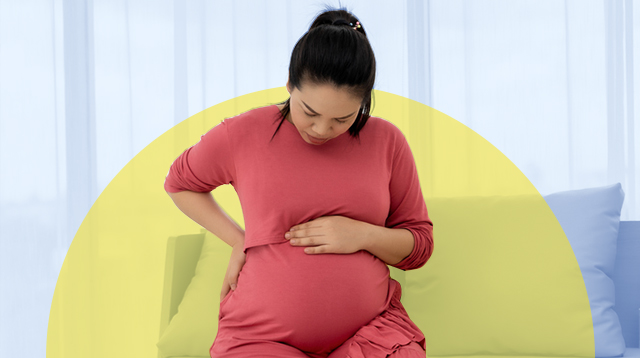 Meeting your new baby means preparing for childbirth, and that includes learning the stages of labor. It is different for every woman, so we encourage you to talk to your doctor about it and not just with a fellow mom.

First stage of labor: Your cervix begins to open

The first stage of labor is when your cervix starts to thin out, and it becomes dilated up to 3 cm. This stage is divided into three phases: the early labor phase, the active labor phase, and the transition phase.

Early labor phase

According to the American Pregnancy Association (APA), contractions last 30 to 45 seconds with five- to 30-minute intervals and are usually mild. This phase can last for eight to 12 hours — it is when you can expect your water to break.

Mayo Clinic notes that during early labor, you might notice a clear, pink, or slightly bloody discharge coming from your vagina. This may be the mucus plug blocking the cervical opening. If you have heavy bleeding or experience bleeding like your period, however, March of Dimes advises you to call your doctor immediately.

During the 2019 Smart Parenting Baby Shower, Betty Lugay-San Luis, certified labor, birth, and postpartum doula, says early labor is not the time to exercise. Instead, relax. "You listen to your body, kasi ito 'yung time na makakatulog ka pa."

Active phase

During this next part of the first stage of labor, your cervix will dilate from 4cm to 7cm, and your contractions will become more intense and regular — these usually last 45 to 60 seconds with three- to five-minute intervals, says the APA. This may be the time to go to the hospital.

ADVERTISEMENT - CONTINUE READING BELOW

To ease your discomfort during this phase, San Luis suggests practicing "slow, abdominal breathing," changing positions, and asking your partner to give you a massage.

Transition phase

March of Dimes dubs this phase as the "toughest and most painful part of labor." It is also the shortest, lasting 15 minutes to an hour. During this phase, the APA says your cervix will dilate from 8cm to 10cm and, and contractions continue 60 to 90 seconds with 30-second to two-minute intervals.

San Luis says you will feel worn out and overwhelmed by your contractions. Her tip is to breathe and relax as much as you can. Remember to stay hydrated and pee regularly.

Second stage of labor: Your baby is born

It is during the second stage of labor when you will finally meet your baby. This stage will require the most work out of you because it is when your doctor will want you to push.

This stage can last anywhere between 20 minutes to a few hours, but it varies from woman to woman. Experts say it can depend on whether or not you have given birth before and the size and position of your baby.

Ease your discomfort by finding the most comfortable position, like sitting, squatting, or kneeling. Mayo Clinic also writes that you should try not to hold tension in your face; instead, focus on pushing.

Third stage of labor: The placenta is delivered

In the third stage of labor, the placenta — which supplies your baby with oxygen and food in the womb — is delivered.

ADVERTISEMENT - CONTINUE READING BELOW

Recommended Videos

As obstetrician-gynecologist Claudette Mendiola, M.D. explains in a previous SmartParenting article, the placenta detaches from the uterus within five to 30 minutes of vaginal childbirth. When this happens, you should watch for "a sudden gush of blood, lengthening of the umbilical cord, and firmer, more globular fundus of the uterus on palpation."

For women who give birth via C-section, the placenta is removed manually. Dr. Mendiola says in both cases, doctors do a routine inspection of the uterus to make sure that there are no portions of the placenta left there, and the placenta has no missing lobes.

Fourth stage of labor: The mother recovers

The last stage of labor is all about you and your newborn recovering after birth. Aside from nursing your baby, the moments after birth are perfect for skin-to-skin contact with your child. UNICEF says one benefit of skin-to-skin contact is it can regulate your newborn's heart rate and breathing, helping him adapt better to life outside the womb.

Moms can benefit from skin-to-skin contact, too. A 2015 Smart Parenting article says cuddling with a newborn eases a mom's anxiety, lowers her stress levels, and promotes her bond with her child.

Preparing for labor

With the pain and discomfort that she will inevitably experience throughout the stages of labor, a mom needs to have people by her side who will support and motivate her, like your partner. If he's willing to stay by your side while you're giving birth, he can be a great source of strength and support for you. (Click here for a list of hospitals that allow husbands to be present during childbirth.)

ADVERTISEMENT - CONTINUE READING BELOW

A doula is another person you may want to consider having by your side during childbirth. She is a trained professional who provides information, support, and care to women before, during, and after childbirth. If you're a first-time mom, a doula can help you understand the stages of labor and suggest how to cope with contractions. She might also recommend prenatal exercises and relaxation techniques you can try.

What other parents are reading

Celebrate your pregnancy milestones!


Enter your details below and receive weekly email guides on your baby's weight and height in cute illustration of Filipino fruits. PLUS get helpful tips from experts, freebies and more!

You're almost there! Check your inbox.


We sent a verification email. Can't find it? Check your spam, junk, and promotions folder.

Trending in Summit Network