'Time With Your Children Is Short, The Magic Years Will Fly By If You Let Them'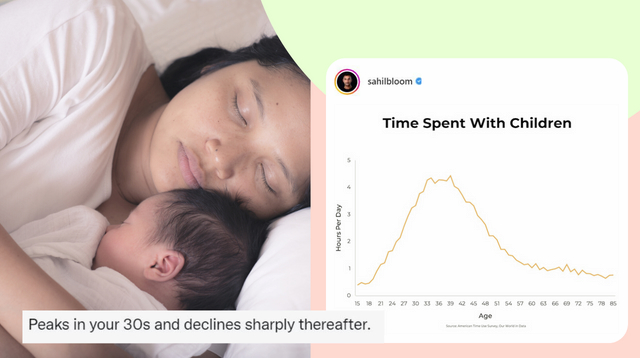 You probably heard this often from other parents whose children are older than yours: "Minsan lang sila bata." When my daughter is either inconsolable or clingy, I'll be like, "Lilipas din ito." And data shows it's true. Time spent with our kids is very, very short compared to the time we spend with other people and ourselves.

Mom of two Bianca Gonzales recently shared on Facebook screenshots of graphs showing how much time we spend with ourselves and other people in the course of our lives. 

It was from a Twitter thread posted by writer Sahil Bloom. Bloom said the data source for the graphs he shared and interpreted are The American Time Use Survey and Our World in Data. 

Bloom wrote, "I recently came across data on who we spend our time with throughout our lives. The insights are simultaneously inspiring and depressing. Here are six graphs everyone needs to see:

ADVERTISEMENT - CONTINUE READING BELOW

Data on who we spend most of our time with

Time Spent With Parents & Siblings

Peaks in childhood and declines after age 20.

Key Takeaways:

Time with family is limited.
Time with parents declines sharply after age 20.
You may only see your loved ones a few more times.

Prioritize and cherish every moment.

PHOTO BY

TWITTER /SAHILBLOOM

Time Spent With Friends

Peaks at age 18 and declines sharply to a low baseline.

Key Takeaways:

Embrace friendship breadth, but focus on depth.
Cherish those who are with you through good times and bad.

Invest your energy in healthy, meaningful friendships that last.

PHOTO BY

TWITTER /SAHILBLOOM

Time Spent With Partner

Trends upwards until death.

Key Takeaways:

Who you choose as a partner is the most important decision you'll ever make.
Find someone you genuinely enjoy spending time with.

Never settle for less than love.

 

PHOTO BY

TWITTER /SAHILBLOOM

Time Spent With Children

Peaks in your 30s and declines sharply thereafter.

Key Lessons:

Time with your children is short—the "Magic Years" will fly by if you let them.
Be present in every moment.

Slow down and embrace the sweetness that children bring to your life.

PHOTO BY

TWITTER /SAHILBLOOM

ADVERTISEMENT - CONTINUE READING BELOW

Time Spent With Coworkers

Steady during the prime working years from age 20-60.

Key Lessons:

You'll spend a lot of time at work.
Who you choose to work with is one of the most important decisions you'll make.

Find work—and coworkers—that create energy in your life.

PHOTO BY

TWITTER /SAHILBLOOM

Time Spent Alone

Steadily increases throughout your life.

Key Lessons:

Learn to embrace solitude.
Flex your boredom muscle regularly.

Find happiness and joy in the time you have to yourself—there will be a whole lot of it as you get older.

PHOTO BY

TWITTER /SAHILBLOOM

ADVERTISEMENT - CONTINUE READING BELOW

In summary:

(1) Family time is limited—cherish it.

(2) Friend time is limited—prioritize real ones.

(3) Partner time is significant—never settle.

(4) Children's time is precious—be present.

(5) Coworker time is significant—find energy.

(6) Alone time is highest—love yourself.

PHOTO BY

TWITTER /SAHILBLOOM

What the data is telling us

From these graphs, we can all derive that our time with our children is short and precious, and we are privileged to know this information so we can still do something about it.

Bloom mentioned in his takeaways about the Magic Years of children, and this term was first used in 1959 by child psychologist Selma H. Fraiberg. In her book, The Magic Years: Understanding and Handling the Problems of Early Childhood, she explained why the first five years of a child are magical.

"These are "magic" years because the child in his early years is a magician - in the psychological sense. His earliest conception of the world is a magical one; he believes that his actions and his thoughts can bring about events," Fraiberg said.

ADVERTISEMENT - CONTINUE READING BELOW

This is supported by Very Well Family, "By paying attention to the present moment and limiting daily distractions, our attention will have an easier time noticing our child's requests for connection." This has a lasting effect on the child, especially when they develop future relationships.

Read tips from a dad on how to be a more present parent here.




Trending in Summit Network