Get Everything Ready For Birth, Plan Your Postpartum Care On The 7th Month Of Pregnancy

Do these now before it's too late.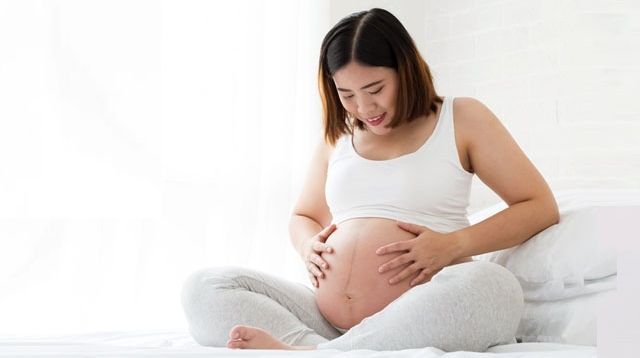 Your third trimester starts on your 7th month of pregnancy, on Week 28. This month would not look easy and comfortable as it seems, although thinking about a few more weeks left before you get to meet your little one will make it bearable. 

READ MORE STORIES ON PREGNANCY AND BIRTH:

Starting in month 7 of the pregnancy, you're going to have twice-a-month prenatal visits with your doctor. This month is the perfect time to plan your maternity leave (if you're working) and your birth plan. Later in your third trimester, as your due date nears, starting your 36th week, you'll have to go in for weekly checkups, so your doctor can closely monitor you and your baby's health. 

Pregnancy symptoms and signs at seven months

If you're worried about gaining too much weight, don't stress. You'll still need your nutrient reserves when you start breastfeeding. It's not an excuse to go all out, though, on the food as you still need to steer clear of having complications such as gestational diabetes or preeclampsia. Continue to eat healthily and get as much exercise as you can. 

Pregnancy symptoms from earlier months may be worse. Not is the time to advantage of the perks that come with it, including not having to wait in line. There are a few symptoms that may also be new to you. Check below if it only manifests starting this month.

ADVERTISEMENT - CONTINUE READING BELOW

Sleep troubles, aches, and pains

Aside from the anxiety you feel because of the nearing D-day, the growing baby inside you makes it difficult for you to sleep. Now that you are in the seventh month of your pregnancy, try to sleep on your side. A pregnancy pillow or many pillows will help and doing meditation and drinking warm milk before bedtime. 

Your back, hips, lower belly (or round ligament pain), hands or wrists (or carpal tunnel syndrome), and your pelvic area (called symphysis pubis dysfunction or SPD) are some of the areas where you may feel pain. At night, you may also feel painful leg cramps and restless leg syndrome (RLS). This is due to the pregnancy hormone called relaxin, which loosens your joint and ligaments in preparation for childbirth. Stretching, correct posture and pregnancy exercises can ease these pains. Immediately advise your doctor if the pain becomes more intense. 

Braxton Hicks contractions

If you feel like your belly is occasionally tightening, like you are experiencing a contraction, but you're not, it is because of Braxton Hicks. These contractions are mild, irregular, and are not too painful. They usually go away when changing positions. You still need to monitor these contractions because if you feel that they are getting stronger and more regular, you need to advise your doctor right away. 

Breast milk leaks

Since day one of your pregnancy, your body has been preparing for milk production. You may notice a watery, milky fluid leaking from your breast. Wearing breast milk pads and nursing bras can ensure your breasts are well supported. Itchy tummy and stretch marks

ADVERTISEMENT - CONTINUE READING BELOW

Recommended Videos

Swelling

Your body is still producing and circulating more bodily fluids that may build up on your tissues. This results in swollen ankles, feet, and hands. You may also be dealing with increased vaginal discharge, vision problems, varicose veins, hemorrhoids, stuffy nose, and bleeding gums. 

Digestive and dietary issues

The muscles on your digestive tract are more relaxed and might not be functioning as they should because of the pressure brought by your baby's growing size. Drink lots of water and eat fiber-rich food. Avoid eating spicy, greasy, and fatty food. Don't strain too much when you poop.

Shortness of breath, overall fatigue, and frequent urination

Your womb is crowding your lungs, giving you less room to take in a full breath. You may feel fatigued after doing simple activities because of your heavy belly. Remember to take your time, even when eating, and drink plenty of fluids. Your womb puts pressure on your bladder, and you would need to urinate more often than usual. 

Baby's development at 7 months in the pregnancy

A the beginning of the seventh month, your baby will be about 15 inches long and weigh about 2.25 pounds and grow to about 16 inches long and weigh close to 3.5 pounds at the end of the month. But your little one isn't done growing, so prepare for him to get heavier still.

Your doctor may ask you to monitor your baby's movement regularly. At this stage, your baby is more responsive to different stimuli like sounds, or light, or even the food you eat. Monitoring your baby's kicks once in the morning and once at nighttime, at the same time, will give you a good sign that all is well in there. 

ADVERTISEMENT - CONTINUE READING BELOW

All your baby's five senses are up and running at this stage. His brain can now pick up and process information such as recognizing light, hearing sounds, tasting what you eat, feeling his skin and grasping his umbilical cord. His sense of smell is very much active though he's submerged in amniotic fluid. Once he gets his first breath of air, it's your scent and the scent of your breast milk that will become his early favorites. 

Your baby's position is still not set. You may find his head down towards your birth canal and ready to power through it and then see him upright again after a week. The closer you are to your due date, the more your baby bump will descend towards your pelvis area. 

What to do in your pregnancy's seventh month

You're two months, give or take, away from giving birth, so now is the time to accomplish things you will need for D-day and beyond. Don't forget postpartum preparations since you'll be busy attending to yourself and your baby by then. 

Prepare your hospital bags.  Pack the papers your partner needs to bring to the hospital when D-day comes. Prepare three hospital bags: one containing your things, another for your newborn's essentials, and the last one containing documents you need for birth, like your doctor's admission orders. If you are working, now is the time finalize the documents required for maternity leave.
Have your pregnancy keepsake ultrasound or shoot. You're excited to see your little one to find out who your baby looks like. Having a 3D or a 4D ultrasound may distract you from your worsening pregnancy symptoms. You can also squeeze in a maternity shoot into your schedule to document your pregnancy or scout for newborn memory capsule kits! 
Plan your postpartum recovery. If you're planning to hire a yaya, now is the time to start the search. If it's close kin will assist you postpartum, it may be a good idea to ease her into the job. Making a postpartum care plan is something you won't be able to do nearer your due date or when the baby is out, as you'll be occupied with other more pressing matters, so do it now.
Prepare for labor. Daily walks, prenatal yoga, and Pilates can help condition and prepare your body for what could be an energy-consuming but special event. The moment you feel that you're having regular, intensifying contractions, bleeding, or your water bag is leaking or had been broken, head to the hospital's emergency room as soon as you can. 
Pamper yourself. Your baby is getting heavier, and it's getting harder and harder to be pregnant. Enjoy a pampering session, or meet up with your girlfriends. Very soon, it won't be as easy to leave home without worrying about your little one!

ADVERTISEMENT - CONTINUE READING BELOW

READ MORE STORIES ON PREGNANCY AND BIRTH:

What other parents are reading

Celebrate your pregnancy milestones!


Enter your details below and receive weekly email guides on your baby's weight and height in cute illustration of Filipino fruits. PLUS get helpful tips from experts, freebies and more!

You're almost there! Check your inbox.


We sent a verification email. Can't find it? Check your spam, junk, and promotions folder.

Trending in Summit Network