Say Hello To Your Growing Baby! What To Expect During Your Pregnancy Ultrasound At 8 Weeks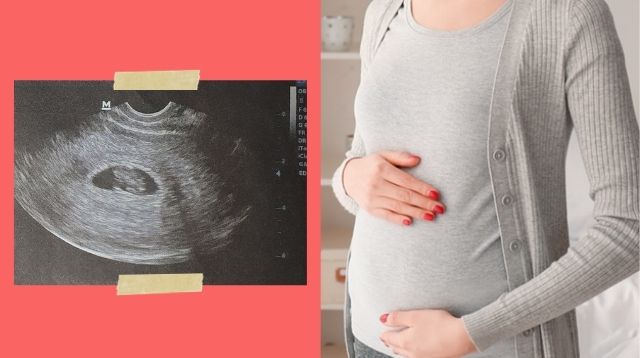 You're most likely to have the first glimpse of your growing baby on your pregnancy's 8-week ultrasound and even hear his heartbeat. It's one of the ways your doctor can confirm your pregnancy. 

READ MORE ABOUT PREGNANCY AND ULTRASOUNDS:

When you notice that your period is already delayed for a week or two, you need to take a pregnancy test. If it shows two lines, even if the other is just faint, you need to go to your first prenatal checkup, where your doctor will ask you to undergo an ultrasound. 

You may be surprised that you're around 8 weeks into your pregnancy or already in your second month, more than halfway through your first trimester. In case your doctor dates your pregnancy earlier, you may have to wait until your 8th week to have that sonogram done. 

Why doctors wait until 8 weeks pregnant to perform an ultrasound

Some women take a pregnancy test as soon as they discover that their menstrual period has not arrived. They also immediately schedule their first prenatal checkup early. 

If you aren't prescribed one yet, your doctor will prescribe your folic acid during your first prenatal check. He may even give you other medications if you have a history of miscarriage. At 8 weeks, the risk of having a miscarriage even after you hear your baby's heartbeat is overall at four percent. Once you get tthrough that week, the odds drop to 1.6% and it will continue to decrease as your pregnancy progresses.

ADVERTISEMENT - CONTINUE READING BELOW

During your first prenatal visit, your doctor will also ask you to undergo routine blood tests to check for Hepatitis B, STDs, HIV, and certain immunities. Before 8 weeks, it's still early to hear your baby's heartbeat. 

But if you do get an ultrasound earlier than 8 weeks, you may see your tiny little baby. Your doctor can check for the yolk sac and an embryo with a fetal pole, which will develop into a fetus. If the machine does not detect a heartbeat, you'd have to repeat the procedure. Some doctors even wait until Week 10 or later to conduct a confirmatory ultrasound. 

What to expect at your pregnancy's 8-week ultrasound

Your 8-week ultrasound will be done via transvaginal ultrasound because your baby will be too tiny to see through your abdomen. A transvaginal ultrasound is a procedure that involves inserting a specially-designed transducer (or probe) in your vagina. The probe transmits high-frequency waves to produce a black and white two-dimensional image. 

When you go for a transvaginal ultrasound, you will need to take off your pants and underwear and lie down on a bed. A blanket should be available to cover the lower half of your body so you're not too exposed. When you're ready, the sonologist will ask you to put your knees up or your legs up on a stirrup. 

The sonologist will then apply lubricant or gel on the ultrasound probe, usually dressed with a condom, before inserting it into your vagina. Occasionally, she might give you a heads up if she's about to maneuver the wand in a way that may make you feel uncomfortable. 

ADVERTISEMENT - CONTINUE READING BELOW

Recommended Videos

During your 8-week ultrasound, the sonographer can detect and listen to your baby's heartbeat and can also point out if you're pregnant with multiples. The sonologist can also check if you have an ectopic pregnancy or when the fetus grows in the fallopian tube instead of the uterus. 

If the sonologist is also your OB-Gyn, she can give a more accurate estimate of how far along you are in your pregnancy and when your estimated due date (EDD) will be. Your EDD may still change when you undergo your next ultrasound, which will be around Week 10 to Week 13 of your pregnancy. 

What's happening to your baby at 8 weeks 

At 8 weeks, your baby is officially a fetus. He measures about 0.5 to 0.75  of an inch right now. How big your little one is trickier to estimate due to growth as he receives nourishment from the yolk sac while waiting for the placenta to be fully formed and functional. 

Don't be surprised if your baby's heart pumps blood at an incredible rate of about 150 to 170 times per minute. It's normal for his heartbeat to beat twice as fast as yours, but it will soon taper down as your pregnancy progresses. 

Your little one is starting to look more like a baby. The nerve cells in your baby's brain will continue to form and branch out. He will begin forming taste buds as he prepares to eat. He will have almost full eyelids by now. His limbs are also starting to develop, and their tail (yes, there was one during his embryo stage) is gone. His fingers and toes are growing but still slightly webbed. He's starting to move them but you'll not feel t yet. 

ADVERTISEMENT - CONTINUE READING BELOW

READ MORE ABOUT PREGNANCY AND ULTRASOUNDS:

Your uterus is getting bigger, too, with your amniotic fluid experiencing a surge in volume to accommodate and sustain your little one. But don't look for a baby bump yet. It will take some more time for your pregnancy to show. 

Celebrate your pregnancy milestones!


Enter your details below and receive weekly email guides on your baby's weight and height in cute illustration of Filipino fruits. PLUS get helpful tips from experts, freebies and more!

You're almost there! Check your inbox.


We sent a verification email. Can't find it? Check your spam, junk, and promotions folder.

Trending in Summit Network