Pregnancy Symptoms Week 30: Ready Your Delivery-Day Bags!

Just 10 more weeks and you've completed the big 4-0 weeks of pregnancy!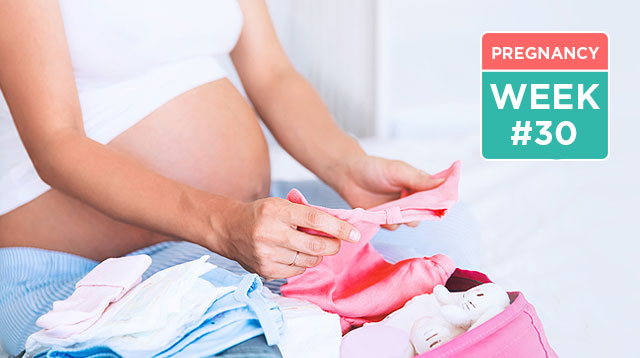 You're only 10 weeks away before your pregnancy becomes a full term. Your delivery date is just around the corner, so we hope you're already in the right frame of mind. Remember, whatever happens to you, you have a support team that you picked, from your husband to your doctor, who will help make sure you and your baby are healthy and safe.

Pregnancy signs Week 30

There is no mistaking your pregnancy sign at Week 30 with your baby bump. You may have gained 18 to 25 pounds, which is almost the limit for women with the average body mass index (BMI) pre-pregnancy. If you're worried about gaining too much weight, don't stress. You'll still need your nutrient reserves when you start breastfeeding. It's not an excuse to go all out though on the food — you still have 10 weeks to steer clear of having complications such as gestational diabetes or preeclampsia.

Just because your baby is having a snug time in your womb doesn't mean you should expect him to move less. Continue to monitor your baby's movements like those punches, kicks, and somersaults.

Pregnancy symptoms Week 30

Aside from managing pregnancy symptoms at Week 30, your third trimester will prompt many people — family, friends, strangers even — to give you unsolicited advice and even uncalled for comments about your weight gain. Don't let it get to you. Remember, your hair looks great, you are glowing, and, yes, you have fuller curves than before. Take advantage of the perks that come with it including not having to wait in line.

ADVERTISEMENT - CONTINUE READING BELOW

Itchy skin and stretch marks

Lathering up your skin with moisturizers should help ease the itch and prevent stretch marks (if you haven't noticed any streaks yet). While mild itching and rashes are normal in pregnancy, inform and have it checked by your doctor. Save for stretch marks, skin discolorations, rashes, and itchiness go away after birth.

Sleep troubles

Your bump is still growing, and it's not making things easier for you in terms of sleeping. Worrying also doesn't help you get some shut-eye. Pillows can help get you in a comfy side-lying sleeping position. Meditation, drinking warm milk before bedtime and low-impact pregnancy exercises can also help you fall asleep faster.

Swelling

Your body is still producing and circulating more bodily fluids that may accumulate in the tissues. Aside from swollen ankles, feet, and hands, you could also be dealing with increased vaginal discharge, vision problems, varicose veins, hemorrhoids, stuffy nose, and bleeding gums.

Digestive and dietary issues

Your baby's growing size means more pressure on your whole digestive tract. Drink lots of water and eat fiber-rich food. Avoid eating spicy, greasy, and fatty food. Also, try not to strain too much when you poop.

Heartburn, shortness of breath, and overall fatigue

The relaxed muscle valve between the stomach and esophagus and your growing uterus pressing on your stomach are to blame for your heartburn. Your womb is also crowding your lungs, giving you less room to take in a full breath and making you short of breath. On top of that, you're carrying a heavy front load, so it's understandable to feel fatigue setting in even after doing such simple activities. Remember to take your time, even when eating, and drink plenty of fluids.

CONTINUE READING BELOW

Recommended Videos

Your baby's development at 30 weeks

At 30 weeks, your baby is the size of a bunch of broccoli or zucchini, measuring longer than 16 and a quarter inches and weighing nearly three pounds. Your little one isn't done growing, though; he could still grow about half a pound and half an inch for each week onwards.

Your baby's position is still not set. You may find his head down towards your birth canal and ready to power through it and then see him upright again after a week. The closer you are to your due date, the more your baby bump will descend towards your pelvis area, and he will settle there hopefully.

Your baby is now producing his own blood, thanks to his mature bone marrow that have taken over the production of red blood cells. Similar to producing surfactant in his lungs and practicing breathing through his nose, it's another step towards his healthy development once he's born.

The surface of your baby's brain is beginning to form wrinkles, called convolutions, as it prepares to hold more brain tissue and nerve cells. He's accumulating more fats to help regulate body temperature, but his skin's tiny, velvety hairs, called lanugo, are beginning to shed but may not be gone entirely come delivery day.

Your little one is learning newborn reflexes — grasping, rooting, sucking — that he will display until about three months after birth.

Go ahead and play with your baby! Gently tap on your belly and wait for him to punch or kick back on the same spot. Your little one's movements in the womb may even give you a hint of his personality. If your baby is overly active, calm him down by talking, humming or singing to him.

ADVERTISEMENT - CONTINUE READING BELOW

Your to-do list on Week 30 of your pregnancy

You're officially six months and two weeks preggo, so technically you're on your 7th month. You want to give birth when you reach term so there's no room to be complacent about your health and well-being, as pre-term labor can happen anytime.

Set up the nursery

You may be having some last-minute baby showers or sprinkles. That's okay, as long as you're not partying too much (yeah, right). If after those get-togethers and you are not yet done with your baby's sleeping area, time to ask help.

Practice labor exercises

Kegels, pelvic thrusts and other labor exercises can help you once labor starts and when it's time to push your baby. Even daily walks, prenatal yoga, and Pilates can help condition and prepare your body for what could be an energy consuming but special event.

Pack your D-day bags!

Start packing your delivery-day or due-date bags, so it'll be easy for your partner just to grab them and go once you need to rush to the hospital. You should have three hospital bags — one contains your things, another has your newborn essentials, and the last one contains documents you need for birth like your doctor's admission orders.

Stay alert

The moment you feel that you're going into labor — you're having regular, intensifying contractions, bleeding, or your water bag is leaking or had been broken — head to the hospital's emergency room as soon as you can. You should also alert your doctor if you notice decreased fetal movements or you're having severe headaches and blurred vision, which may be signs of preeclampsia.

ADVERTISEMENT - CONTINUE READING BELOW

Stay stress-free and happy!

It's not easy to do since you're not feeling extra great on most days when your pregnancy symptoms wreak havoc on your daily routines. Get your doctor's okay to get a prenatal massage, watch a movie in a Lazy Boy seat, meet up with your girlfriends, or stay in bed the whole day. You'll need emotional strength not just for the birth but also for the first few weeks postpartum.

More on your week-by-week pregnancy:

Pregnancy Symptoms Week 29: Start Counting Your Baby's Movements Daily

What other parents are reading

Celebrate your pregnancy milestones!


Enter your details below and receive weekly email guides on your baby's weight and height in cute illustration of Filipino fruits. PLUS get helpful tips from experts, freebies and more!

You're almost there! Check your inbox.


We sent a verification email. Can't find it? Check your spam, junk, and promotions folder.
Trending in Summit Network