Coleen Garcia Says Delivering The Placenta Was Harder And Took Longer

The new mom originally planned on water birth in the hospital setting.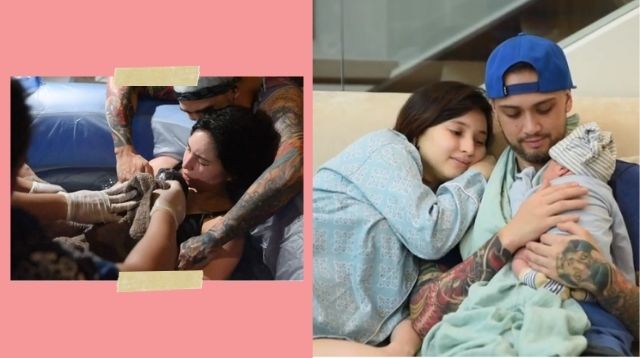 Coleen Garcia admits she intitially regretted her decision to deliver via water birth at home on September 10, 2020.

But the regret was only fleeting, Coleen continued, and it happened when she experienced intense pain from her unmedicated birth.

"After that and all the way now," the actress said on the video on the YouTube channel, The Crawfords, posted last December 11, "I'll do it all over again. Because I felt that pain was necessary. If I didn't feel pain, I wouldn't know what my body was telling me."

Coleen, as well as Billy Crawford, had other realizations, which they jointly shared in a 44-minute vlog post about giving birth to their first child, Amari Jaden.   

After the bag of water breaks, the gush of fluid may come more than once 

At 7:30 p.m. of September 9, 2020, Coleen's water broke and created what Billy described in the video as "like a puddle underneath her." She then changed into clothes for a product photo shoot that had been prescheduled for that day. She thought that was it for her bag of water.

"I was so wrong," she said. When I was setting up the tripod to take a picture, nag-break na naman. Water was everywhere."

Billy can't forget how his wife didn't let the gushing water kept her from doing her job. He said, "I swear it was the most professional thing I've seen. Water stain pala ang nasa likod niya. Sabi niya, 'Tara, bilisan na natin. My water bag broke.' Sinet up niya 'yong camera."

ADVERTISEMENT - CONTINUE READING BELOW

High pain tolerance

Even after her water "kept breaking," Coleen didn't feel any contractions, so she remained active. She walked around the house, did squats, and sat on her yoga ball. She also had red raspberry leaf tea, which gave her a bit of but not enough contractions.

Her midwife, Aileen Gay Gaa Vinoya, told her pain tolerance "was just so high," and that's why "hindi ko maramdaman 'yong contractions."

This was verified when her ob-gyn, Dr. Cecille Francisco-Ordinario, gave her an internal examination (IE) and helped her cervix in a posterior position.

Coleen recalled she had been foretold that the IE was going to be "too painful and uncomfortable," so she mentally prepared for it. But when the time finally came, she barely felt the pain.

Meanwhile, to reposition her cervix "dahil 'yong opening nasa likod," Coleen said Dr. Francisco-Ordinario "had to pull it to the middle." Again, she "didn't feel any of it."

When Coleen finally felt the contractions, she said the intensity of the pain was nothing like she has ever felt. But the pain was not around the belly, like she imagined, but on her hips and back. 

Pain = sungit

Billy started massaging Coleen's back to give comfort and support. But he accidentally poked his eyes, so he stopped to wipe away his tears.

Coleen then turned around, and snapped at him: "Do you want to continue? My mom is right there. She can massage me. Or Irina [Otmakhova, her doula] can massage me."

ADVERTISEMENT - CONTINUE READING BELOW

Recommended Videos

Coleen explained in the video, "Kasi nakatulong talaga 'yong massage. Kahit paano, I was relieved a bit. Every time he'd stop, parang bumabalik ang pain, so parang, 'So, ano, ima-massage mo ba 'ko o hindi?'"

Another time, Billy was repeatedly offering Coleen some frozen grapes — a tip they got from Max Collins, who had home water birth just two months ahead — to ward off dizziness. By the sixth time, she was already annoyed and told him, "Just stop it with the grapes!"

Let your body guide you

Coleen was instructed to get into the inflatable pool only when she's ready to push. But she suddenly felt the urge to go into the water, even if Irina warned her it might be too early.

At that time, Dr. Francisco-Ordinario and Vinoya had gone out of the room. When they came back, the doctor told Coleen to get out of the water so she could do an IE again — and Coleen was 10 cm dilated and ready to pop.

Coleen went back into the pool and started pushing while making low sounds and horse lips breathing to help her relax.

She recalled. "I knew they were the last few pushes na. Nilalakasan ko na nang konti. The last four pushes were when he [Baby Amari] was coming out. I gave everything because I could actually feel his head. 'Yon ang time na binigay ko ang lahat-lahat."

The delivery of the placenta can be harder than giving birth to the baby

ADVERTISEMENT - CONTINUE READING BELOW

After her active labor, which lasted for four hours, Coleen had a hard time delivering her placenta. She felt her body guiding her to do it upright. But as she stood up to step out of the pool, she suddenly got dizzy and passed out. 

"Siguro sa sobrang pagod ng katawan ko and the trauma that I went through, na-vertigo ako," she explained. "I just remember waking up, and I had no idea what just happened. They made me lay down na. It was taking too long to give birth to the placenta, and it was painful already."

Billy said his wife was "more in pain" at that point, and it was "more traumatizing" for him to watch.

Coleen pointed out, "Kasi ayaw talaga lumabas…They [her birthing team] were trying to press my tiyan. My body was telling me I had to be upright. But they were worried because I had vertigo na. After an hour, I really had to stand. So they brought the chair."

She's referring to the birthing chair, which has a U-shaped seat. She sat there, and with assistance from her birthing team, pushed until the placenta was delivered.

Medical professionals caution against home birth because of the risks involved. A hospital is the safest setting for childbirth because a life-threatening complication can develop without warning.

If a problem occurs during a home birth, the need to transfer the mom and the baby to a hospital means delayed care, which could put both their lives at risk.

ADVERTISEMENT - CONTINUE READING BELOW

Women have the right to make an informed decision about where they prefer to deliver, but always consult a doctor to understand the risks. In Coleen's case, she had a birthing team — an ob-gyn, midwife, and doula — present during her childbirth.

Here is the full video of Coleen's water birth.

Celebrate your pregnancy milestones!


Enter your details below and receive weekly email guides on your baby's weight and height in cute illustration of Filipino fruits. PLUS get helpful tips from experts, freebies and more!

You're almost there! Check your inbox.


We sent a verification email. Can't find it? Check your spam, junk, and promotions folder.

Trending in Summit Network