Anong Pake Mo Sa Dad Bod Ko? These Dads Encourage To Get Healthy

Is it bad to have a Dad Bod? These dads weigh in on how to redefine it!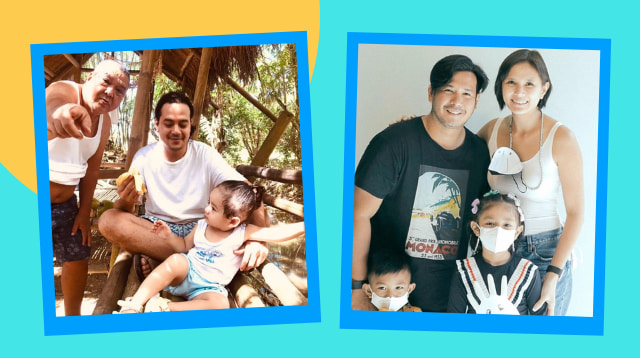 Over the last decade, social media has steadily equalized the scrutiny that only women used to feel when it came to objectification and beauty standards. These days, men feel the insecurity of being under the public gaze, particularly when it comes to the "Dad Bod."

It passes judgment on men that were once fit, but are not anymore. The reason is often blamed on getting married and letting yourself "go." It implies that the man no longer cares about being attractive and he is too busy taking care of the household, his wife, his children, and career. 

In the Smart Parenting Village (SPV), dads were asked how they feel when they are called a "dad bod." Many of them took it in stride and had a positive outlook on the comment. Dad Jumpy Santos said, "Compliment pag tinatawag akong dad bod. Meaning huggable ako, hindi magsasawa mga anak and misis ko yakapin ako." He also added, "I don't have abs, but I think I can say I'm healthy."

The term, which was popularized in 2015, came after Leonardo Di Caprio was photographed on the beach with a supermodel. He had love handles and a beer belly – and it was probably a slow day for the paparazzi, so the only story they came up with was of how he looked. (Technically, however, Leo is not a dad! So dads have just been unfairly dragged into the spotlight to describe a celebrity on vacation.) The "Dad Bod" has then developed a number of definitions that range from sweet to savage, one common description being, "a man's body that is softly round." Is that so bad?

ADVERTISEMENT - CONTINUE READING BELOW

What started as an insult is, at least for Filipinos, now a compliment that their dad bod means they're a well-rounded (not softly round) man who wants to keep the peace in his life and home. We definitely agree that these men have taken care of their families and careers, and they are no less attractive than they were when they weren't fathers!

What Does Having A Dad Bod Mean Today?

After Leo, international media has called out Chris Pratt and Hugh Jackman for their Dad Bods on unguarded days. Even Jason Momoa's spectacular abs in both Game of Thrones and Aquaman didn't spare him the swipe when he was photographed on a personal outing. It looks like what these incidents actually have in common is that these celebrities were caught on camera being regular people, enjoying a normal holiday. Perhaps having a Dad Bod is then just a state of relaxation when you're with your family and being yourself?

In the Philippines, celebrities like John Lloyd Cruz and Richard Gutierrez have been the subject of Dad Bod labels and they have redefined it by showing what they think is important for their physical, emotional, and mental health.

Dad Bod Means Working On Healthy Relationships

 

 

CONTINUE READING BELOW

Recommended Videos

 

The matinee idol John Lloyd Cruz is a co-parent to Elias, his son with ex-partner Ellen Adarna. In an interview about his parenting style, he joked, "Sana may kwenta." Since Adarna's recent marriage to Derek Ramsay, JLC has gracefully given his best wishes to the new couple, saying that a strong and fun marriage is "vital [yun] sa welfare at growth ng anak ko."

SPV Dad Marko Aeurst also talks about how being a good dad is better than a good-looking dad. When this dad is called a dad bod, he says, "Sinasagot ko, 'Hindi yan dad bod, father figure yan!' Pero seriously, our body is not as important as [being a] good father figure to our children. Be the father you want your daughter to look up to for her future husband, and be the father you want your son to be as a future father/husband."

Dad Bod Means Having Commitment

PHOTO BY

Instagram/Isabel Oli

ADVERTISEMENT - CONTINUE READING BELOW

John Prats, a dad of 3 said that, the moment he proposed to his wife Isabel Oli, he knew he wanted to be a dad. The once-teen heartthrob really matured into the most important – and permanent – role in his life, as a father and husband.

Just like Dad Charlie Velado said in the Smart Parenting Village, "Well, having a dad bod is a sign that I am a full-fledged dad so it's a privilege!" Having a dad bod for these men is embracing everything that comes with being a family man.

Dad Bod Means Practicing Healthy Habits

 

Before he was even a dad to Dahlia, The Fat Kid Inside was already on a health journey that he has kept up well into becoming a husband and a father. From an early age, Erwan Heussaff started eating less processed food and kept himself from falling into a sedentary lifestyle to stay healthy.

ADVERTISEMENT - CONTINUE READING BELOW

From the Smart Parenting Dad Squad, Dreus Cosio shares his own family's diet. "We used to be strict vegan when my mom died of cancer," he recalls, but they reverted "nung naglihi si misis. Cravings." But the dad of two is a good example that change is constant and adjustments are part of the journey. "Now we focus on more water and minerals. Fruits/smoothies for breakfast. Less carbs," he says.

Dad Bod Means Finding What Works For Your Body (And Schedule)

 

 

PHOTO BY

courtesy of Aprica (left) and Instagram/g_eigenmann_

 

Despite a hectic schedule and dynamic home life raising 3 kids – one which was born during the pandemic – Geoff Eigenmann does intermittent fasting (IF) to shed some weight, boost his concentration and energy, and keep the critics at bay. IF is unlike fad diets because it has a variation of fasting periods (between 12 hours to 36 hours) depending on lifestyle and body type, which makes it sustainable.

ADVERTISEMENT - CONTINUE READING BELOW

SPV Dad Jumpy Santos says, "One balik alindog tip is just find the right workout for you. Hindi lahat kasi applicable kasi iba-iba nature ng bodies [natin] eh. For me, HIIT workout is not ideal, but triathlon is.

Another SPV Dad, Kim Ilao, chimes in, "Nung nagkaroon ako ng chance makapagpapayat, medyo masarap pala sa pakiramdam. Lalo na ng ma-achieve ko normal BMI." This dad also swears by IF, "tapos sabayan ng regular exercise."

Dad Bod Means Building Strong Partnerships

 

PHOTO BY

@sarahlahbati/Instagram | Pampers

 

Richard and his twin Raymond grew up in the spotlight as the adorable sons of Eddie Gutierrez and the little brothers of Ruffa. Now that they are in their 30s, and Richard is a father and husband, they are their own men. But they still do twinning activities, like working out together, according to Pep.ph. What better way to stay motivated than seeing someone who looks exactly like you get healthy and strong, right?

ADVERTISEMENT - CONTINUE READING BELOW

Of course, not everyone has a twin, but perhaps you and your partner can get healthy together. SPV Dad JC Lasam says he was just talking about this with his wife, Joerel Faith. "Napansin na rin namin changes ko in terms of body figure," he shares, "but then napagusapan na rin namin ni misis na we need to live healthy. So going back to track na [kami] sa healthy lifestyle specially sa food intake. Slowly by slowly until isusunod naman namin ang exercise para di mabigla."

Besides Working Out: How else can dads stay healthy? 

1. Make Changes To Fit Your Family's Lifestyle

Dad Squad's Dreus Cosio says, "If you can't change everything, changing one routine and championing it is already a good start. Consistently may big impact na." This can't be stressed enough. Many studies and books have been written around the fact that small, consistent habits build up into impactful lifestyle changes over time. According to the Harvard Business Review, it is often the mental hurdle of "thinking small" that we need to get over first. Forget the saying, "Go big or go home." In changing your definition of a dad bod, remember that you're already home and this is a safe space to take your time making improvements.

2. Cook At Home and Order Less Takeout

Dad Squad's Alfie Tugalan jokes that his dad bod is because, "Ang sarap kasi ng sisig, kare-kare, at crispy pata!" This isn't so bad, actually, because there's an ongoing study reported by Dr. Gourmet from the European Investigation on Cancer and Nutrition (EPIC) that says fried food -- like many Filipino favorite recipes -- doesn't automatically result to a stroke. Most studies correlating fried food with these conditions refer to commercial fast food and processed meat. The culprit? The kind of oil that's used in these dishes. So one thing dads can do is read up on better ways to choose the right ingredients for meals at home. SPV Dad Marko Auerst says, "Invest in your health. Lagi dapat may kinakaing gulay within the day, fish, less fatty foods."

ADVERTISEMENT - CONTINUE READING BELOW

3. Get Some Sun and Fresh Air

Some dads in SPV couldn't help but say they had a dad bod because "dinadaan nalang namin sa kain ang stress!" Stress can cause weight gain, according to VeryWellMind. This is a natural tendency when major changes, like having a growing toddler in your home, occur in your life. Stress responses are real, so don't be ashamed if you have a hard time dealing with it. Fortunately, the body also has built-in mechanisms to help keep down the stress hormones and it is simply stepping out of your home and into nature. Medical News Today reports on the benefits of sunlight not just on the mood, but even cardiovascular issues and blood pressure as well.

What other parents are reading

Celebrate your pregnancy milestones!


Enter your details below and receive weekly email guides on your baby's weight and height in cute illustration of Filipino fruits. PLUS get helpful tips from experts, freebies and more!

You're almost there! Check your inbox.


We sent a verification email. Can't find it? Check your spam, junk, and promotions folder.

Trending in Summit Network