What Happens When Your City Is On Lockdown: How China And Italy Are Coping With COVID-19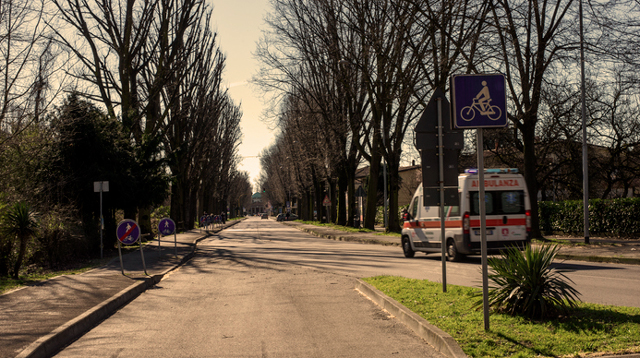 After addressing the nation just before 9 p.m., today, March 12, 2020, Philippine President Rodrigo Duterte laid out the 30-day community quarantine measures for the National Capital Region due to the COVID-19 pandemic. The country is now under Code Red Sublevel 2 (read here what it means).

There is now a ban on domestic air, sea and land travel to and from Metro Manila, starting March 15 until April 14, 2020. School has also been suspended until April 12, 2020, and mass gatherings are strictly prohibited.

President Duterte, however, stressed the travel ban is subject to daily review by the Inter-Agency Task Force for COVID-19, which likely means the covered period can be extended or shortened.

While the travel ban essentially puts NCR on lockdown, the president says all manufacturing, retail, and service industries are advised to remain in operation but implement strict social distancing measures. Mass public transportation like LRT, MRT, and the Philippine National Railway will continue to operate.

In his address, one of the first sentences President Duterte's made was, "Do not panic."

While we should not underestimate COVID-19 because "it is real and there is no cure," he advised, "Do not kill yourself with worry."

He said, "Huwag kayo masyado ma-stress na parang hindi mo magawa yung gusto mong gawin. Meron pa rin pero may restrictions."

The World Health Organization (WHO) declared the coronavirus disease 2019 (COVID-19) a pandemic because it expects the number of cases and countries to climb higher in the coming days and weeks. But while the declaration is alarming, the WHO clarifies "all countries can still change the course of this pandemic," adding that several countries have demonstrated the virus can be suppressed and controlled.

ADVERTISEMENT - CONTINUE READING BELOW

One of the measures we've seen are lockdowns of areas that have seen a rise in positive COVID-19 cases. The first country to do this is China, which put Hubei province on lockdown in January 2020. The most recent is Italy, where Italian Prime Minister Giuseppe Conte put the entire nation on lockdown after the number of positive cases reported in the country surpassed 9,000.

What a lockdown looks and feels like

Lockdowns aim to contain and slow down the spread of COVID-19, but it will also restrict the movements of its people, and it will have a huge impact on the economy. To put things in perspective, here's what the lockdowns in China and Italy are like based on reports.

Hubei province, China on lockdown

Believed to be the epicenter of the outbreak, Wuhan city was placed on lockdown on January 23, 2020, along with other cities in the Hubei province in an effort to contain and slow down the spread of COVID-19.

According to Business Insider, the city now appears to be a ghost town, with its 11 million citizens mostly contained inside their homes. People are allowed outside, but many are choosing to stay indoors. Those who decide to go out of their houses are screened and sprayed with disinfectants. Grocery stores blast announcements on how to stop COVID-19 from spreading.

ADVERTISEMENT - CONTINUE READING BELOW

Recommended Videos

The government urged its people not to hoard supplies, but with the lockdown in place, it was not surprising that stores continue to run out of food like meat, vegetables, and instant noodles. As a response, the government ordered fleets of trucks to bring in food to the city. Drivers' temperatures are checked, and their trucks are sprayed with disinfectant.

The city was able to build new hospitals in a matter of days, but they've also transformed public venues into makeshift medical centers. Medical supplies have also been consistently arriving in Wuhan.

Being on lockdown for almost two months is enough to make anyone anxious, but the people of Wuhan have coped by yelling supportive phrases from their homes, like "Wuhan, come on!" and giving each other strength, reports Business Insider. They've also turned to memes to poke fun at their situation. Families have found various ways to bond and entertain themselves while confined in their homes.

ADVERTISEMENT - CONTINUE READING BELOW

The WHO said cutting off a city as large as Wuhan was "unprecedented in public health history," and it wasn't sure the strategy would work. The New York Times reports that a "growing sense of abandonment and fear" has taken hold of Wuhan, as they feel that the city and the province of Hubei "are being sacrificed for the greater good of China."

On the other hand, another report said the number of new cases being reported in China has fallen dramatically. Hubei Province has also not reported any new cases for two days in a row. The real challenge now is if the numbers will remain stable once the cities resume normal life — citizens will go to work, classes will resume, and commuters will get on public transportation.

Italy on lockdown

After reporting more than 9,000 positive COVID-19 cases and 463 deaths, Italy became the first country to put itself on lockdown. On March 9, 2020, Italy imposed nationwide restrictions on travel and public life to its 60 million residents in an effort to contain the spread of the virus, reports CNN. Public events were banned and closures of schools, movie theaters, museums, and gyms were ordered. Operating hours for restaurants, bars, and shops were also limited.

Citizens are encouraged to stay home. Restaurants, cafes, and shops will be allowed to operate provided they impose social distancing — people must stay three feet apart. The lockdown is expected to last until at least April 3.

"I think the government was right to choose these rules," shares Beniamino Pagliaro, a journalist for Italian newspaper la Repubblica, in an interview with CNN. "It's a tough moment but also it may force everyone to do the right thing."

ADVERTISEMENT - CONTINUE READING BELOW

He adds, "The good thing in this spread of the virus is that people will understand that we are used to thinking about ourselves. While this spread is happening, it's very clear we are not alone, and so you have to think about the whole of society."

Lockdowns are not fool-proof. Putting such measures in place will not guarantee absolute containment of the coronavirus disease. "Real questions need to be asked about what impact the [Wuhan] lockdown had on limiting supplies and health-care workers, inciting panic, overburdening hospitals, increasing transmissions by concentrating people into areas," says Alexandra Phelan, a global health lawyer at Georgetown's Center for Global Health Science and Security, in a report by The Washington Post.

In a statement, WHO's Director-General Dr. Tedros Adhanom Ghebreyesus reminds us that "all countries must strike a fine balance between protecting health, minimizing economic and social disruption, and respecting human rights."

He adds, "If countries detect, test, treat, isolate, trace, and mobilize their people in the response, those with a handful of cases can prevent those cases becoming clusters, and those clusters becoming community transmission. Even those countries with community transmission or large clusters can turn the tide on this virus."

COVID-19 may be a pandemic but it does not mean should panic. Here are the reasons we can win against the virus.

What other parents are reading

Celebrate your pregnancy milestones!


Enter your details below and receive weekly email guides on your baby's weight and height in cute illustration of Filipino fruits. PLUS get helpful tips from experts, freebies and more!

You're almost there! Check your inbox.


We sent a verification email. Can't find it? Check your spam, junk, and promotions folder.

Trending in Summit Network