Kids Under 5 Years Old Are Dying Because of Preventable Diseases

Children in this age group are highly vulnerable to different diseases.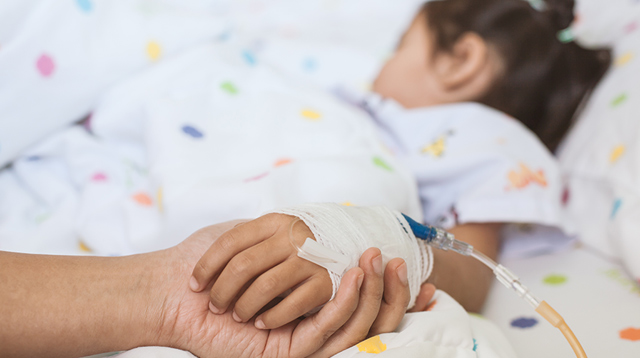 Despite the availability and effectiveness of vaccines and antibiotics, many young children ages 5 years old and below are dying from preventable and treatable diseases around the world.

The United Nations Children's Fund (UNICEF) reports that despite the significant reduction in under-5 mortality rates since 1990, an estimated 5.4 million children under 5 years old died in 2017 alone. UNICEF writes, "The global burden of child deaths is a call for urgent and concerted action to further improve the survival chances of the world's children."

Leading causes of death among children under 5 years old

According to the World Health Organization (WHO), more than half of deaths among children under 5 years old can be attributed to "diseases that are preventable and treatable through simple, affordable interventions." However, under-5 child deaths may also be caused by factors other than illness. Learn more about the causes behind these deaths below.

Infectious diseases

Infectious diseases caused a staggering 45% of child deaths in 2017, according to Our World in Data. These include vaccine-preventable diseases such as whooping cough, measles, tuberculosis, meningitis, and hepatitis. With the availability of vaccinations, the number of cases caused by these illnesses should have drastically decreased. Yet, we are even seeing a resurgence like the latest news on polio. It is not helping that the world is experiencing vaccine hesitancy, one of the top global health threats in 2019.

Pneumonia and other lower respiratory diseases

Our World in Data says pneumonia and different types of lower respiratory diseases, such as acute bronchitis, bronchiolitis, severe acute respiratory syndrome (SARS), and respiratory syncytial virus, caused 15% of all child deaths in 2017. These have also remained as the leading cause of mortality for the past three decades. A UNICEF fact sheet reports acute respiratory infections caused 5.4% of neonatal deaths in the Philippines in 2015.

ADVERTISEMENT - CONTINUE READING BELOW

Lower respiratory infections are diseases that primarily affect the respiratory system below the throat, says Verywell Health. Pneumonia, which is one of the most common lower respiratory infections, is an infection of the lungs that typically occurs as a complication of an upper respiratory infection, like colds or the flu.

Diarrheal diseases

Diarrheal diseases caused 10% of child deaths in 2017, says Our World in Data. The CDC says diarrheal conditions cause one out of nine child deaths around the world and kill more than 2,000 children per day — more than AIDS, malaria, and measles combined.

A UNICEF report on diarrhea-related child deaths found that in the Philippines, 7% of deaths among children under 5 years old and 13% of post-neonatal deaths were caused by diarrhea in 2016.

The Global Health Primer by Emory University describes diarrheal diseases as "diseases caused by multiple viral, bacterial, and parasitic organisms that share the common symptom of diarrhea, defined as the passage of three or more loose or liquid stools per day." Examples of diarrheal diseases include cholera, rotavirus, shigellosis, and typhoid.

Causes of neonatal deaths

Our World in Data says many children die in the neonatal period (the first 27 days after birth). Data from the United Nations Inter-agency Group for Child Mortality Estimation (UN IGME) showed the neonatal mortality rate was 13.6% per 1,000 live births in the Philippines in 2017.

One major determinant of neonatal death is premature birth (born before the 37 weeks of pregnancy are completed), which caused 12% of child deaths in 2017. In 2015, premature birth caused more than 32% of child deaths in the Philippines, according to a fact sheet provided by UNICEF.

CONTINUE READING BELOW

Recommended Videos

According to the Centers for Disease Control and Prevention (CDC), the earlier a baby is born, the higher their risk of death or severe disability. "Babies who survive can have breathing issues, intestinal (digestive) problems, and bleeding in their brains. Long-term problems may include developmental delay (not meeting the developmental milestones for his or her age) and lower performance in school."

Congenital defects or anomalies, which caused 9% of child deaths in 2017, are defined by WHO as physical or genetic disorders or abnormalities that are present at birth. These can be detected before birth, at birth, or during infancy. The American Academy of Pediatrics (AAP) says these are caused by issues in the fetus' development inside the mother's womb. Types of congenital defects include Down syndrome, microcephaly, heart defects, and neural tube defects. UNICEF says that in 2015, congenital anomalies caused 17.2% of neonatal deaths in the Philippines.

How to prevent children from dying

Remarkable scientific accomplishments over the past decades have led to breakthroughs in health care, especially for children younger than 5 years old, who are most vulnerable to different kinds of potentially fatal illnesses. Here are various ways parents can provide their children with adequate protection.

Breastfeeding

Breast milk has been proven vital in providing newborns and young children with the nutrition they need in their first year of life. According to the AAP, breastfed babies are at less risk of developing ear infections, diarrhea, pneumonia, wheezing, bronchiolitis, and other viral or bacterial infections. Research has also claimed that breastfeeding can protect children against obesity, diabetes, sudden infant death syndrome (SIDS), asthma, eczema, colitis, and even certain cancers.

ADVERTISEMENT - CONTINUE READING BELOW

Vaccines

Vaccination is the best way to protect children against dangerous childhood diseases, says the CDC. Plenty of research has proven that vaccines are safe and effective. Having your child vaccinated is also a great way to protect others in your community, such as those who are too young to be immunized or have conditions that prevent them from being vaccinated. Vaccines can cause specific reactions, but these are often mild, minor, and will eventually go away on their own. If you have doubts about vaccination, we recommend you talk to your doctor.

Vitamins

Vitamins and minerals are also included in the list of procedures for treating and preventing the conditions listed above. For instance, Kids Health says that vitamin A boosts the immune system so that it can fight off infections. Meanwhile, the WHO writes that supplementing children with zinc helps reduce morbidity associated with diarrhea and lower respiratory infections among children.

To know more about all the vitamins your child needs to grow healthy and strong, click here.

What other parents are reading

Celebrate your pregnancy milestones!


Enter your details below and receive weekly email guides on your baby's weight and height in cute illustration of Filipino fruits. PLUS get helpful tips from experts, freebies and more!

You're almost there! Check your inbox.


We sent a verification email. Can't find it? Check your spam, junk, and promotions folder.
Trending in Summit Network