What You Need To Know To Protect Your Newborn From COVID-19

It's normal to worry about your baby, but use it to be ensure you protect him from any illness.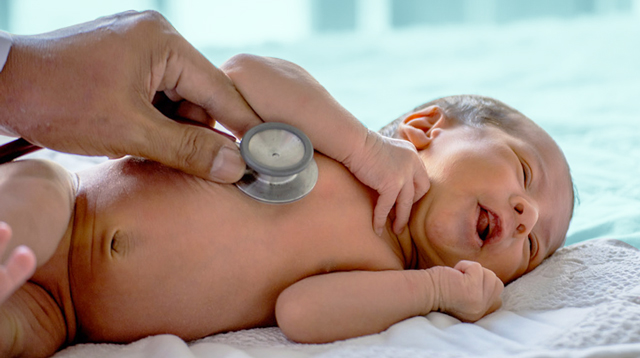 Being pregnant and worrying about your unborn baby's health during this global health crisis should keep you on guard. There is no evidence that pregnant women are more susceptible to COVID-19, but that doesn't mean you should be complacent.

Dr. Leana Wen, M.D., an emergency room physician and currently 38 weeks pregnant, explained in an Instagram Live with Heidi Murkoff of What To Expect that if preggos get COVID-19, they are not likely to experience more severe consequences unlike the elderly, people with weak immune systems, or those with underlying conditions.

But preggos are advised to take extra precautions. Pregnancy means that your body is going through a lot of physiological changes, which makes you more likely to catch any illness. Of course, no pregnant woman wants to get sick.

Another reason for preggos to remain vigilant against COVID-19 is their newborn baby? A new study shows newborns are susceptible to COVID-19 and may become critically ill. To date, it's the most extensive study on children and COVID-19.

Newborns are susceptible to COVID-19 and may become critically ill

Pregnant moms do not pass the virus on to her baby in the womb. "So far, there are no studies that show that there are risks," Dr. Wen said. "Studies are showing that COVID-19 is not present in amniotic fluid and that it's not transmitted maternal-fetal," she added.But babies can still get infected outside the womb.

The study published in the journal Pediatrics is based on data from 2,143 children ages zero to 18. More than one-third of the kids were laboratory-confirmed COVID-19 patients. The rest were suspected cases based on the child's symptoms, chest X-rays, blood tests, and exposure to COVID-19 patients.

ADVERTISEMENT - CONTINUE READING BELOW

Half of the children in the study had mild symptoms, but 125 children developed severe illnesses and were considered in critical condition. Most of them were age 5 or younger, the study reported. Forty of those were infants under 12 months old.

Study co-author Dr. Shilu Tong, M.D., who is director of the department of clinical epidemiology and biostatistics at Shanghai Children's Medical Center, believes infants and young children got sicker because their respiratory systems and other body organs are still rapidly developing.

Dr. Andrea Cruz, M.D., an associate professor of pediatrics and co-author of a commentary on the study, explained it's likely because of "immune system immaturity." Newborns have not been exposed to viruses before, and their bodies are still learning how to fight these pathogens. 

How to keep your newborn baby safe from COVID-19

Giving birth during this global health crisis is no different. Doctors will need you to stay home as much as you can during labor and only go to the hospital when you're about to give birth. (Click here to know what to expect when giving birth during COVID-19.) When you've delivered your baby, make sure you follow these expert tips.

Practice skin-to-skin contact.

The World Health Organization (WHO) upholds the essential newborn care (ENC) practices to ensure the health and safety of newborn babies. This includes kangaroo mother care, which is immediate skin-to-skin contact to promote initial breastfeeding. Direct skin-to-skin contact transfers the mother's warmth and protective bacteria that helps keep the baby calm and healthy and helps initiate breastfeeding. It benefits the new moms, too!

CONTINUE READING BELOW

Recommended Videos

Barring any after-birth complications, skin-to-skin contact should be done for at least 90 minutes, or at least until the first breastfeeding is completed.

Breastfeed as much as you can.

Breast milk is the best source of nutrition and newborns' first protection against infections. Science has proven the advantages of breastfeeding prove beneficial not just to the baby but his mom as well.  Stress may affect your milk supply, so try to avoid it. (Click here for tips for managing stress when nursing.)

It may also be prudent to stop direct breastfeeding until tests show the mom is negative for COVID-19. The U.S. Center for Disease Control and Prevention (CDC) says expressing breast milk and having a healthy person feed it to the newborn is an alternative. Again, it's crucial to practice handwashing before pumping breast milk and handling any infant feeding or breast pump paraphernalia.

Don't accept any visitor who wants to meet your newborn.

Even with the current quarantine, bar anyone from visiting you or your newborn. Be content with having everyone meet your new baby online, whether through pictures or video calls. Staying in our respective homes protects not just everyone but especially your newborn.

"We really critically need to protect the newborn, because the newborn has no immunity other than the immunity that we, as moms, gave to the baby. And no one has immunity to coronavirus," Dr. Len stressed. "This is not a risk that any of us can afford," she added.

Stay in touch with your obstetrician-gynecologist and pediatrician.

ADVERTISEMENT - CONTINUE READING BELOW

Do not try to self-medicate. If you need to go consult your obstetrician or your child's pediatrician, ask your doctor for other ways to go about it instead of going to the hospital. Many doctors already practice telemedicine to encourage everyone to stay home. The idea is to limit trips outside, including hospitals, unless it's absolutely necessary.

What other parents are reading

Celebrate your pregnancy milestones!


Enter your details below and receive weekly email guides on your baby's weight and height in cute illustration of Filipino fruits. PLUS get helpful tips from experts, freebies and more!

You're almost there! Check your inbox.


We sent a verification email. Can't find it? Check your spam, junk, and promotions folder.
Trending in Summit Network