I Lost My Baby At 18 Weeks. Now I Feel Like If I've Failed As A Mother

One mom bares her pain as the first step toward healing.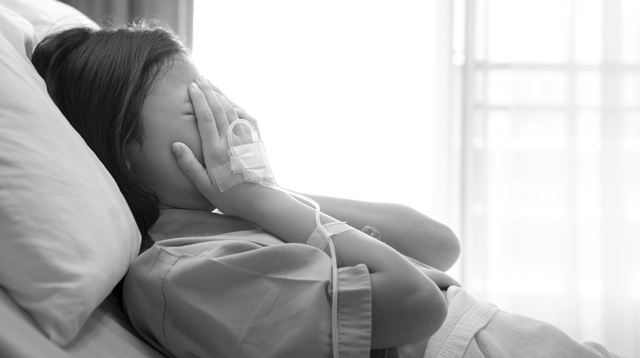 Editor's note: Doctors would be the first to say that in most cases, there's nothing a woman can do to cause a miscarriage and nothing they can do to prevent it. But for women who have experienced this painful loss, the guilt is overwhelming. At the back of their heads, there will always be that thought: "Maybe it's something I did."

In a heartbreaking letter, one mom shares the agony of losing her son 18 weeks into her pregnancy. The mom, Madel Natividad, tells us, "I am coping with it through writing and I wanted to share my story for those who have experienced the same tragedy in their lifetime. Sharing my story has somewhat alleviated the pain. [Hopefully], the community you've built can help raise awareness and support for parents who have lost their little angels through miscarriages and stillbirths, just like me."

Below is her letter in full:

I can't sleep. All I hear in my left ear is the sound of fast, continued heartbeats from a fetal doppler. I felt some phantom kicks in my belly and I anticipated the dreaded contractions sure to follow after. I stare at the ceiling in tears and can't help but ask, "Why?"

Excuse the lengthy piece. I just wanted to have a clear account of what I went through and slowly work through my healing.

It's true what they say: no pregnancies are alike. In my case, it has gone wildly on opposite ends. My first pregnancy was all too normal — my baby was healthy and I carried her full-term. Then, my second pregnancy came along and we were concerned about the initial ultrasound. It said I had "circumferential subchorionic bleeding," meaning a pool of blood surrounded my baby's embryo.

ADVERTISEMENT - CONTINUE READING BELOW

Despite the prognosis, we were positive that it will resolve with proper management as my pregnancy progresses. The news brought joy into our home, especially to my daughter who had been bugging us for a sibling for so long. She went on and on about being an "ate" to everyone that she talked to.

What other parents are reading

Early on my first trimester, I didn't feel like announcing the news to everyone just yet. Given the risk involved, there was that slightest feeling at the back of my mind that I might jinx it if I do.

I had all sorts of pregnancy symptoms that I have never experienced before. My hormones were fired up, morning sickness lasted all day, and I had mood swings here and there. The scariest was that I would bleed in the wee hours of the night. Suffice it to say, I struggled in the first trimester up to the 17th week. Thankfully, by then, I felt a little comfortable to eat and move around.

Because of the quarantine, all my consultations were done online. It was also quite tough to look for clinics that offered ultrasound.

The subchorionic hemorrhage resolved, but new findings from an ultrasound suggested a low-lying placenta which entirely covers the cervix. Again, we were hopeful it will get better as my uterus grows while the pregnancy is progressing.

On my 18th week, I started feeling better and thought everything was progressing as it should. The early kicks I felt in my belly was a joy to experience. However, it was so intense at night that it brought contractions and bleeding. I relayed my symptoms to my ob-gyn and the dosage of my medication, as well as the frequency, was increased.

ADVERTISEMENT - CONTINUE READING BELOW

Recommended Videos

It seemed to be manageable during the day, but at night to the early morning, there were waves of uncontrollable contractions and heavy bleeding that came with my baby's movements.

"I had a glimpse of what my baby was doing inside my womb. He was raising his hand as if waving hello."

I fainted in the bathroom. It was a nightmare. All I could remember were the frantic voices — my husband hurriedly carried me down the stairs and into the car.

At the hospital, I could barely open my eyes. I was at my most vulnerable — cold and weak as I laid down on the evaluation bed. I felt helpless as blood drained out of me. All I could think was that I need to fight for my family, most especially for my husband, daughter, and unborn child.

Then, I heard audible heartbeats from the fetal doppler. It strengthened me and gave me hope. There was still a chance that we could both survive this.

After a blood transfusion, I was given an ultrasound for further examination. I had a glimpse of what my baby was doing inside my womb. He was raising his hand as if waving hello. His legs were active and kicking a lot — he even did a cross-legged sitting position.

What other parents are reading

"One minute, I was seeing my child so alive inside of me and then suddenly, he was out in the world without any chance of survival."

I was forcing myself not to give into pushing but I couldn't. The ultrasound revealed that my baby was in breech position and his feet were partially out of the cervix.

I was horrified. I knew deep inside that there was an imminent threat of abortion. Then, at that moment, I couldn't hold on any longer. I knew what was bound to happen. With the intensified contractions, I was forced to push out.

ADVERTISEMENT - CONTINUE READING BELOW

Life was cruel to me in between those moments. One minute, I was seeing my child so alive inside of me and then suddenly, he was out in the world without any chance of survival.

I was in shock. All I could do was nod at the voices around me, explaining what had happened. I was distant and tired from all the pushing and the pain.

I needed an emergency dilation and curettage to avoid further complications. Thankfully, I survived. Yet, with that came the realization that I had a miscarriage.

I touched my belly and he was gone. Yes, he could have been our baby boy. He could have been the little brother that my daughter was excited to have. He could have been named after my husband and late father. He could have completed the family of four we so wanted to have.

I needed my husband. I wanted to tell him how hard I tried to hold on. I wanted to say sorry for failing.

I'm hearing the sound again and feeling the kicks. Nothing seems to work. I can't breathe. I guess now I just have to cry myself to sleep.

How else can you cope after pregnancy loss? Click here for some ways.

What other parents are reading

Celebrate your pregnancy milestones!


Enter your details below and receive weekly email guides on your baby's weight and height in cute illustration of Filipino fruits. PLUS get helpful tips from experts, freebies and more!

You're almost there! Check your inbox.


We sent a verification email. Can't find it? Check your spam, junk, and promotions folder.

Trending in Summit Network