This Mom Who Lost 110 Pounds Says No Need to Go to a Gym

Here are five realistic health tips to achieve fitness success like she did.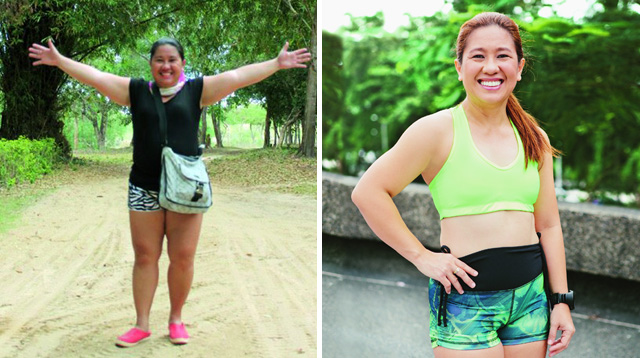 After the holiday bingeing, you know what will follow: telling ourselves it's really time to start losing the weight. If you're serious, we suggest getting inspiration from Dr. Cris Lao, a veterinarian and registered nurse, who was able to lose a whopping 110 pounds, according to a story by Good Housekeeping Philippines (GH) last year.

Cris shares that her weight gain started during pregnancy. She thought she could eat as much as she wanted since she continued to exercise even with a bun in the oven. Needless to say, she was wrong. She hit more than 200 lbs. at her heaviest -- too much for her 4'10" frame. Soon after, she made a promise to herself to change by eating right and doing smarter workouts.

When GH did this story, Cris was 40 and weighed close to 100 lbs! Here are tips on how you achieve fitness success, too:  

1. Set a goal, and make sure it's realistic.
How often have you heard claims from friends (and yourself!) that sound like, "Sa birthday ko, tanggal na 'ko ng 50 pounds!" only to belatedly realize the birthday is only weeks away. Goal setting is good, but make sure they're realistic. Cris set a long-term goal she knew was achievable and healthy for her body. "I had a goal – to be at 105 pounds before I reached 40," she says. She made that promise at 37 years old and admits she had to be really patient with herself. Remember, success doesn't come overnight. 

"Research shows that actually setting a specific goal makes us more likely to achieve the things we want, and is important especially when we want to make a change," says Will Meek, Ph.D., a counseling psychologist.

To increase the likelihood of achieving your goals, The Wall Street Journal suggests that goals must:

ADVERTISEMENT - CONTINUE READING BELOW

be challenging but achievable
have clear beginning and ending points
be supported by rewards. 

With all this in mind, take a moment to sit down and decide on an action plan. 

2. Go slow and steady.
"I researched online on how to lose weight, and articles would usually point out the same food," says Cris. On the first month of her lifestyle change, she decided to give up soda. Then slowly, as the months passed, she was able to remove unhealthy foods like pizza, burgers and sugar-filled treats from her diet.

Try adapt Cris' strategy, give up specific foods a bit a time -- avoid deep fried food this month then add tsitsirya on your stay-away-from list the following month. Soon enough, you'll find you've breezed through a whole month without junk food. 

Another great tip to cut out junk food is to keep good food within reach, says HealthLine. When shopping for groceries, buy whole grain, fresh meat, greens and fruit. Prepare and repack them into serving size containers so they're more eye catching when you're rummaging through the fridge for something to eat. Keep junk food out of the house as much as possible!

What other parents are reading

3. You don't need a gym.
"The most effective workouts are done in the house," says Cris. And don't worry about equipment either. There are tons of apps you can download that have planned out workouts you can do on your own, some even take just seven minutes a day. Have to watch the kids? Cris suggests using your tykes as extra weight when doing lunges, squats or arm lifts. You can also put on some lively music and let them join in. Keep the whole family healthy! 

4. Don't just do cardio -- do weight lifting as well. 
"With weight lifting, you still burn calories long after you're finished working out," says Cris. And she's right. After a strength-training workout, you could still be burning calories up to three or four hours later, certified fitness trainer Debbie Siebers told WebMd.

For those dieting, strength training is vital as well. When you lose weight, you're not only losing fat -- up to a quarter of it is muscle. Strength training helps you build lost muscle or keeps you from losing it in the first place. Plus, it also helps you look younger as having strong muscles makes you look shapelier and helps fight sagging. Win-win! 

Ready to begin? Experts recommend getting a starter session with a qualified fitness trainer. She'll be able to address your limits, give advice on how you can reach your goals, and show you how to execute your workout properly. The last one is important as improper strength training can lead to painful injuries. 

5. Track your progress.
To keep her motivated, Cris would put an X on each day she successfully fulfilled her diet. "I would always feel so happy if 30 days na lahat may X. Whenever I would feel tempted to eat [a type of food] I eliminated, I would think, 'Aww, it will ruin my calendar,' so hindi ko na siya itutuloy." 

This to us sounds like the "Don't break the chain" motivational technique popularized by comedian and writer Jerry Seinfeld. The idea is to track your progress on a task you've chosen to do or practice (for Seinfeld it was to spend a few minutes a day writing) by putting a big red X on a calendar for each day that you do. Hang your calendar on a prominent wall and a few weeks in you'll find yourself hesitant to break your chain of Xs. Sounds easy enough, right? Try it with something simple first like getting your daily serving of fruit every day. Here's graphic designer Karen Kavett's website where you can download a free year-long calendar made just for it. 

Sources: HealthLine, WebMd, The Wall Street Journal, Psychology Today 

Hair and makeup by Elaine Ganuelas of INGLOT Cosmetics. See the full story of Dr. Cris Lao's journey, written by Maita de Jesus, in the December 2015 issue of Good Housekeeping Philippines,   

CONTINUE READING BELOW

Recommended Videos

What other parents are reading

Celebrate your pregnancy milestones!


Enter your details below and receive weekly email guides on your baby's weight and height in cute illustration of Filipino fruits. PLUS get helpful tips from experts, freebies and more!

You're almost there! Check your inbox.


We sent a verification email. Can't find it? Check your spam, junk, and promotions folder.
Trending in Summit Network