Now More Than Ever, You Need Prioritize These 7 Nutrients For Your Kids

The body can't produce all the necessary nutrients, so eating healthy is essential.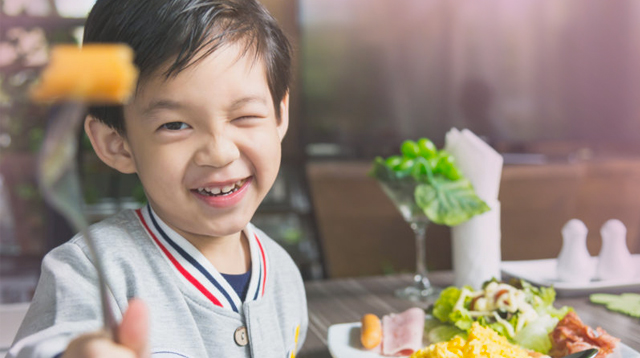 To ensure your child's growth is on track and that he is protected from illnesses, one of the best things you can do is give him a balanced and nutritious diet. Though it's not always easy, being aware of the different nutrients for kids and whether or not the foods your child eats contain them is one great way to ensure he's on the right track in terms of his health.

7 essential nutrients for kids

Stanford Children's Health says that because the body cannot naturally produce all the vitamins and minerals needed for optimal health, ideally, the foods that kids eat should contain the nutrients they need for every day. Here are seven of the most vital nutrients for kids that all parents should know about.

Vitamin A

According to Parents, Vitamin A is one of the most important nutrients for kids because it "helps growth, assists the eyes in adjusting to dim and bright lights, keeps skin healthy, and works to prevent infection." A previous SmartParenting.com.ph article writes that this vitamin supports the body's immune system in fighting off diseases that can cause severe complications, like pneumonia and measles.

Another reason why vitamin A is an essential nutrient for kids is that lack of it can lead to blindness. The World Health Organization (WHO) says vitamin A deficiency (VAD) is the leading cause of preventable blindness in children.

Foods that are rich in vitamin A include carrots, sweet potatoes, squash, spinach, cabbage, broccoli, and egg yolks. It can also be found in kangkong, malunggay, ripe mangoes, and fortified milk.

ADVERTISEMENT - CONTINUE READING BELOW

B-vitamins

Next on this list of nutrients for kids are B-vitamins, which aid the body in producing red blood cells that carry oxygen throughout the body. Every part of the body needs oxygen to function properly, KidsHealth writes. B-vitamins are also important in metabolic activities; they help produce the energy your child needs for his daily activities.

There are multiple kinds of B-vitamins, like vitamin B1, vitamin B2, and vitamin B12. One type of B-vitamin, folate, is well-known to be vital for women who plan to get pregnant, but it's also one of the essential nutrients for kids since it supports healthy growth and development of a child's cells, explains Parents.

Foods that are rich in B-vitamins include whole grains like oats and wheat, fish and seafood, poultry and meats, eggs, dairy products like milk and yogurt, green leafy vegetables, and beans and peas, according to KidsHealth.

Vitamin C

Vitamin C is perhaps one of the most well-known nutrients for kids. Aside from being known to protect kids from the common cold (if they get enough of it every day, that is), vitamin C is also needed to fight off infections and strengthen the skin, muscles, and tissue, according to Stanford Children's Health. Parents adds that vitamin C holds the body's cells together, strengthens the walls of the blood vessels, and is needed to build strong bones and teeth.

Foods that are rich in vitamin C are citrus fruits, strawberries, melons, mangoes, papayas, tomatoes, potatoes, broccoli, cauliflower, cabbage, and spinach.

CONTINUE READING BELOW

Recommended Videos

What other parents are reading

Calcium

The American Academy of Pediatrics (AAP) explains that calcium, the "body's building block," is necessary for a child to develop strong and healthy bones and teeth. Stanford Children's Health says that not getting enough calcium during childhood can cause adverse effects on growth and development as well as weak and porous bones, which can lead to osteoporosis later in life. All of these reasons make calcium one of the essential nutrients for kids.

Foods that are rich in calcium include cheese, yogurt, ice cream, egg yolks, tofu, spinach, broccoli, and, of course, milk. For kids who are allergic to milk, lactose intolerant, or who simply don't like milk, the AAP recommends giving alternatives like soy milk and calcium-fortified orange juices.

Iron

Children seem to grow more and more with each passing day, which is why iron is a vital nutrient for kids. Stanford Children's Health explains that iron contributes to the production of blood and the building of muscles. KidsHealth adds that iron gives the hemoglobin (the component of red blood cells that carry oxygen to other parts of the body) the strength it needs to carry the oxygen in the blood so that oxygen gets to where it needs to be.

According to KidsHealth, breastfed babies usually get the iron they need from their mothers until around four to six months old, after which they need foods that are fortified with iron, like infant formula and cereals. Other foods that are rich in iron include beef, fish, and beans.

ADVERTISEMENT - CONTINUE READING BELOW

What other parents are reading

Fiber

The AAP says fiber is one of the vital nutrients for kids because it aids digestion and prevents constipation. "Fiber helps make us full and keeps things moving in the digestive tract. A diet that includes good sources of fiber may help prevent constipation," the AAP explains.

Furthermore, according to one Smart Parenting article, fiber helps lower blood cholesterol, prevent diabetes, and protect kids against heart disease. Fiber-rich foods are great for breakfast since they can make you feel full for longer. Foods that contain lots of this nutrient for kids include vegetables, fruits, beans, peas, nuts, and whole-grain bread and cereals.

Protein

Last but not on our list of nutrients for kids is protein, whose primary functions in the body are to assist in building cells, break food down into energy, fight off infections, and carry oxygen, according to a previous Smart Parenting article. The Healthy Kids Association adds that protein has a role in building, maintaining, and repairing bodily tissues.

Foods that are rich in this nutrient for kids include meat, poultry, fish, eggs, nuts, beans, and dairy products. For your child to get the protein he needs, you can also give him grains like oatmeal and whole-wheat pasta, as well as vegetables like peas, potatoes, and broccoli.

What other parents are reading

Celebrate your pregnancy milestones!


Enter your details below and receive weekly email guides on your baby's weight and height in cute illustration of Filipino fruits. PLUS get helpful tips from experts, freebies and more!

You're almost there! Check your inbox.


We sent a verification email. Can't find it? Check your spam, junk, and promotions folder.
Trending in Summit Network