Hugging Your Babies A Lot Won't Spoil Them. Here's What Experts Say Will Happen

If you want to raise happy babies, keep them close!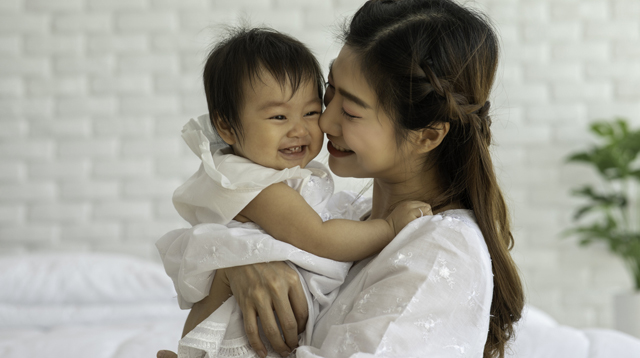 If you're a new mom, you might have heard elders say, "just let your baby cry" or "don't carry them all the time" because they might grow up spoiled. But according to experts, holding your babies has an opposite effect — hugging, touching, and cuddling them will help them thrive physically and emotionally.

"Higher self-esteem, better parent-child communication, and fewer psychological and behavior problems have been linked to warmth and affection between parent and child," says a report from Child Trends, a nonprofit research organization in the U.S.

5 reasons to hug and hold your baby

From the time they are born, skin-to-skin contact already establishes lifelong benefits for your little one. Here's what experts (and science) have to say on the importance of cuddling your babies as often as you can.

1. Touch is a language your baby understands the most.

Yes, you express your love to your baby with words, but your little one cannot understand that just yet. Touch is one of the first senses that a child develops, so you can communicate your emotions to your newborns by holding and comforting them.

A study published in the journal, Current Biology, found that premature infants who spent a lot of time having gentle physical contact with their parents improved their response to touch compared to premature babies who were not given the same kind of support.

"Gentle touch, especially skin on skin, is just one of the most important things parents can do for their babies," says lead study author Dr. Nathalie Maitre of Nationwide Children's Hospital in Columbus, Ohio. A baby who is sensitive and responds to touch sensories, for example, recognizes his or her mother's loving hands, his father's chest, or a sibling's kiss versus a table or the bed.

ADVERTISEMENT - CONTINUE READING BELOW

2. It makes them feel safe.

You might have already noticed that your baby stops crying almost instantly the moment you pick him up. According to a study, whenever you stand up to attend to your little one, it puts into a motion a series of "coordinated set of central, motor, and cardiac regulations" that help soothe them. Seeing your face, smelling your scent, hearing your voice, and feeling your heartbeat calms them down.

Research found that babies who cry alone have significant elevations in blood cortisol — a result of the stress they experience. On the other hand, infants who cry in their parent's arms don't experience the same spike in cortisol. Sometimes, your children just need to cry it out and knowing that mommy or daddy is there to hold them helps them feel safe and secure.

3. It will help keep a mother's mental and emotional health in check.

Skin-to-skin contact doesn't just benefit babies — cuddling their newborn even for just an hour a day can ease a mother's anxiety, lower their stress level and help facilitate bonding. Positive touch also help prevent postpartum depression and other mental health conditions.

What other parents are reading

4. It boosts brain development.

A study published in Pediatrics showed that preemies whose parents practiced kangaroo mother care or skin-to-skin contact grew up to perform better in school and register higher IQs 20 years later.

Another study by Dr. Ruth Feldman found that in the first six months, mothers who conducted skin-to-skin contact became more sensitive and expressed more maternal behavior toward their babies. A decade later, these children demonstrated better cognitive skills, executive abilities, more organized sleep, and could respond better to stress.

CONTINUE READING BELOW

Recommended Videos

5. It makes both parent and child happier and healthier.

What all these studies point out is that touch leads to positive feelings for any baby. Hugs help trigger the release of oxytocin, a neurotransmitter and hormone that is associated with several health benefits, one of which is lowering the level of stress hormones and counteracting the anxiety that those stress hormones trigger.

Your hugs tell your babies that you are there for them and that you love them. This makes them happier as adults! According to the Pediatrics study, those who experienced skin-to-skin contact logged logged fewer absences, reduced hyperactivity, aggressiveness, externalization, and socio-deviant conduct growing up.

To put it simply, we cannot spoil our babies with too much love. Don't let anyone tell you otherwise and just hold your little ones close!

Simple acts of affection can do wonders on  your child! Click here for the number of loving touches that your babies need in a day.

What other parents are reading




Celebrate your pregnancy milestones!


Enter your details below and receive weekly email guides on your baby's weight and height in cute illustration of Filipino fruits. PLUS get helpful tips from experts, freebies and more!

You're almost there! Check your inbox.


We sent a verification email. Can't find it? Check your spam, junk, and promotions folder.
Trending in Summit Network