'My Boobs, Which Were Non-Essential For 29 Years, Finally Had A Purpose'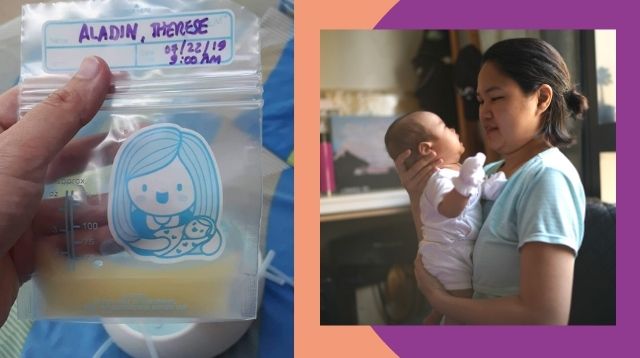 Want to get something off your chest? Share your parenting journey? Email us at smartparenting2013@gmail.com with the subject "Real Parenting." Click here to read more 'Real Parenting' stories.

Therese Aurelia, who is named after our grandparents and means "to harvest gold," arrived six weeks earlier than expected. It was July 15, 2019, a Monday. I woke up at 6 in the morning to pee. I turned on the light, and I saw a pinkish stain in my underwear.

WHAT PARENTS LIKE YOU ARE READING

I was 33 weeks and 5 days pregnant. This discharge meant I was about to pop on the day when I had a presentation plus a workshop a couple of days later. What now?

Baby needs to stay inside your womb

My husband and I rushed straight to the hospital's labor room. I was immediately surrounded by nurses, who asked about my address, my last day of menstruation, and my allergies.

Then I felt a doctor pressed her fingers inside my vagina. My cervix was not yet dilated. My ob-gyn, who happens to be my aunt, said I need to keep Lia inside for three more days. By then, Lia would be 34 weeks old with more developed lungs and fewer complications. Those were the hardest three days.

On the afternoon of July 18, my baby girl, whom we would later call Liasaur because she likes to roar, came out. She was born 1.5 kilograms, just about the size of a cantaloupe.

ADVERTISEMENT - CONTINUE READING BELOW

When I heard her cry, I felt like I could die — she was safe, alive, and small but perfect.

No breast milk was coming out

When I woke up in the recovery room, my nurse wheeled me to the NICU. Lia was inside this small glass box with wires taped on her tiny chest. When our eyes met, we cried in unison.

Lia needed milk, and it was something I did not have yet. After each time we visited her, we would go back to our room and pinch my breasts for any milk sign. I even asked my husband if he could buy me a breast pump to help me.

On the third day of continuous trying, and with a lactation consultant, we met at the NICU, I produced my first-ever colostrum. It was embarrassingly little — not even 1mL. But it was indeed liquid gold.

I used a syringe to collect it, placed it in a breast milk storage bag, and went down to NICU to hand it over to the nurses. My husband tried to stop me, but I insisted, even if it was 10 p.m.

My sister went ahead and posted on Facebook that my baby needed breast milk. A mom immediately responded and shared half of her precious milk stash with our daughter.

Going home without our baby was the most challenging part — I felt emptiness. But I still religiously pumped every two hours to bring some bags for my baby the next day. 

Every day we would go to the hospital to breastfeed Lia, and I would sometimes stay for 12 hours a day. I would hold my pee and my hunger just so I didn't have to let her go.

ADVERTISEMENT - CONTINUE READING BELOW

Recommended Videos

My boobs had a purpose

Finally, after 20 days in the NICU, we brought Lia home, and I have never left her again. My boobs, which were non-essential for 29 years, finally had a purpose. They were Lia's best friends. Every day and every night, she would look for them for comfort, nourishment, and security that mom is there for her.

There were days when I doubted myself because my daughter didn't gain much weight. When we went to our monthly check-ups, I would summon all the angels and saints just so the weighing scale would tip, even just a bit.

I kept waiting for her pediatrician to say it. "You are not producing enough milk. That's why she isn't gaining weight. It's time for her to supplement." But I never heard it.

There were nights when I woke my husband up because my breasts were engorged, but nothing was coming out. He would tell me to pump, take a hot shower, and, our last resort, wake Lia up, and let her latch. Those were the toughest nights. I would cry because of the pain and the thought that whatever little milk I had was gone.

Still breastfeeding exclusively

But we kept pushing, taking moringa in all its forms — leaves, powder, capsule, pasta, chocolate, and tea drink. I made my own rolled oats with chia seeds, flax seeds, and yogurt.

God has been so good because it has paid off. We are still exclusively breastfeeding to date. And I thank God for my husband, Kevin, for never doubting me.

ADVERTISEMENT - CONTINUE READING BELOW

Lia is 14 months old and weighs 9 kilos now (right), within the normal range as her doctor told me. She hasn't had a cold or cough. (Left) Lia at 3 months.

PHOTO BY

Martin San Diego (left) and Judy Marie Santiago Aladin

Lia likes to walk around our house, watch her favorite shows on TV, and eat vegetables. She claps her hands when she is happy and shakes her head when she's angry. She knows our house plants' names and points at them when it's time to water them.

She loves her "study time" and "read books" time the most. I don't know where she picked it up, but her favorite word these days is "Judy, Judy, Judy!"

This afternoon, Lia and I are having fun while she feeds. She pinches my nipple or? dudo?, as we call it, and when milk comes out and sprays onto her face, she squeals and laughs. God, I love her so much.

ADVERTISEMENT - CONTINUE READING BELOW

It's a moment that reminds me when my then 34-week warrior princess latched on my breast for the first time, about those days of sitting outside the NICU or excusing myself in meetings to pump. It had been all worth it.

WHAT PARENTS LIKE YOU ARE READING

Judy Marie Santiago Aladin is a writer by passion and profession. She quit her regular job in February 2020 to become a full-time Nanay. During the COVID-19 pandemic, she set up The Bagong Nanay Shop, where she helps first-time moms like her to get through their breastfeeding journey. She also writes for the Bagong Nanay blog when she's done with her chores and her baby is asleep.

What other parents are reading

Celebrate your pregnancy milestones!


Enter your details below and receive weekly email guides on your baby's weight and height in cute illustration of Filipino fruits. PLUS get helpful tips from experts, freebies and more!

You're almost there! Check your inbox.


We sent a verification email. Can't find it? Check your spam, junk, and promotions folder.

Trending in Summit Network