Pregnancy Trimesters: What to Expect If You're a First-Time Mom

Know the symptoms and signs of pregnancy, and how your baby develops inside your womb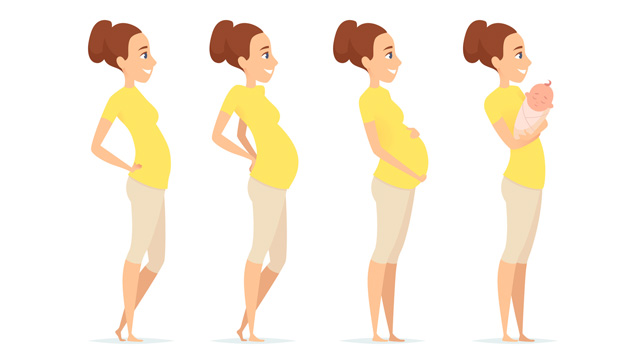 If you've just found out that you're pregnant, CONGRATULATIONS — you have begun your journey to becoming a mother!

Your body will take about 42 weeks to grow and nurture the life inside your womb into a fully-formed baby – it's technically more than the "9 months" people often use to refer to it. Sounds like a long time, huh? To make it easier to understand what you can expect from your pregnancy journey, here's a breakdown of those 42 weeks into trimesters.

First trimester

The first trimester is roughly weeks 1 to 12. This trimester may seem to go by quickly because before you even find out that you're pregnant or begin to show signs of it, you'll probably be halfway through it already. 

When a woman ovulates, that is the period when she is most fertile, or when she is most likely to get pregnant if sexual contact happens (it is also said that there's a higher chance of getting pregnant if you have sex every other day than every day). When the egg and the sperm meet during this time, and the resulting embryo implants on your uterus successfully, pregnancy happens.

One of the earliest signs of pregnancy is when you miss your monthly period, which will usually happen on the 4th week. This is the best time to take a home pregnancy test because your body will already be producing the pregnancy hormone hCG. Pregnancy kits show a positive result when they detect the presence of hCG in the urine.

ADVERTISEMENT - CONTINUE READING BELOW

It is during this time when the single-cell fertilized egg will begin forming multiple cells to set up what will become its home for the next 40 weeks. The placenta, yolk sac, and amniotic sac will start forming in place.

What other parents are reading

At this point, as your body works overtime to making a baby, you'll begin to feel some (or all) of the following pregnancy symptoms: frequent urination, breast tenderness, nausea and vomiting, fatigue, mood swings, and spotting (Click here for a list of 17 uncommon pregnancy symptoms).

At week 6 your baby's heart will start beating, but it may still be too faint to be heard through a stethoscope or doppler.

By Week 8, can you believe it that your baby will start eating, too? It may be the exact opposite, however, with you as your morning sickness may worsen at this point, possibly as a result of your heightened sense of smell. You'll almost feel superhuman with your magnified sense of smell!

Your baby's major organs will be fully formed and functional at Week 10. As for you, you may experience an increase in vaginal discharge, which is your body's way of getting rid of bacteria (and protecting your unborn baby). 

If you've been waiting to see a baby bump, expect it to be noticeable starting at Week 12. While most of your pregnancy symptoms might have disappeared by now, you'll start getting new ones, such as dizziness, headaches, occasional blurred vision, which may be attributed to the increase in blood flow through your body, and hormones.

CONTINUE READING BELOW

Recommended Videos

What other parents are reading

Second trimester

For many pregnant women, the second trimester, which lasts from week 13 to week 26, is the easiest of all the trimesters. It's unlike the first trimester, when your body is still adjusting to its pregnant state, or the third trimester, when you're too heavy to move that all you want to do is give birth. It is also the time most women announce their pregnancy since the delicate first three months are over.

Most of your pregnancy symptoms also disappear by this time, allowing you to feel more "normal" as you are able to go back to your daily grind. 

One of the things you should watch out for during this time is pregnancy weight gain. Eating healthy is key to staying within your recommended weight limit, as follows:

If your BMI is underweight (BMI under 18.5) - Your ideal weight gain is a total of 18 to 40 pounds throughout the pregnancy. That's about a pound (1 to 1.3 pounds) per week for the remaining weeks of your pregnancy.
If your BMI falls under normal (BMI of 18.5 to 24.9) - Your ideal weight gain is a total of 25 to 35 pounds. That's about a pound or a little less (0.8 to 1 pound) per week for the rest of your pregnancy.
If your BMI is overweight (BMI of 25 to 29.9) - Your ideal weight gain is a total of 15 to 25 pounds. Aim to gain only a little over a half pound (0.5 to 0.7 pounds) per week for the remaining weeks of your pregnancy.
If your BMI is obese (BMI of 30 and above) - Your ideal weight gain is about 11 to 20 pounds throughout the pregnancy. That's about a half pound (0.4 to 0.6 pounds) per week for the rest of your pregnancy.

ADVERTISEMENT - CONTINUE READING BELOW

Other symptoms of pregnancy you may experience during this time are heartburn and indigestion, owing to your growing uterus, and a low sex drive.

By Week 16, you may feel your baby's first movements, or "quickening," which may seem like stomach rumblings or muscle twitches in your gut. He can also start to hear your voice and your heartbeat!

What other parents are reading

The sex organs are almost done forming by Week 18, and you just might get a glimpse if you get an ultrasound this week.

By week 20 to 23, expect to see more pregnancy symptoms such as Braxton Hicks contractions, swollen feet, skin discolorations and stretch marks, some backache, and for some women, hemorrhoids. 

By week 25, you may experience Restless Leg Syndrome, or that tingling feeling on your feet and legs. Except that it might be bothersome and interfere with your already irregular sleep, there is no need to worry about this as it is normal during pregnancy.

Your baby weighs about one-and-a-half pounds already. He's a lot stronger now as he will let you know with his kicks. His digestive tract will be collecting his first poop in the large intestine, but he won't poop unless he "overstays" in your womb. He'll be gaining some body fat, and his lungs continues to develop. Don't look now, but you're almost done with your second trimester!

What other parents are reading

Third trimester

You're on the final stretch! The third trimester, which is usually from Week 27 until Week 40 (or until you give birth) will be the most exciting (and most challenging, some say) as your baby is almost within reach.

ADVERTISEMENT - CONTINUE READING BELOW

By Week 27 your baby can already open and close his eyes, and can even taste the food you eat through the amniotic fluid. You'll be able to detect a surge of movements inside your womb, and your doctor may ask you to monitor these from hereon. 

By Week 30, your baby will be producing his own blood, thanks to his mature bone marrow. His brain continues to mature. He's developing his reflexes, and may even interact with you through kicks.

As you get nearer your delivery date, expect to get less and less hours of satisfactory sleep, especially because it's getting harder to find a comfortable sleeping position with your big belly. Add to that the cramps, acid reflux, and some pain here and there, and that's a recipe for sleepless nights (the upside: you're already getting a preview of what it's going to be like once your baby is born).

By Week 34, your baby already weighs about five pounds. All his body systems are fully functional, and the waxy coating on his skin which acts as a protective layer will thicken even more. Your doctor may order your first biophysical profile to check on your baby's health. 

What other parents are reading

On Week 38, you'll be one week shy of what is considered full-term, but you could already give birth anytime.

It's not only your belly that is big -- even your legs and calves are also likely to be bigger due to water retention, which is common among women approaching their due date. Be wary, though, as it could also be a signal of preeclampsia, or high blood pressure during pregnancy. Have yourself checked immediately if you notice other signs.

ADVERTISEMENT - CONTINUE READING BELOW

Check-ups with your doctor will become more frequent now, and she will monitor a few things closely: If the baby is in position (head down, ideally), if he has descended into the pelvic chamber, and if your cervix has started dilating. 

By this time, you should already have prepared what you will need for childbirth, such as important documents, your birthing plan, your D-day bags, and have made arrangements for postpartum care. Your due date is an estimate, and you could give birth one to two weeks before or after that date.

By Week 40, you should be looking out for these signs: a bloody show, also called the mucus plug, which is a red-tinged discharge that signals the start of labor; a watery discharge, which means your water bag has broken, and contractions. Call your doctor immediately and go to the hospital as soon as possible when these manifest.

In some cases, women reach their 41st or 42nd week of pregnancy without showing any signs of labor. Your doctor will discuss your options based on the health of your pregnancy and may offer to induce birth if necessary. Otherwise, let nature take its course and just enjoy the last few moments of peace and quiet, because what a beautiful and noisy mess motherhood can be!

What other parents are reading

Celebrate your pregnancy milestones!


Enter your details below and receive weekly email guides on your baby's weight and height in cute illustration of Filipino fruits. PLUS get helpful tips from experts, freebies and more!

You're almost there! Check your inbox.


We sent a verification email. Can't find it? Check your spam, junk, and promotions folder.

Trending in Summit Network