How Smart Parenting Changed The Lives Of The 10 'My Smart Parenting Story' Finalists

From being strangers in a writing competition, they are now friends and are writing the next chapter of their story.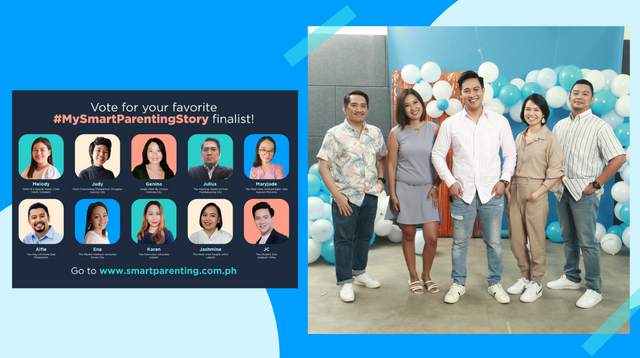 It's amazing what a year can do.

It was in March 2021 when Smart Parenting held its very first My Smart Parenting Story contest.

Among the hundreds of entries shared by real moms and dads on how Smart Parenting helped them navigate their parenting journey, 10 finalists were chosen. They shared stories that represent the courage, tenacity, and unconditional love of parents.

Throughout the competition, these moms and dads guested in a Calamansi talkshow, appeared on billboards along EDSA, and their stories were featured in various websites online. It was a life-changing experience.

A year after, where are they now? The short answer: they are living out their purpose not only as moms and dads, but as advocates of raising happy, healthy families, in their own unique way.

The #MySmartParentingStory Finalists, A Year After

During the Smart Parenting Family Thanksgiving held last June 1 at the Summit Media HQ, five of the 10 My Smart Parenting Story finalists met together for the first time. 

(L-R) Five of 10 My Smart Parenting Story Finalists: Julius Bayoneta, Genina Domingo, JC Lasam, Judy Santiago Aladin, and Alfie Tulagan during the Smart Parenting Family Thanksgiving last June 1

PHOTO BY

CHRISTIAN HALILI FOR SMARTPARENTING

ADVERTISEMENT - CONTINUE READING BELOW

Here's a short update from each of the moms and dads, and their message to new parents.

Judy of Quezon City: The Mom Who Is Overcoming Postpartum Struggles

A year after the competition, here I am, writing our stories.

I'm Judy Santiago Aladin, and 2021 was a tough year for me. I was diagnosed with postpartum depression, and through it all, just as it has always been, Smart Parenting was there for me.

Sharing my postpartum struggles enabled other moms to turn to me and share their stories. I focused my energy in building a support group for new and modern moms, and in normalizing maternal mental health.

PHOTO BY

CHRISTIAN HALILI

I'm happy to share that a year after sharing how Smart Parenting helped me in my motherhood journey, I'm now part of the Smart Parenting team. I've gone full circle - from being a member of the Smart Parenting Village, a finalist, a contributor, an ambassador, and now as one of its full-time writers.

CONTINUE READING BELOW

Recommended Videos

I honestly never thought that I'll be employed in a full-time job again, because I have committed myself to be a full-time mom and wife. But with the work-from-home set-up that Smart Parenting offers to its editors, here I am. Waking up everyday with a renewed hope and will to live, to fulfill my purpose as a writer, as a maternal mental health advocate, and as a mom.

Read my story here.

Jashmine of Laguna: The Mom Who Fought APAS

Many parents were moved when Mommy Jashmine Tenorio Bailon shared her APAS story last year.

"I was diagnosed with antiphospholipid syndrome (APAS) two days after I got married. My husband and I were surprised to learn that this auto-immune disease made my body reject the baby. I was five months pregnant back then!"

Now, Mommy Jashmine is part of the Smart Parenting Mom Squad as the APAS Strong Mommy, and continues to share her story to help moms who are going through the same to feel that they are not alone.

ADVERTISEMENT - CONTINUE READING BELOW

"They say if you want to succeed, you must surround yourself by like-minded people, and that I guess is the best thing that happened to me since I joined the My Smart Parenting Story contest. Meeting my co-parents in the contest was just one of the wonderful consolation prizes I was able to receive."

She adds, "Plus, I was able to share more of my stories with other mommies who are battling the same struggle (APAS), and receiving messages from them saying they're moved by my story is just as exceptional as winning the contest."

Read Mommy Jashmine's story here.

Julius of Mandaluyong City: The Hands-On Working Dad

"A year after, I gained more friends and I became more open to the idea of being an influencer, which i didn't expect. In a million years, I didn't expect that I can be one. Being a Gen X-er, that's really big for me," dad of two Julius Bayoneta said. (You can follow him on Instagram here).

"Many doors have opened after that, few months after the competition I was able to publish another article, and I'm working on new ones," he adds.

ADVERTISEMENT - CONTINUE READING BELOW

Being part of the Smart Parenting Dad Squad also led Julius to be invited as a guest in DZMM Teleradyo to talk about parenthood.

When asked about his advice to new parents, Julius said, "Trust your instinct. Your instincts will not just be for the better but for the best of your child."

When in doubt, Julius suggests that new parents ask questions at the Smart Parenting Village, where he has been actively posting. "Being part of Smart Parenting family is one of the best thing that could really help you in being a new mom or dad. The Smart Parenting Village, it's really a huge family."

Read Daddy Julius story here.

Karen of Isabela: The Mom-Care Advocate

For Mommy Karen Mei Caro, being a finalist of the My Smart Parenting Story Contest landed her to various speaking engagements.

"I really felt the overflowing love and support of my family, friends and kababayans in Isabela. A staff of DZMM Teleradyo read my story and I was invited for a live interview at the "Hapinay" program hosted by Ms. Winnie Cordero and Ms. May Valle-Ceniza. I also had an interview with a local FM station in our province and I was able to share my insights and experiences as a mom."

ADVERTISEMENT - CONTINUE READING BELOW

She adds, this year, her eldest son Gio was diagnosed with Attention Deficit Hyperactivity Disorder (ADHD).

"It was really heartbreaking. Sometimes, I wanted to give up but I choose to be strong and wake up every morning to do it all again. He is currently undergoing occupational therapy twice a week. It's really expensive, challenging and exhausting but it's a joy to see those little improvements everyday," Karen shares.

As a working mom, Karen reveals what helps her. "It is also encouraging to read and share stories with parents who are also undergoing the same experience at the Smart Parenting Village. It really helps me a lot especially in dealing with my son with special needs.

"I am thankful that in spite of these struggles, God has been so good to our family. He always provides and He gives me strength. Our journey is not easy but I know that we are doing it right. And everything is worth it," she adds.

Read Mommy Karen's story here.

Ena of Davao: The Mental Wellness Advocate

Mommy Ena Marie Dizon shared last year that Smart Parenting became her support system after giving birth to her son. Now, she is pregnant with her second child, and on top of being a working mom with no helper, she is growing her online community as Tidy Modern YNay.

ADVERTISEMENT - CONTINUE READING BELOW

 "After a year of being a member of Smart Parenting Mom Squad, I became eager to produce and write more content on godly parenting, biblical discipline and gentle communication. It was helpful because I was able to find mommy groups within my niche."

She adds, "All the while, I thought my situation was unique, but Smart Parenting helped me bond with parents who share the same experiences and perspectives with me. Because of that, I become open to criticism and self-improvement."

She has been using her influence and platform to speak up about certain issues on parenting. Just recently, her post defending actress and mom Iya Villania went viral on social media.

Read Mommy Ena's story here.

Genina of Marikina City: Single Mom By Choice

"After a year of being featured in Smart Parenting as a single mom by choice, I'm still a single mom, and I'm very happy with my current situation since I enjoy a lot spending time with my son," Mommy Genina Domingo said.

"Still struggling being a single mom, and still fighting as well, and going through the process of the parenting journey, slowly but surely."

PHOTO BY

INSTAGRAM /MAJDOMINGO

ADVERTISEMENT - CONTINUE READING BELOW

She said, after being featured and as a member of the Smart Parenting Mom Squad, she received several offers to have partnerships with brands. "Medyo merong help financially, of course, as a single mom, kelangan natin ng mga raket. I'm very thankful for Smart Parenting for this opportunity because it's a very healthy partnership." You can follow Genina on Instagram here.

"For new moms and dads, my go-to advice would always be to seek help, don't be afraid to ask for help because it really takes a village to raise a kid. And dont worry, because you will learn as you go," Genina said. 

Read Mommy Genina's story here.

JC of Cagayan Valley: The Student Dad

Daddy JC Lasam, who was the grand winner of the competition and brought home P100K as prize, shares, he is still juggling his responsibilities as a Dentistry student and as a dad.

"Now I am currently on my 3rd year, incoming 4th year as a dentistry student. Pinagsasabay ang pagiging estudyante at tatay, at asawa sa aking maybahay. Mahirap pero kailangang kayanin."

JC, who is now a member of the Smart Parenting Dad Squad, said the experience helped him to build his confidence. "Napakalaking opportunity na makabilang sa Smart Parenting family. Mahirap sa akin to start how to be a father, through Smart Parenting, nakatulong ito to build confidence as the best dad to my son, and as the best partner and confidante to my wife.

ADVERTISEMENT - CONTINUE READING BELOW

He adds, "Yung pagiging family-oriented, that's the best thing na natutunan ko sa Smart Parenting."

He has this to say for new moms and dads, "It's really hard, sa bagong chapter of your lives. Join the Smart Parenting Village kasi napakalaking tulong nito para sa mga parents na bago. Smart Parenting will be a huge factor sa inyong buhay. Ako ay ang number one evidence. Nakatulong ito sa pagiging mabuti kong ama at asawa."

Read Daddy JC's story here.

Maryjade of Quezon Province: The Mom Who Worked 8 Jobs

Mommy Maryjade Manzanero's story of determination inspired a lot of parents. 

The gradeschool teacher who said that Smart Parenting was her guidebook towards being a good mom to her kids, Maryjade is now a published author. She reveals, Smart Parenting inspired her to do it.

 

PHOTO BY

MARYJADE MANZANERO

"Winning the Smart Parenting competition has pushed me to do more and achieve more. I have finally written my first-ever book entitled "The Breakup Fever" under Ukiyoto Publishing," she announces.

ADVERTISEMENT - CONTINUE READING BELOW

Her book is now available at Ukiyoto Bookstores, Amazon, and Google Play.

"Smart Parenting has boosted my confidence as a writer and as a mother," she adds.

Read Mommy Maryjade's story here.

Melody of North Cotabato: The Mom Of A Child With Special Needs

For Mommy Melody Ann Tomelden, she values the good relationship she now has with the other finalists.

"A year has slipped away, and friendships have been built. Parang ito yung grand prize na nakuha ko. Yung connections between millenial parents, yung respect na whatever parenting style you have," said Melody, the Medtek Momma.

"I am grateful for Smart Parenting, na naka-create kami ng new circle where we can share anything. It lightens my heart knowing na na-i-inspire namin yung other parents through sharing our unique stories."

Quoting from her story last year, here's Melody's advice to new parents: "Smart Parenting teaches me to be authentic that I don't have to imitate other moms and their parenting style because every child is different. What works for them might not work for me. Moreover, it broadens my perception in the aspect of a child's developmental milestones. To let them enjoy their pace and appreciate them as they are."

ADVERTISEMENT - CONTINUE READING BELOW

Read Mommy Melody's story here.

Alfie of Pangasinan: The Stay-At-Home Dad

Daddy Alfie Tulagan continued his law school journey, going on his fourth year. That's on top of being a husband, a dad of two boys, and working as an insurance agent and financial advisor.

"Smart Parenting has given me opportunity to reach out to more parents, especially young families. I've been posting articles and quotes encouraging first-time fathers and also right now I'm writing for Smart Parenting - freelancing to share my advocacy on financial literacy." You can read more about his journey as a neophyte daddy here.

He calls on new moms and dads to enjoy the journey.

"It's good that we can realize that our being parent is a responsibility and in order for us not to be burned out, we need to enjoy it as well. As we receive the joy of being fathers or mothers, it should also be our desire to be responsible in building a family that we can be proud of."

ADVERTISEMENT - CONTINUE READING BELOW

Read Daddy Alfie's story here.

What's next 

With our stories out in the open, what's next for these moms and dads? More babies? More stories? More projects and advocacies? 

What we know is that these 10 individuals from different parts of the Philippines were brought together by a competition, and are now bound by a common purpose. To help Filipino parents raise happy, healthy families.

We'll see. After all, it's amazing what a year can do. 

What other parents are reading

Celebrate your pregnancy milestones!


Enter your details below and receive weekly email guides on your baby's weight and height in cute illustration of Filipino fruits. PLUS get helpful tips from experts, freebies and more!

You're almost there! Check your inbox.


We sent a verification email. Can't find it? Check your spam, junk, and promotions folder.
Trending in Summit Network