My Child's Ribs Stick Out. Is He Underweight?

An underweight child is at risk of malnutrition and other health issues.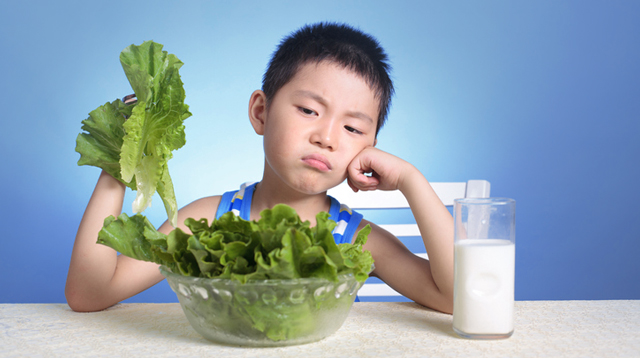 One way to ensure your child's growth is on track is to make sure he gains weight appropriately. But what if, instead of gaining weight, he only seems to be getting skinnier and skinnier? This might mean you have an underweight child.

How to know if your child is underweight

According to the Centers for Disease Control and Prevention (CDC), one way to determine a person's weight status is to compute his body mass index (BMI), which measures this body fat based on his height and weight. An underweight child has a BMI that is less than the 5th percentile.

Aside from determining your child's BMI, the Cleveland Clinic says another way to tell if you have an underweight child is to check how his clothes fit. Kids grow rapidly, but if you find that your child doesn't outgrow his clothes over several months, you might want to meet with your pediatrician. Check as well if his ribs stick out or are prominently visible as this might be a sign that your child is underweight.

Causes of being underweight

Experts say various factors can lead to an underweight child. To know how to help your child get at a healthier weight, learn about three possible causes of this condition. Note that just because your child is skinny doesn't automatically mean that he's underweight.

Inadequate calorie intake

According to Kids Health, the body needs calories to keep the heart beating and the lungs breathing. Without enough calories, a child may fail to thrive and grow healthily, leading to him being an underweight child. He may also start walking and talking later than other kids and struggle to learn in school.

ADVERTISEMENT - CONTINUE READING BELOW

Medical issues

The Cleveland Clinic says medical issues may also contribute to an underweight child. First, kids who were born prematurely tend to be underweight because their growth needs to catch up with that of their peers. Food allergies can make it difficult for a child to get the calories he needs. Lastly, hormonal or digestive problems and other issues of inadequate nutrient absorption may also interfere with a child's ability to gain weight.

Genetics

Kids Health says heredity is one factor that could lead to an underweight child: The parents' body shape may help determine that of their child. Aside from genes, parents may also pass down unhealthy eating habits down to their kids, which means that if you eat unhealthy foods and don't exercise regularly, there's a big chance that your child will do the same.

Health risks faced by an underweight child

One glaring health risk that an underweight child may face is malnutrition. According to the World Health Organization (WHO), malnutrition refers to the "deficiencies, excesses, or imbalances in a person's intake of energy and/or nutrients," or poor nutrition. It comes in many forms, including undernutrition (which includes underweight), micronutrient deficiencies, and overweight and obesity.

A 2013 study of nearly 10,000 children in England discovered that another health risk that may be faced by an underweight child is an increased risk of osteoporosis, a disease that causes the bones to become so weak and brittle that actions like bending over can cause a fracture.

CONTINUE READING BELOW

Recommended Videos

The same study found that an underweight child is more likely to be less active, thus increasing his risk of cardiovascular disease, and has a weaker immune system, making him more vulnerable to illnesses like the flu.

According to Healthline, an underweight child may go through developmental delays, especially if he is under three years old since this is when his brain develops rapidly. "The brain needs nutrients to properly develop. Underweight children may be missing key nutrients due to malnutrition and malabsorption. That can impact the development of the brain and lead to delays in developmental milestones."

How to help an underweight child get to a healthier weight

An underweight child may not be getting the nutrients he needs to develop healthily. To help get his health on track, a balanced diet and healthy eating habits are vital. You may also seek the advice of a pediatrician or a dietitian.

Give him a healthy diet

In a 2015 article for SmartParenting.com.ph, Charmaine Manango, a registered nutritionist-dietitian, says one way to help an underweight child is to ensure he consumes a healthy and balanced diet. Instead of giving him foods with empty calories like cakes and junk foods, give him foods that are rich in protein, carbohydrates, fats, vitamins, and minerals, which will help him gain weight.

According to the Academy of Nutrition and Dietetics, examples of foods you can give your underweight child include eggs, cheese, yogurt, reduced-fat or full-fat milk, whole-wheat bread, potatoes, and corn. Click here for more suggestions.

ADVERTISEMENT - CONTINUE READING BELOW

Evaluate your family's eating habits

To help an underweight child, parents should check how meals are eaten in their home, says Manango. "Encourage children to focus on eating together with the rest of the family which means removing electronic gadgets like iPads and turning off the TV during mealtimes."

She also points out that some kids may still suffer from being underweight even if they are being given healthy foods. In light of this, she suggests letting an underweight child eat more often instead of giving one three heavy meals.

"Kids have small tummies. Most of them cannot tolerate eating a large amount of food in one sitting. You can give your child small, frequent meals at proper times daily. I suggest three regular meals — breakfast, lunch, and dinner — and two snacks — one in the morning and one in the afternoon."

Talk to your doctor

The Academy of Nutrition and Dietetics says that if an underweight child is given enough calories but is still not gaining weight appropriately, it's best to talk to your doctor, who will be able to help you figure out if any conditions are impeding your child's ability to gain weight.

What other parents are reading

Celebrate your pregnancy milestones!


Enter your details below and receive weekly email guides on your baby's weight and height in cute illustration of Filipino fruits. PLUS get helpful tips from experts, freebies and more!

You're almost there! Check your inbox.


We sent a verification email. Can't find it? Check your spam, junk, and promotions folder.
Trending in Summit Network