Morning Sex Is The Best! 10 Reasons To Get Busy When You Wake Up

Start your day right with a round of lovemaking.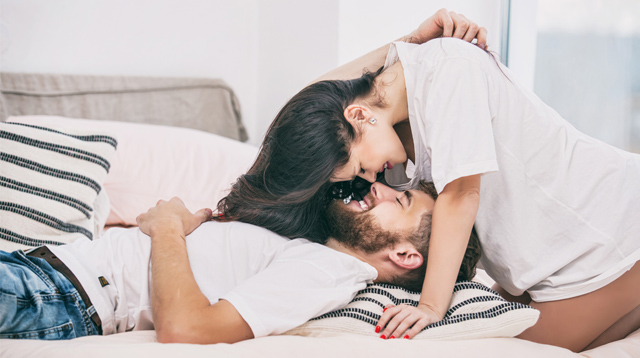 Having kids is great, but it can admittedly put a damper on your relationship as husband and wife. Finding time to be intimate is harder because the kids are always around — not to mention, you're both exhausted taking care of their every need. If you're craving some alone time together (a.k.a. you're hungry for each other), there's an easy solution you can try: morning sex.

In a 2017 SmartParenting.com.ph survey, we found that Pinay moms do want more sex, but think of it as a luxury that they can't afford to do more often. To this we say, why not schedule your romps in the morning? Getting busy when you wake up doesn't just improve your relationship with your partner but it also boosts your overall wellbeing.

10 benefits of morning sex

Starting your day with a round of lovemaking can be as good as drinking a fresh cup of coffee. It relieves stress, it gives you energy to get through the day, and it makes you more productive. Here are all the reasons why morning sex is the best.

1.  You'll be in a great mood.

Having intercourse releases endorphins — also known as happy hormones, which are responsible for making us feel good. So, doing it in the morning means your day is off to a great start. And who doesn't want that?

2. Your body is primed for a morning romp.

Estrogen and testosterone levels are at their peak during mornings and a 2013 study found that your libido is affected by your hormone levels — the higher they are, the more aroused you'll feel. To put it bluntly, your body is ready for some loving in the a.m.!

3. Your man will last longer.

Four of 10 moms that we surveyed said that they still get to sneak in some alone time twice a week, but it's not as fun as it used to be. Sex feels rushed — you have to do it quickly, quietly, and discreetly.

Morning sex can help! According to a study, high testosterone levels can boost your partner's libido and improve sexual function. Since your bodies are primed in the morning, you'll have better sex.

4. It boosts the immune system.

Morning sex can increase levels of IgA, an antibody that boosts your immunity to fight off infection, bacteria, viruses, and other germs. "It's like taking your daily vitamins, only way more pleasurable," says Dr. Debby Herbenick, an American research scientist and author of Because It Feels Good, in an interview with Elite Daily. We like that!

5. You and hubby will grow closer.

Apart from endorphins, sex also produces oxytocin, also called the "cuddle hormone," which is commonly associated with feelings of love and bonding. It has a calming effect when released by the body, so during sex, you'll feel more connected to your partner.

6. It relieves stress.

The release of endorphins and oxytocins will already put you in a great mood, but a study also found that pleasurable activities can reduce your stress hormone levels. Pleasurable activity = sex, just in case it wasn't clear, heh.

7. You'll feel more productive.

A recent survey by a mattress company found that on days when couples felt extra productive, their routines included morning sex. Unsurprisingly, men were more game to sacrifice sleep for sex but both male and female participants said morning sex made them feel more productive.

8. it's a brain-booster.

 Got an important meeting where your brain needs to be alert? Get busy when you wake up! Various studies show that intercourse releases a mix of neurotransmitters and hormones, including dopamine, another feel-good hormone, that can improve brain health and cognition.

9. You'll look younger.

 There are experts that say sex is the secret to looking younger because it discharges oxytocin, beta endorphins, and other anti-inflammatory molecules. In an article by BBC News, research suggests that having sex at least three times a week can make you look younger than individuals who are having less sex. That "after-sex" glow is real after all!

10. You'll be less tired and in the mood for lovemaking.

 A Pinay mom we surveyed said that she and her husband usually do it in the morning "because by the time the kids are asleep at night, the husband is already too sleepy, too." By scheduling sexy time before breakfast, you'll be well-rested and in a better mood for intimacy.

"Although mornings can be hectic, they're often the only time that I have the energy to do more than go through the motions. Mornings can be super-hot. You just have to start seeing sunshine as the ultimate aphrodisiac," shares Chatón's Turner, a blogger at Chatón's World: A Working Mom's Quest for Balance in Stilettos, in an interview with SheKnows.

Parents sometimes try and fit in sex on late nights when they're exhausted from work, breastfeeding, taking care of the kids, and more. But by shifting lovemaking in the morning, you might find yourselves a little more refreshed, relaxed, and in the mood for something different. Happy humping!

 

 

What other parents are reading

Celebrate your pregnancy milestones!


Enter your details below and receive weekly email guides on your baby's weight and height in cute illustration of Filipino fruits. PLUS get helpful tips from experts, freebies and more!

You're almost there! Check your inbox.


We sent a verification email. Can't find it? Check your spam, junk, and promotions folder.
Trending in Summit Network